DEARBORN HEIGHTS — In the increasingly diverse Southeast Michigan region, markets catering to the cuisine of one's homeland can be far and few.
Dearborn, which harbors the highest concentration of Arab Americans in the country, has overcome that problem, as streets like Warren Avenue are lined with Mediterranean grocers.
A considerable Arab American population has long surpassed the city's confines, while households are often left with supermarket chains that offer a modest selection of international options.
Local entrepreneur Hussein Mohamad offered a solution to ethnic households on Dearborn's outskirts by opening the doors of Ever Fresh Market at 20125 Ann Arbor Trail in Dearborn Heights, near the bo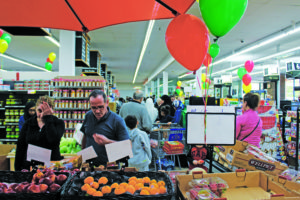 rder of Warrendale, in January.
Ever Fresh Market held its grand opening event May 11-14, drawing an unusually large crowd for a grocery store, including people dressed as Disney characters, which local children enjoyed. The excitement was a testament to the growing demand for international food products.
Mohamad said the store made about 185,000 transactions over the four days.
He also said Arab Americans don't comprise the only ethnic group in the area. Mexican and African American communities also call the neighborhood home. Members of those communities can also find foods they enjoy at the dinner table.
He added that the market carries groceries that cater to Middle Eastern, Mexican and Asian communities, among others. H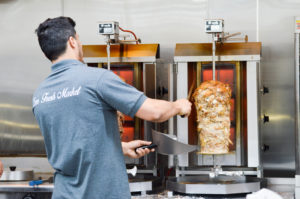 owever, Ever Fresh Market's specialty is halal meats, which are cut in house, and the chicken is organic imported from Indiana.
He also said all produce is replaced with fresh batches on the stands daily.
Some say local grocers are able to drop prices so low because of low tier fruits and vegetables. However, Mohamad said a good sense of business can result in high quality merchandise and low prices, by minimizing the business's gross margins as much as possible.
Like similar grocers, Ever Fresh offers "wild Wednesday" sales in which the prices of most products are dropped. Additionally, a Wednesday in the middle of the month sees an even greater drop in prices as part of the "wild, wild Wednesday" event.
The next "wild, wild Wed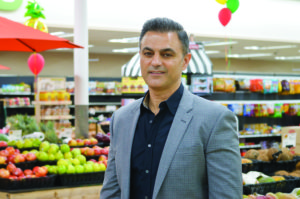 nesday" sale will fall on June 14.
Inside Ever Fresh, a corner bakery sells mana'eesh (cheese and meat pies) and other deli dishes. The grocer also houses a restaurant that offers home cooked meals and pita sandwiches, as well as a section that sells Arabic sweets.
The store had once been a Farmer Jack. More recently, it was another neighborhood grocer. Mohamad became interested in buying the building after walking into the store to buy some lemons. He saw that half the shelves were empty and learned the building was up for sale.
Mohamad, a married father of four sons, owns three gas stations and has been in that business since he immigrated from Lebanon in 1988. He expressed a hope that Ever Fresh Market could open a new chapter in his life and for the city's international community.