DEARBORN — On Tuesday, June 6, The Dearborn Board of Education interviewed six candidates seeking to fill the vacancy left by former trustee Mariam Bazzi, who resigned on May 22 following her appointment by Governor Snyder as a judge in the Wayne County Circuit Court.
The new trustee will be elected by the board though a majority vote on Monday.
Before an enthusiastic crowd, all but one trustee drilled the candidates about their qualifications and the perceived role of a trustee.
Trustee Hussein Berry opted not to participate.
Each interview took 15 minutes.
Celia Nasser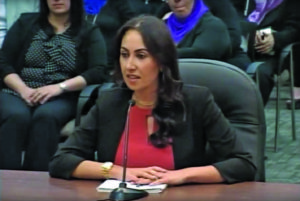 Celia Nasser touted herself as a business owner, parent and a product of the district.
Her three young children will attend the Dearborn Public Schools and she's the owner of three businesses in the city.
Nasser credited her vested interest in the district's education system to her children and her administrative expertise to being in charge of budgeting, finance, policies and procedures at her stores.
She also heads an advertising company, which has given her experiences in marketing social media strategies.
Nasser has a bachelor's degree in business administration from the University of Michigan-Dearborn and master's degree in public health from the University of Arizona.
She is also a substitute teacher in the district.
Roxanne McDonald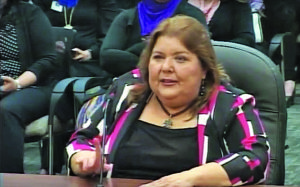 Former trustee Roxanne McDonald, who stepped down last year to campaign for state representative, reminded the board about the importance of a trustee being able to perform his or her duties between now and the 2018 election— a task she suggested was best fit for a five-year veteran of the board who has proven to work effectively with the current team.
McDonald also noted her passion for public education and continued involvement in the district's schools even after she left the board.
"Public education is the foundation of what has made this country great," she said.
McDonald touted her extensive research and training in innovative education,
professional development, advocacy and school law.
McDonald, who said she had barely missed a board meeting, said she sees the responsibility of a trustee as a bridge between the administration and the community and helping them navigate a "sometimes confusing system."
She added it was the board's duty to align the district schools with its strategic plan, while holding the administration accountable to its goals and ensuring responsibility with public funds.
Among other roles, McDonald said she was an executive board member of the PTA and a volunteer with Dearborn Goodfellows, an organization dedicated to community service.
Adel Mozip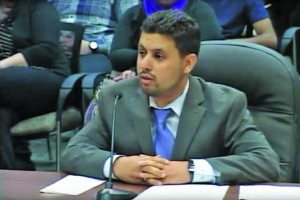 Adel Mozip, who unsuccessfully campaigned for trustee last year, presented himself as an immigrant and the son of one of the earliest Arab American Ford Motor Company worker. He said he knew only a few English words when he began at Fordson High School in 2000, but overcame challenges as his parents instilled in him the value of education. While at Fordson, he was a member of the student senate.
Mozip also said that as the father of a Dearborn Public Schools student, his mission would be to build upon the district's successes and uphold the goals set by the district's strategic planning committee, on which he served in 2015 – to "inspire, educate and celebrate."
Mozip said he holds an MBA from Wayne State University and is the COO of a startup company, which has taught him essential experiences about setting and balancing budgets.
"I understand what makes successful organizations," he said.
Mozip touted the thousands of votes he received in last year's election and said he developed an understanding of parents' concerns while campaigning.
Mozip said he also recognizes "what teachers really go through," as he was a part-time teacher at ACCESS for three years.
After his interview, Mozip received a large applause and standing ovation from many audience members who appeared to endorse him. Most of them left the meeting when he did.
Zeinab Sobh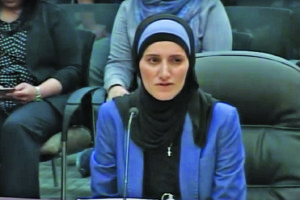 Zeinab Sobh said she was interested in the position to emphasize the seriousness of mental health and identity development among students in the discussion about education and academic success.
"There is a need in the community for individuals who have a background in depression, anxiety and interventions for suicide," she told the trustees.
Sobh added that she worked as a counselor with college freshmen who went through existential crises while transitioning from high school and ultimately were failing classes.
She attributed her competitiveness in the work force to her education throughout all stages of the Dearborn Public Schools.
"What Dearborn Public Schools ultimately provides is that sort of relief," Sobh said. "That relief that we're in good hands. I was in good hands and my kids are in good hands."
She said her role as a trustee would add a unique sense of "moral and ethical responsibility" to the board and offer a "reference point" for students to look up to.
Irene Watts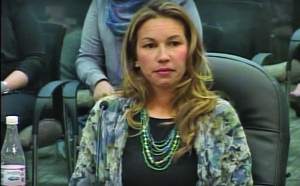 Irene Watts, a teacher at Play and Learn Children's Place, a state-sponsored readiness preschool program in Saline, pointed to her 16 years of experience in the classroom as an asset to the board.
While many schools focus on testing, grades and implementing one-size-fits all curriculums, Watts said she would instead highlight an approach and implement learning techniques that considers the story behind a child struggling at home, yet "comes with a smile every day" to class.
The parent of two in the district said she also served for a decade as her school's assistant director, where she learned to best coordinate budgets between the needs of students, parents, teachers and administrators.
Alex Shami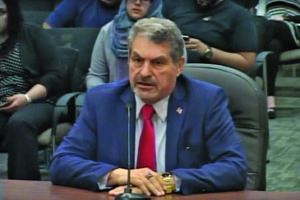 Former board member Alex Shami, a retired Wayne County Community College professor and former Detroit middle and high school teacher, stressed the importance of discussing issues facing students that are tough to talk about — namely, drugs and addiction.
"There is a huge problem with the addiction of the drugs, not just in the school, but in the city," he said.
Besides upholding quality education in the district, Shami said a trustee should have insight into culture and politics.
Shami said one of the issues he would like to address is why Ford Motor Co. employees do not send their children to Dearborn schools and to try to address any problems that could change that.
A seventh applicant, Wadeeah Alshawi, withdrew over eligibility concerns.
The selected applicant will need to run in the 2018 general election– and win the public's vote – to complete a full term ending in 2020.