DETROIT — Loud voices chanted outside the U.S. District Court in Detroit Wednesday, June 21, in protest against the detention last week of 114 Americans of Iraqi origin by Immigration and Customs Enforcement (ICE) officials.
"Love not hate, makes America great!", "The people united will never be divided" and "no deportation" were among the many slogans chanted by the crowd of hundreds outside of the 2 p.m. hearing.
The hearing was called for the detainees, most of all whom have been in ICE custody since Sunday, June 11, and whose families have been awaiting their release since then. Numerous cases were opened by immigration lawyers on behalf of the families to advise and counsel friends and loved ones on how to respond to the detainments.
During the rally, many Chaldean and Iraqi Americans, including several children, came forth to tell their stories.
12-year-old Lilly Butris called for justice for her father, who was taken by ICE early on June 11.
"I miss my dad and I want him to be able to see me graduate and become a doctor or a lawyer," she said. "I had to watch him in handcuffs…Do you know how hard it is to see the person who helped bring you to life ripped away from you?"
A letter from Rep. Keith Ellison (D-Minn.), who grew up in Detroit and worked for Chaldean American store owners when he was younger, was read at the rally.
"The Chaldean Catholic Assyrian community fled persecution and violence to make America their home and should not be deported," he wrote. In his letter, Ellison also called for immigration reform.
"Our immigration laws need to change," he wrote. "We should not be in the business of separating families or deporting people for nonviolent, old offenses. Those that have committed crimes have served their sentences.
"This wrong goes beyond our immigration laws. Our state department has recognized that minorities within Iraq, like the CCA community, face persecution, face kidnapping and torture from groups like ISIS. Vice President Pence has stated that ISIS is guilty of nothing short of genocide of people of the Christian faith. Simply put, members of your community risk death if they return to Iraq."
10-year-old Caiden Nguyen of Detroit said that he and his two sisters wanted their father back.
"ICE, I know you see this right now," he cried into the microphone at the rally. "You have to let him go; we need our dad back." Nguyen's father served a year in jail after renting a car with a damaged bumper to another individual in Iraq, before immigrating to the United States.
"He ran away from Iraq to have freedom here," Nguyen said. "And he served his year in jail….now they detained him right in front of us."
Another young boy spoke about his uncle, who was similarly detained on June 11.
"My uncle has been taken away for deportation, and we're here for everyone and not just for my uncle," he said. "No matter where you were born, whether in Iraq or Mexico or Libya, we were all born on Earth; and no matter what race we are we are all the human race."
While many called for relief for family members who had served sentences for misdemeanors or minor crimes, others addressed mistakes in visas that unjustly implicated their loved ones.
The older brother of Vali Nissan, a young Metro Detroit resident, never committed a crime. Yet an error on his application landed him in ICE custody.
"My brother got taken on Sunday and he never committed a crime," Nissan said, adding that many others, "have no right to be taken from their families."
She also said her brother was going to get married on July 1.
"But since he got taken away, we don't know what to do," she said. Bassam Putrus' wife and two daughters reported driving four and a half hours out to the detention facility in Youngstown, Ohio to see him.
Putrus, 44, had been awakened at 8 a.m. June 11 by abrasive knocks on their door.
"Police just started knocking on the door and my dad [refused] and woke up my aunt [who] couldn't make it to the door because she's in a wheelchair," one of Putrus' daughters said. "…They just put him in handcuffs and then took him in the car."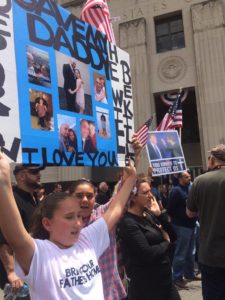 "Police just started knocking on the door and my dad [refused] and woke up my aunt [who] couldn't make it to the door because she's in a wheelchair," one of Putrus' daughters said. "…They just put him in handcuffs and then took him in the car."
The first time they tried to visit Putrus at the detention facility turned out to be a futile effort.
"When we went to go visit him Friday, they didn't let us visit him because they had to do their dumb count." Putrus' wife said that since serving time for a conviction at 17-years-old, he has maintained a clean record. "We had approval and they messed up the paperwork and said he wasn't on the list," she said. "So we drove 4.5 hours and [ICE officers] said they can't bring him out."
Nahrain Hamama spoke to The Arab American News a day after the rally with concerns that matched those of her counterparts.
She has been calling her husband, Usama Jamil Hamama, two to three times a day to stay in touch. He is currently being held at the Saint Clair County jail.
"They said the reason was that he was going to be interviewed by the Iraqi consulate tomorrow morning," she told The AANews, recalling that her husband was picked up at 9:30 Sunday, June 11, as the family was getting ready for church.
"He had a valve replacement 12 years ago and he takes like 10 different medications twice a day," she said, adding that her husband's health issues posed an additional concern in light of his detainment.
Hamama's 1987 incident, in which he showed a gun to a man with a baseball bat who charged at him during a road rage dispute, resulted in the receipt of a letter in 1994 that informed him of his eligibility for deportation.
Nahrain filed her husband for asylum in 1996, but the petition was denied at the time. Since then, her husband continued to maintain regular check-ins and contact with law enforcement, informing them of all of his whereabouts right down to travel airline tickets.
"We hired an attorney two months ago, not knowing this was going to happen," Hamama said regarding a recent attempt to alleviate her husband of his previous record. "And then this happened to us."
Many Muslim Iraqi Americans, likewise, continue to be detained by ICE, including 71-year-old Abidoon Al-Diami, who was taken from his home on Sunday, June 11 at 3 p.m.
In 2011, he completed a five-year prison sentence for a 2006 crime. His daughter Doaa maintains that his record has been free of even one traffic ticket since then.
"My father paid his dues and followed the law," she told The AANews.
Following the rally, a statement was announced to the crowd that no deportations were to be scheduled before June 27.
According to Nathan Kalasho, a Chaldean community advocate, Judge Mark Goldsmith recently issued a two-week restraining order on deportations to Iraq, up from the June 27th date announced at the rally.
"Great work by CODE Legal Aid, Inc., ACLU Nationwide, ACLU of Michigan, and all involved in the protection and defense of our community!" Kalasho wrote in a Facebook post Thursday.