DEARBORN — On Aug. 17, Michigan State Police, Dearborn police and the FBI raided the Dearborn Medical Clinic at Warren and Yinger avenues after residents complained about disorderly conduct, which prompted an investigation beginning in July.
Judge Gene Hunt of the 19th District Court arraigned Dr. Mohammad Derani and his assistant manager, Zahra Alwajed, the following morning. Derani was charged with four counts of delivery of a controlled substance and his bond was set at $250,000. The charges could result in up to 20 years in prison and a $25,000 fine.
According to Police Chief Ron Haddad, Derani, 67, was released on bond, but is wearing a GPS tether and had to surrender his passport since he's a flight risk.
Alwajed, a 28-year-old Detroit resident, was charged with four counts of delivery of a controlled substance and one count of being a habitual offender. Her bond was set at $25,000 and her charges could likewise result in 20 years in prison and a $25,000 fine.
They are both due in court on September 1.
Haddad said the investigation continues in identifying the supplier.
Data from the Michigan Department of Licensing and Regulatory Affairs (LARA) shows that Derani, a West Bloomfield resident, placed among the top productive prescribers of controlled substances in Michigan in 2015 and 2016. He prescribed an average of more than 43 controlled substances on every workday between January 2015 and August 2017 and more than 500,000 pills since this January.
Investigators revealed that about half of the opioids ended up on the street and Oxycodone— known as a highly addictive narcotic— was his most prescribed drug. He also wrote prescriptions combining drugs that are lethal.
LARA suspended Derani's medical practice license.
Fighting the opioid crisis: Medical, community and police effort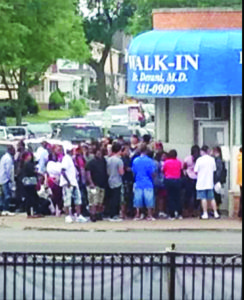 The opioid crisis is not new or limited to Dearborn, when we look at the epidemic rate nationally, but that doesn't make it less of a problem.
Hassan Abdallah, an attorney and one of five founders of the organization SAFE Substance Abuse Coalition— a subsidiary of HYPE Athletics— said the conservative nature of the Dearborn community tends to make the city seem immune to the opioid epidemic when it's at the same level as other cities in the U.S.
"The reality is sometimes the issue gets worse before it gets better," he said. "I think that's kind of where we're at right now."
Dr. Ed Jouney, an addiction psychiatrist at the University of Michigan and a co-founder of SAFE, agreed.
"What happened in Dearborn is a reflection of what's happening across the country," he said. "…I'm glad law enforcement took this case seriously and did what it needed to do to shut the practice down."
Jouney said several factors play a role in a person's addiction to opioids, including his or her biology, social environments and mental health state.
"Addiction is a serious medical condition in which an individual's behavior has changed to the point where they compulsively seek out a specific class of medicine, in this case opioids," he said.
Jouney said it's important to understand that addiction is not a "moral feeling."
"This illness is a very serious medical condition and people who are afflicted by it need medical treatment," he said. "…I've been doing this work for seven years and I've never met anybody who wanted to be afflicted with this problem."
He said individuals undergoing addiction need to know they are not alone and can recover.
As for the community's role, Jouney said this a good starting point because many Arab American organizations and religious institutions are raising awareness and tackling the issue more than before.
"But, we still need to do more," he said.
Abdallah said the community should not separate addiction and mental health.
"They coincide with one another," he said.
He said he firmly believes that "the increased knowledge within the community about healthcare professionals who are putting dollars before lives" led to Derani's arrest.
"[SAFE] always congratulates and advocates for healthcare professionals to take a more keen understanding of the impacts of medicine and more," he said. "So to hold themselves to the highest level of accountability to their patients and before prescribing medication, making sure that their patients are knowledgeable about what they're taking and what the impacts are, instead of looking at an insurance bill and seeing to their benefit."
Abdallah said SAFE offers educational events once a month on different topics related to mental health and substance abuse. The organization also holds bi-weekly sessions that are tailored to family members and friends troubled by their loved ones' addiction.
In addition, it refers people who want to be treated or know someone who does to specialty centers. They also provide Narcan training for the Dearborn Police Department.
"In the first seven months of the program, five lives were saved," he said.
Months before the raid, SAFE received photos and videos from community members that showed the chaos around the clinic. Board members took the initiative to write letters to police, the Drug Administration Enforcement, the department of justice and state regulators.
"It was a collective effort," he said.
Abdallah added that he hopes the community continues to empathetically work together to solve such critical issues.
Chief Haddad said narcotics remain his number one concern in the community.
"Year to date, we've locked up over 200 people in possession of illicit drugs," he said. "More often, we're finding prescription drugs that they don't have prescriptions for, so there's a huge black market out there."
Haddad added that fixing the problem starts with community awareness and education about drugs from a young age, which Dearborn is working on together.
Improved quality of life in the area
A resident, who asked to remain anonymous, said he lives near the clinic and had been complaining about it to the police since January, but they told him to keep calling them, so the case builds up through his complaints as well as others'.
"These [patients] would line up at 10 p.m. or 11 p.m. until 9 in the morning when the clinic opens," the resident said, adding that they bring chairs and milk crates to sit on and wait. "The problem with that is there are no restrooms at night, so they would urinate in my yard."
The resident said he told his neighbors to also call police and complain as well. He even shared photos and videos he took of drug dealing and filth around the clinic with police as evidence.
"The chief kept asking us to be patient because something is coming," he said. "And, he wasn't lying."
The resident said the pill mill trashed the area with beer bottles, garbage, alcohol and crates, but now it's "so quiet and clean."
Haddad said police knew the clinic had been deteriorating the quality of life in the area, so they started what they called "Operation Clean Sweep" two days before the raid. It lasted until August 20, three days after.
"We started cleaning up that neighborhood big time," Haddad said. "We went door to door. We used our DPW to do more street sweeps. We got the 19th District Court alternative workers to pick up trash on streets as volunteers and had the fire department install free fire detectors at home… We also addressed some of their traffic concerns."
Police officers visited 38 commercial businesses and 1,221 residences. They issued 61 notices of violation for junk, trash and litter with 42 complying. Out of 181 issued notices regarding grass, weeds, junk and trees, 149 responsible parties complied. While 14 out of 20 complied to notices involving vehicle placement.
"When you drive through there today, you will see visually a much cleaner better neighborhood," Haddad said.
Other community members shared what they had witnessed when passing by the clinic after learning about the raid on The AANews Facebook page.
"I always pass that medical place. [It] is very uncomfortable. A lot of people wait till they open around 5 or 6 a.m.," Huss Maana commented.
"Every morning I pass by there and I always think it's Black Friday," Moe Ayoub said.