BERKELEY, CA — The Islamic Scholarship Fund (ISF) was founded in 2009 in response to the low number of Muslims in media and policy fields. ISF provides funding and mentorship to its awardees.
Before ISF was launched, Dr. Hamid Rezapour, the founder and president, was frustrated by the negative depictions of Islam and Muslims in the media.
"He thought a strategic way to address this problem was to encourage media and policy related fields," said Somayeh Nikooei, the director of programs and operations at ISF.
The ISF has four programs: Merit-based scholarships, film grants, youth workshops and Congressional internships.
Initially, the nonprofit began with its academic scholarships. Then, as ISF expanded, it added other programs and awards.
The first cohort of scholarships consisted of six recipients and the total funding between them was $21,000.
"This year, we have awarded $134,000 to 43 students just in academic scholarships," Nikooei said.
Nikooei has been involved with ISF since 2009.
The nonprofit awards Muslims studying at American universities, which allows for ISF to include visiting Muslim students from other countries who are not U.S. citizens.
"In 2017, we received applications from students from 35 different nationalities, 177 universities, 47 states," Nikooei said. "And they came from 45 different majors and minors."
Muslims who are U.S. citizens have access to the film grant; it was first offered in 2014, and the program provides mentoring to recipients during the duration of their film's creation.
The grant is divided into two categories: Narrative and documentary.
"Narratives are up to $20,000," Nikooei said. "And our grants for documentaries are up to $10,000."
An even more recent addition to ISF is the Congressional Leadership Development Program (CLDP), which is a collaboration between ISF and the Muslim Public Affairs Council (MPAC).
The CLDP is a fellowship for Muslims that places students in Congressional internships and pairs their fieldwork with professional development courses. There's also a speaker series for mentorship and networking.
Last year, two interns received job offers in their respective internships after completing the CLDP, and one of them accepted.
Local to the Berkeley area, the ISF has engaged the Muslim community on the West Coast through youth workshops. By engaging parents and youth through discussion panels at Islamic centers, ISF helps families see the need and potential with fields with which they're unfamiliar.
"Let's pretend that we have many, many more on Capitol Hill to represent the Muslim community," Nikooei said. "It will change the future of American Muslims."
Mustafa Toby Eck, a Los Angeles resident, was a recipient of an ISF academic scholarship in 2011.
The ISF understands that film students costly challenges ahead of them, such as payments for their equipment, production insurance, travel and even editing software. Eck was awarded a scholarship which helped cover some of his school supplies and production insurance costs.
Growing up, Eck had an interest in cameras and film, but he didn't know film was something a person could major in. Once he was out of high school, Eck made this discovery and eventually went on to attend a prestigious film program at the University of Southern California.
"I always had a video camera," Eck said. "Before that I had a still camera. I lived in a small town in Arizona as a kid."
He said he received his first video camera during high school.
He also said the emphasis ISF puts on nontraditional majors is important since engineering, medicine and law have been preferred fields in some Muslim communities.
"It's cutting edge for the Muslim community to have ISF create trailblazers," Eck said. "When there isn't a well beaten path you have to create your own path."
The ISF stays in touch with former recipients; the organization has created a network attractive to future awardees.
Through this initiative, Eck was able to be a judge for the film grant.
Currently, he freelances and works for Univision; he mostly edits and shoots short documentaries.
Iman Zawahry, an Egyptian American, was in the first cohort of scholarship recipients for film. She currently sits as the director of the ISF film grant and teaches at University of Florida.
Zawahry used her scholarship to fund her fourth short film.
"Arabs and Eastern people in general are not very supportive of the arts," Zawahry said. "Having a scholarship that supported the arts was awe-inspiring. I could not believe it."
When Zawahry applied to film school her family was not supportive. Many family members, including her siblings, had gone into medicine and Zawahry explained that a person going into medicine typically has a huge network to look to for support— unlike herself when she first began studying film.
"I fought really hard not to go [to med school]," Zawahry said. "When I applied to film school, I didn't tell him [my dad], and I took a huge leap."
Since Zawahry received her scholarship, there has been more representations of Muslims and people of color in film for young people to look to as examples.
"These filmmakers are coming up and making waves," she said.
Zawahry added that now the questions isn't 'what if my parents won't support me?' when it comes to pursuing a career in the humanities. There has been some relief from those fears since ISF's inception.
Zawahry also said the famous filmmaker Lexi Alexander, who is Palestinian-German, has become a strong supporter of ISF because she saw a need for having underrepresented groups in the film industry.
"The Muslim community is a young community," Zawahry said. "We are the pioneers of our generation right now. I feel like we are getting exponential support from the larger American community."
At the end of the day, Zawahry said the ISF brought change in her life despite the lack of support from her family regarding her film career.
"Not that ISF fills the void," she said. "But ISF gives me that emotional fulfillment."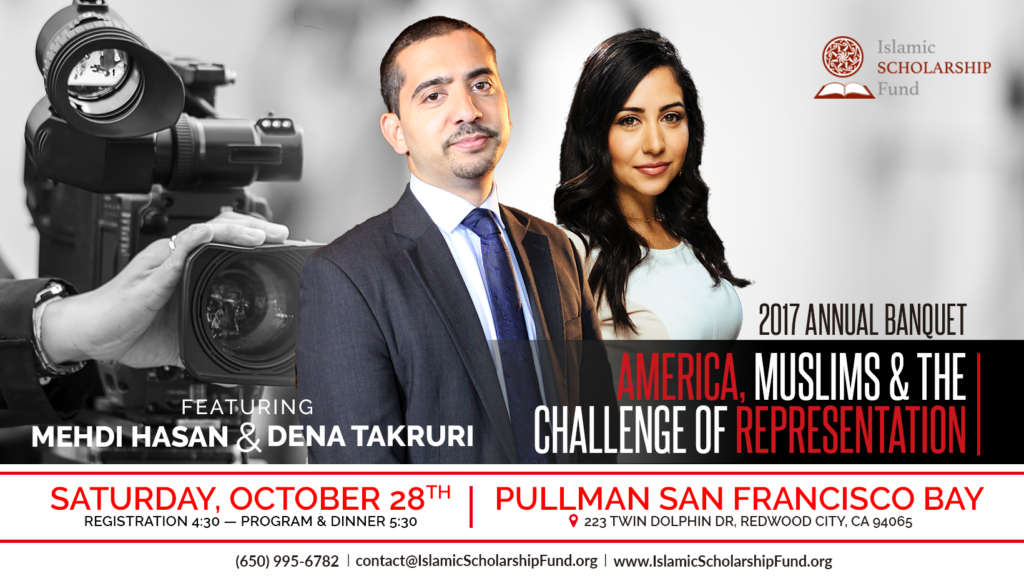 The ISF hosts an annual banquet every October to showcase the work of its students and grant recipients to banquet guests. The event also helps raise funds for future awards.
This year, the banquet falls on October 28. It will take place at the Pullman San Francisco Bay in Redwood City, CA and the keynote speakers will be Mehdi Hasan of Al Jazeera and Dena Takruri of AJ+.
To date, ISF has awarded more than $900,000 in awards. The organization's hope is that it can meet the need and turn fewer applicants away when there isn't enough funding.
"We are not awarding anything close to what we should," Nikooei said. "We have to reject a large number of students because of limited funding."
For more information on scholarships, programs and how to donate, visit www.islamicscholarshipfund.org.