DEARBORN — If you didn't already know what she looked like, you'd be surprised to see Mariam Bazzi greeting a line of guests at the entrance to her own investiture ceremony.
Bazzi – appointed by Gov. Snyder in May as a judge in the Wayne Country Third Circuit Court – pointed attendees to the auditorium, and judges and family members to the stage at the Ford Community and Performing Arts Center on Thursday, Sept. 7.
She'd already been sworn in and began her service on June 26, but hundreds of community members, local officials and judges, and others who crossed cities, states and oceans, were on hand to commemorate her career achievements.
But to her and many Arab Americans there, it was also an unabashed celebration of her ethnicity and culture, and a testament to what minorities in America can achieve.
She was also thankful but nervous, she told The AANews before she walked toward the stage, as performers from the Arab American Orchestra played melodies from the Levant.
Bazzi, of Dearborn, began her career as a law office clerk and was later hired as an assistant prosecuting attorney in Wayne County in 2006, specializing in complex mortgage and real property related fraud.
She has handled criminal cases for Wayne County for the trial division and has been assigned to multiple district courts in the county, handling felony and misdemeanor matters.
She has also been president of both the Arab American Political Action Committee (AAPAC) and the Dearborn School Board.
Abed Hammoud, founder of AAPAC and an assistant U.S. attorney, witnessed Bazzi going from walking down streets to register new Arab Americans to vote, to walking across the stage where he emceed the official commencement of her judgeship.
Before introducing the evening's speakers, Hammoud recalled an AAPAC board meeting called to discuss changing bylaws specially to allow Bazzi to serve beyond her four-year term. Instead, she ran for president of the Dearborn School Board at AAPAC's urging and was the top vote-getter.
I know my parents' story is not unique. It's the story of this community and part of the reason why I'm so proud to be Arab American. -Judge Mariam Bazzi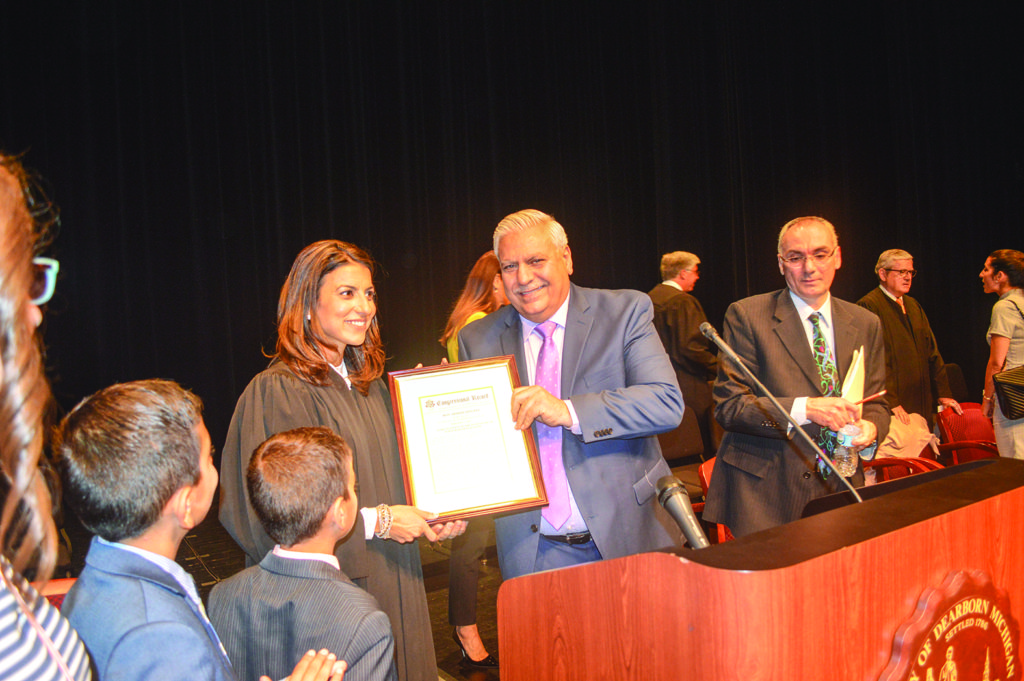 "She has always been a person who gives great advice, but especially motivating influence," Hammoud said, adding that Bazzi told him her position as judge served as a trail blazer to continue opening doors for others, especially women in the Arab American community.
Lt. Governor Brian Calley called Bazzi a "champion of justice" when he took to the stage and emphasized the hard decision the governor made to ensure he'd appointed the right person to the bench.
"It's so critically important that you have that kind of person that you can trust," Calley said. "Trust to uphold and defend the Constitution, to consider the laws to be sacred and [to see those that come before them] as exactly the same."
Osama Siblani, publisher of The AANews and whom Hammoud pegged as a pillar of the community, is no stranger to the soaring successes and setbacks of Arab Americans.
He ruminated over the decades of effort Arab Americans invested in raising generations who would lead their communities and country forward.
"Tonight is a celebration of many achievements," Siblani said, referring to the judge's family –the Saads– whose story was recognized by former President Obama as a symbol of immigrant successes. "We are also here to celebrate as a community our successful journey to realizing the American Dream."
He added that 33 years ago to the day of Bazzi's investiture, The AANews was founded. During that time, Siblani said he frequently visited the Saads when the daughters were young and is proud to be on stage decades later with one who turned to be "one of our best and brightest."
Former Judge Richard Hathaway, chief assistant to Wayne Country Prosecutor Kym Worthy, spoke on her behalf and commended the great number of judges who came out to celebrate Bazzi's investiture.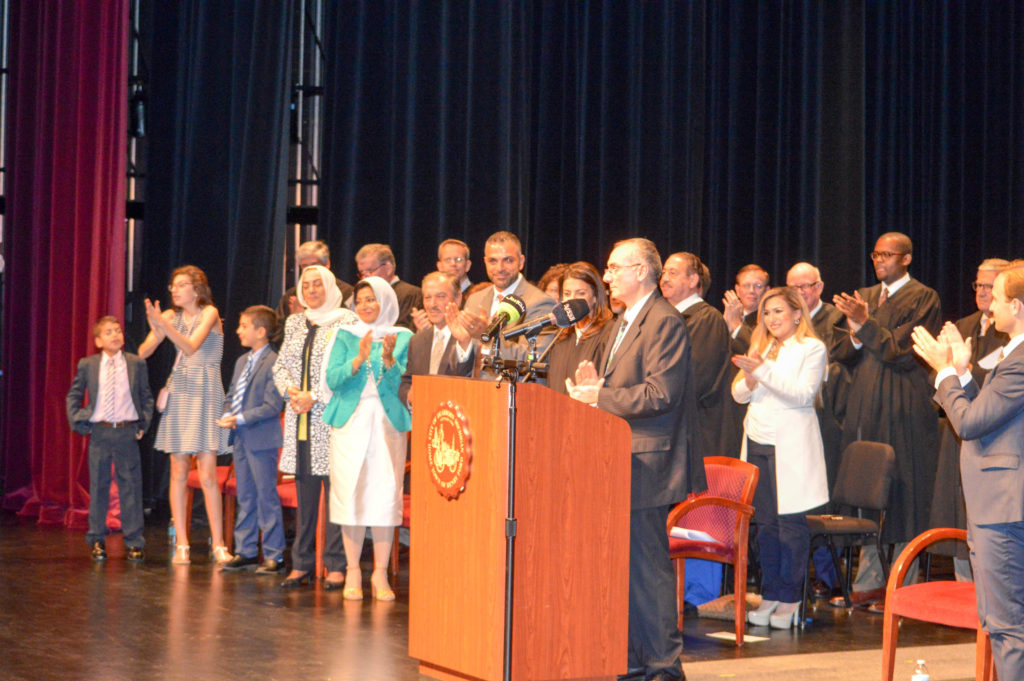 He read a statement from Worthy in which she stated she loved the community's "dedication to family; loyalty to its friends; pride to its culture; absolute richness of spirit, fabric of work ethic and intellect resilience, steadfastness to truth, fairness and justice and always this community's willingness and extend a hand to those in need."
In the statement, Worthy extended that appreciation to Bazzi and said she instantly knew Bazzi would become a "the brightest of all stars" when she was first introduced to her.
No one knew more that Bazzi would pursue a career in law than her sister, Fayrouz Saad, a candidate for U.S. Congress.
She jokingly told stories of how young Bazzi would fine-tune her skills on her, eventually convincing her sister to do her chores.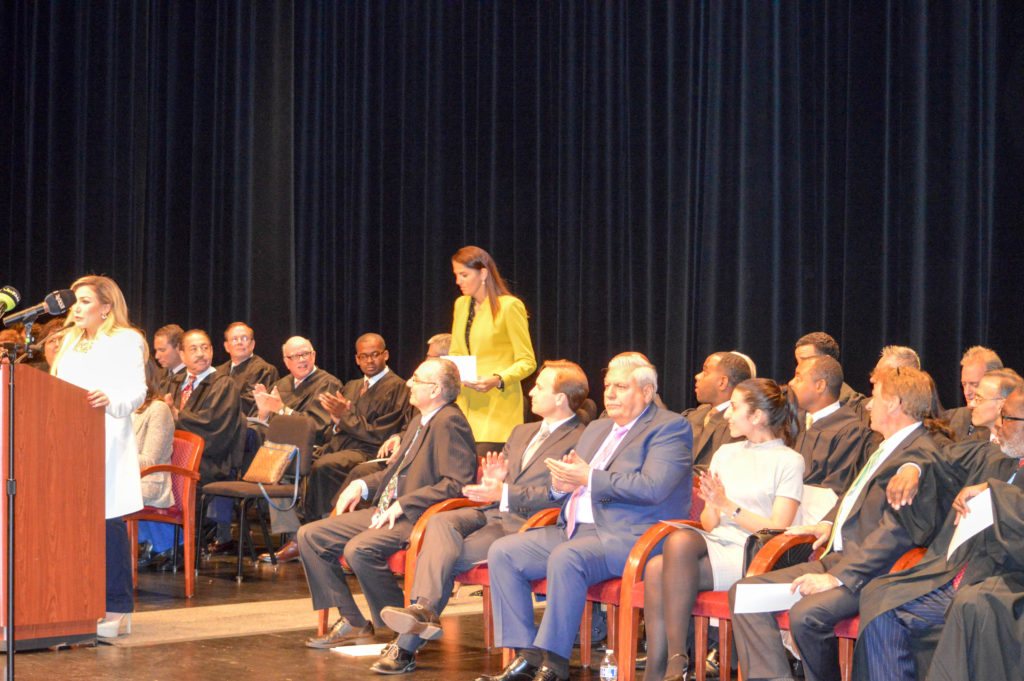 "You're not just getting a judge," Saad said. "You're getting a mother, a wife, a daughter and a sister who has never wavered in her commitment to us."
Timothy Kenny, presiding judge of the criminal division of the Wayne County Third Circuit Court, said he came to know Bazzi during a mortgage and deed fraud case she prosecuted before him. More recently, he noted how, as a judge, she handled a case with fairness, firmness and decisiveness.
Michigan Supreme Court Justice Kurtis Wilder administered the oath of office, with the assistance of Bazzi's husband and children.
"Judge Bazzi has the integrity, the intellect, the work ethnic and the concern for the community to be an excellent judge," Wilder said.
Bazzi received a thundering applause and standing ovation.
Finally, Bazzi was just as humble and appreciative of her supporters when she took to the stage, as she'd been before the ceremony began.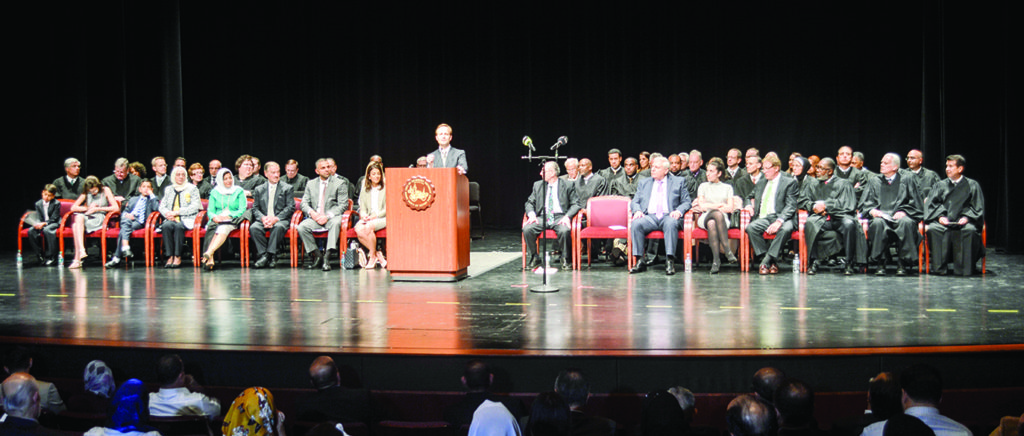 She thanked the judges before whom she'd appeared as a prosecutor – now her colleagues – for the advice they gave as she continued to grow in her career, even when they'd ruled against her.
"Truthfully, I've found a new appreciation for the gravity and the weight that falls on a judge during the moment of sentencing," Bazzi said.
She added that when her newly-wed parents came to America, they could not have imagined that decades later their daughter would serve as a judge.
"I know my parents' story is not unique," she said. "It is the story of this community and can be easily repeated in every row here. It is part of the reason why I'm so proud to be Arab American and to be from Dearborn."
She promised that her involvement in the community would not waver.
Dearborn Heights City Councilman Dave Abdullah concluded the event with an Islamic benediction, read in both Arabic and English.