DEARBORN — To those who are regularly held for questioning at airports or border crossings and believe they may be wrongfully placed on a federal watch list, the FBI's Terrorist Screening Center has news: You are most likely a terrorist or somehow connected to a suspected terrorist.
In Dearborn, where about half of residents are Arab Americans and where about half are in some way linked to a known or suspected terrorist, according to a federal intelligence report leaked by The Intercept in 2014, the TSC had no problem saying it to their faces.
On Wednesday, October 4, fed up community activists met with dozens of federal, state and local law enforcement officials and officers as part of a quarterly BRIDGES (Building Respect In Diverse Groups to Enhance Sensitivity) meeting, in an effort to quell concerns over a disproportionately high number of Arab and Muslim Americans being targeted by their agencies.
BRIDGES was formed shortly after 9/11, in an effort to gather government agencies and local community leaders under one roof to address backlash against the local Arab American and Middle Eastern Muslim communities in southeast Michigan. Since its inception, it has served as a forum for communication among government agencies and the Arab, Muslim and Chaldean American communities.
The meeting came a day after The AANews partnered with The Huffington Post to host a town hall meeting on the issue in Dearborn, as part of its Listen to America tour.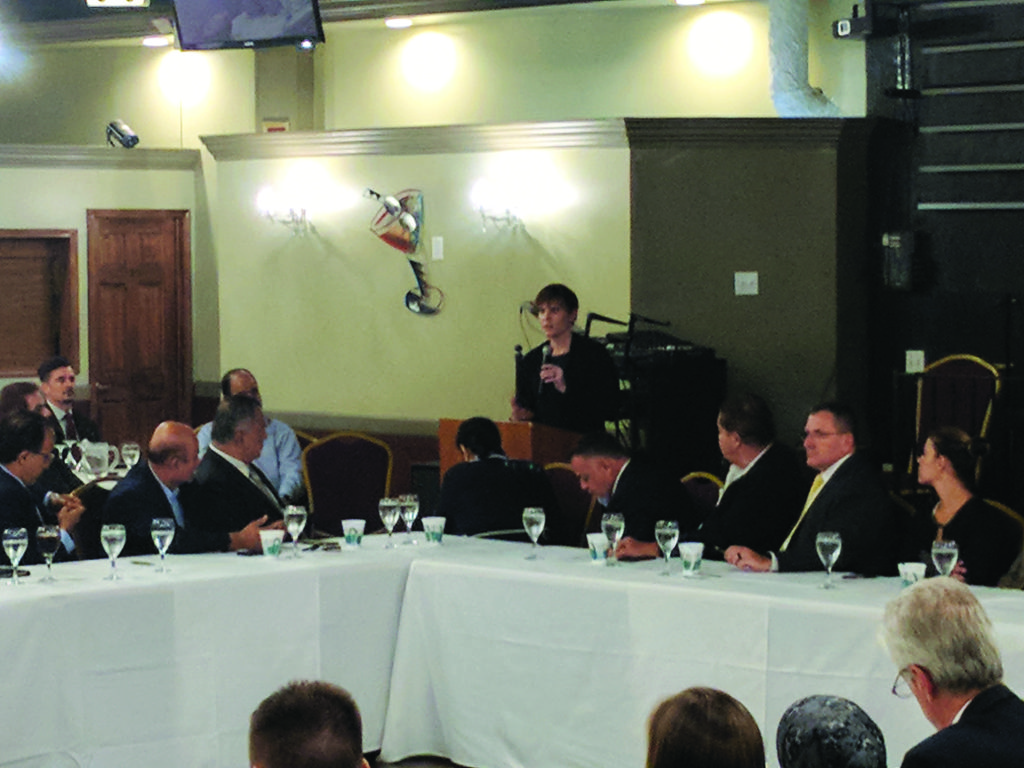 With some who were listed present, Sharon Geddes, assistant general counsel for the FBI Terror Screening Center's Privacy and Civil Liberties Division, said she was "disheartened" by the misinformation about the lists and attempted to "demystify" how individuals get on them.
She said the TSC was formed after 9/11 when the Department of Homeland Security realized nine separate federal agencies managed 12 different lists. Disorder was commonplace, so they consolidated them into one Terrorist Screening Database. It includes subsets like the no fly and secondary screening lists. The latter is generally known as the terrorist watch list.
Geddes said the TSC is now staffed by high-level executives from several federal entities that nominate who to add, a strict set of criteria.
"Thanks, but no thanks," responded ACRL founder and civil rights attorney Nabih Ayad. "It's not something we want to be nominated for."
Ayad has brought class-action lawsuits against the federal government – the only way to successfully remove anyone unjustly placed on the watch list.
Involved in the suits are U.S. citizens – businessmen, lawyers and educators, among others – who have no idea why they are on there.
Geddes said the database does not classify individuals by race or religion, so there is no way to quantify how many Arab or Muslim Americans are chosen. While hours of interrogation and inspection of all belongings may be an inconvenience, security remains a priority, she added.
Slightly more than 1 million people are on the Terrorist Screening Database, she said. That's an additional 300,000 individuals on the watch list since 2014.
About 3,750 (0.375 percent) live in the United States. Of those, about 2,750 are citizens and about 1,000 are legal permanent residents.
About 99,000 individuals are on the no fly list, Geddes said. About 891 of those live in the U.S., about 743 are citizens and about 150 are legal permanent residents.
The secondary screening list includes 30,000 selectees, Geddes added. About 5 percent live in the country. Of those, 4 percent are citizens and 1 percent are legal permanent residents.
However, she said it's not possible to pin down an accurate number of selectees, as the list changes about "1,500 times a day", due to modifications, deletions and additions.
So, if you are on the list, the FBI says you are just part of a small percentage of Americans whom it has determined are capable and ready to assist in or carry out a terrorist attack.
How would they know and get removed?
Selectees on the secondary screening list are banned from purchasing a plane ticket online. Booking a flight at an airport is required and the boarding pass will read "SSSS" for Secondary Security Screening Selection.
As Nasser Baydoun, a businessman and current president of the Arab American Civil Rights League (ACRL), said, none of them know why.
He asked Geddes, why the right to a fair trail or to due process to prove his innocence was beyond reach.
She said individuals on the watch list can contest the designation through the DHS's Traveler Redress Inquiry Program (TRIP), but Baydoun and Ayad said no one they know who has filed for redress has been removed from the list.
Geddes announced that the DHS is beginning to include an additional letter to the "SSSS" that would disclose why the person was placed, but only if they go through the TRIP process.
How did they end up there?
Geddes said the process begins with government agencies, like law enforcement, U.S. embassies and consulates abroad, which nominate individuals based on established reasonable suspicion and "articulable intelligence" that they are a known or suspected terrorist.
She defined a known terrorist as someone who is arrested, indicted or convicted of a crime of terrorism. It requires a lot of data to make the determination, but a suspected terrorist is someone who aided in conducting a terrorist activity.
The TSC cross-screens those nominations at least twice, to ensure the individuals are, in fact, "operationally capable" of assisting or carrying out an attack.
"Many of them are convicted of terrorism offenses or are actively involved in armed conflict overseas," Geddes said.
She said that in the end, determining who is a known or suspected terrorist is a complex operation involving a large network of government entities, who call the TCS about 400 times a day to inquire about someone at a border crossing, airport or military checkpoint, among others.
Of the calls, 30 percent involve known terrorists, she added.
Are community members' claims of
unjustly being placed on the terrorist watchlist valid?
"If the net is too tight, you're going to have possible matches," Geddes said. "If it's too loose, you miss many matches. We strive to perfect that process."