While the school district, community and police look for answers, here are some professional perspectives.
DEARBORN — Last week, Dearborn Public Schools officials informed the community about an alleged afterschool hazing incident involving several of Fordson High School's junior varsity football players in the locker room.
Superintendent Glenn Maleyko told The AANews that the investigation is ongoing, in cooperation with Dearborn Police.
"We have separate rules and discipline than they do," Maleyko said. "We can expel kids from school etc… but the police decides what type of criminal behavior, if any. I'm not saying there was criminal behavior, but I'm not confirming or denying it either way. They have the ability to make that judgment… It's up to the police and the prosecutor's office."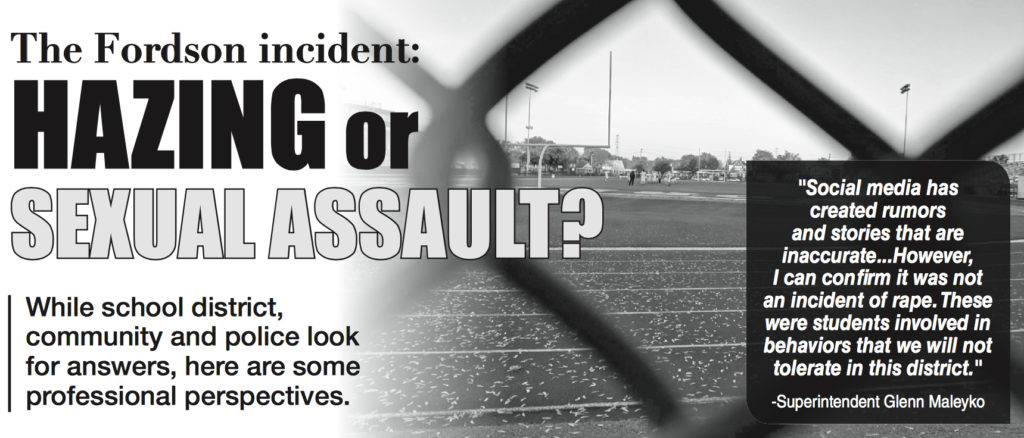 Police Chief Ron Haddad said the public needs to keep in mind that those involved are minors and there's an obvious degree of confidentiality that needs to be ensured. Therefore, details and names of the alleged hazers, who were "removed" from the school the next morning, and of the victim, were not disclosed.
"The investigation is continuing," Haddad said. "We've coordinated our efforts with school officials and we expect to have the total investigation done by the end of this week."
The Oct. 9 incident has caused an upheaval in the community, especially after a serious clash regarding labels. School administrators call it a "rogue hazing", while students argue it's a "sexual assault."
"Hazing is a form of bullying and can be considered harassment," Fordson Principal Heyam Alcodray said in a letter to parents last week. "…On behalf of all students and staff members at Fordson, I extend our most sincere apologies to the victim of this rogue hazing incident."
Maleyko released a statement last Thursday confirming the incident wasn't a rape, contrary to reports that spread on social media.
"Social media has created rumors and stories that are inaccurate," he said. "…However, I can confirm it was not an incident of rape. These were students involved in behaviors that we will not tolerate in this district."
Still, several youths claim it was a "sexual assault" too graphic to share, so there's been some concern in the community about school transparency after the usage of the term "rogue hazing" and about the safety of children.
Old restorative practices and new much-needed program in the works
Danene Charles, Dearborn Public Schools coordinator for affective education, said every first day or week of the school year, all students in the district take a pledge against bullying.
"But past that day, every year, as a part of board policy, we have every school involved in coming up with at least two to three assemblies that they offer to the student body to really talk about being an upstander… We're really about positive messaging and the behaviors we want to see in students."
She added that the district also hosts a community event every November that addresses restorative practices and core values. Student committees within the schools stand up against bullying and allow a safe space to work through reporting an incident.
"We also have Positive Behavior Intervention and Support that over half of our schools participate in," she said.
Charles said that in the wake of the Fordson incident, there's a need to address issues such as sexual assaults and hazing head-on, specifically with high school students. The district plans on coordinating sessions with some university athletic programs that have dealt with these types of incidents.
"Dr. Maleyko has aggressively pulled a team together to look at these issues," she said. "And we're working on having people come in as soon as possible to talk to students about that issue specifically— what it is and what it's not— so that they are educated… and can call it what it is when it happens, as opposed to just making [it] up."
Defining "hazing" and "sexual assault"
Hazing practices exist in many social groups, including gangs, fraternities, sororities, teams, military units and more as a form of initiation that usually harasses, abuses and humiliates a newcomer. It can range from nonthreatening acts to criminal acts, like sexual assault.
A sexual assault involves any nonconsensual sexual contact or behavior. According to the department of justice, rape, attempted rape, "forcible sodomy, child molestation, incest [and] fondling" all fall under the definition.
"I know people take issue, but if you look at hazing, it can be multiple levels of things," Maleyko told The AANews. "…I've seen incidents, where people have died from a hazing situation."
He added that those judging the term used to describe the incident need to know that it's not an effort to play it down, but to rather communicate to the public "without giving any details" due to student confidentiality and an investigation that is not yet complete.
A sociological perspective: "Rape culture" and reputation
Even though sexual assault qualifies as an extreme class of hazing, arguments have risen against such a classification.
"The historical roots of hazing are typically found on college campuses," said Salam Aboulhassan, a Ph.D. candidate in sociology and graduate teaching assistant at Wayne State University. "…Regardless, to state that a sexual assault is a form of hazing is in itself diminishing the actual incident. If someone were to be raped on a college campus [and officials] basically say that it's a hazing ritual, then the perpetrator wouldn't be charged with sexual assault… any legal ramifications that the perpetrator would face would be based on hazing."
The consequences of both acts don't equate each other, she said, adding that the problem with any institution suggesting that a sexual assault can be a form of hazing normalizes the act.
"We can honestly say that hazing is a form of bullying, so would it be ok to say sexual assault is a form of bullying?" Aboulhassan said. "That is actually the exact definition of 'rape culture' that suggests sexual assaults are so normalized in our society that we redefine them under a less severe term."
She said it silences victims when they know their assaulter won't be properly penalized, especially since countless cases have been continuously overlooked.
"You ignore it by protecting [the institution]," she said. "You're led to believe that because of this one incident, now the whole school has a reputation and is a bad school, when that's not the case."
She noted that within the Arab American community, it starts in the family, as sexuality is linked to its reputation and honor for both genders, but more so for women.
"It starts within the culture itself and [that idea] needs to be dismantled," she said.
Psychological reasoning for such acts and traumatic effects
According to psychologist Dr. Hoda Amine, the reason for such intolerable acts of hazing or sexual assault stems from a broken home, insecurities, abuse and more issues.
"Perpetrators are very insecure, unable to deal with their own issues," she said. "They feel the only way for them to be noticed is if they do something that could make them stand out and instill fear in others." She said it gives them a sense of power.
However, Amine added that the traumas they cause survivors usually depend on an individual, but can be severely detrimental.
She said many warning signs tell whether someone has been traumatized, including physical pain, numbness, muscle twitches, uncomfortable feelings and more. Psychologically, they may relive experiences over and over again through flashbacks in their mind.
"They might mutilate their body as a defense mechanism," she said. "Some of them abuse drugs and alcohol to numb their emotional trauma. Others dissociate from other people and look at themselves as worthless or shameful and blame themselves… It can lead all the way to suicide."
Are parents, the community and institutions doing enough?
Both Aboulhassan and Amine mentioned that undoing mentalities that silence a victim for cultural protection, supporting him or her and raising awareness starts in a family setting before a community and its institutions.
"Parents need to talk to children about how power works because they have very little control over themselves," Aboulhassan said. "…There needs to be clear conversations within families about if someone treats you inappropriately that you shouldn't fear speaking out."
"They have to love their children unconditionally," Amine said. "They have to let them know that it is not their fault and that they can face it together — it's not the world and them against their child." She added that even perpetrators need to be helped and supported.
"Make sure you watch your child, know their friends, know their surroundings, etc," she said "…Don't make an excuse for them, don't be an enabler."
As for the school system, Aboulhassan said it needs to teach students "about how power dynamics work between genders, seniors and freshman, teachers and students, coaches and students, in all aspects."
She said children need to know they can speak up and that someone having power over them doesn't mean he or she has a right to harm them.
"All adults have access to power, but the only individuals in our society that have very little access to power are children," she said.