DALLAS, TEXAS — Waseem Nabulsi, an 18-year-old senior at St. Mark's School of Texas, a private, nonsectarian college-preparatory boys' day school for students in grades 1 through 12, became a published poet and artist this past fall with the release of "Under My Grandmother's Olive Tree: Poems and Artwork about being Palestinian."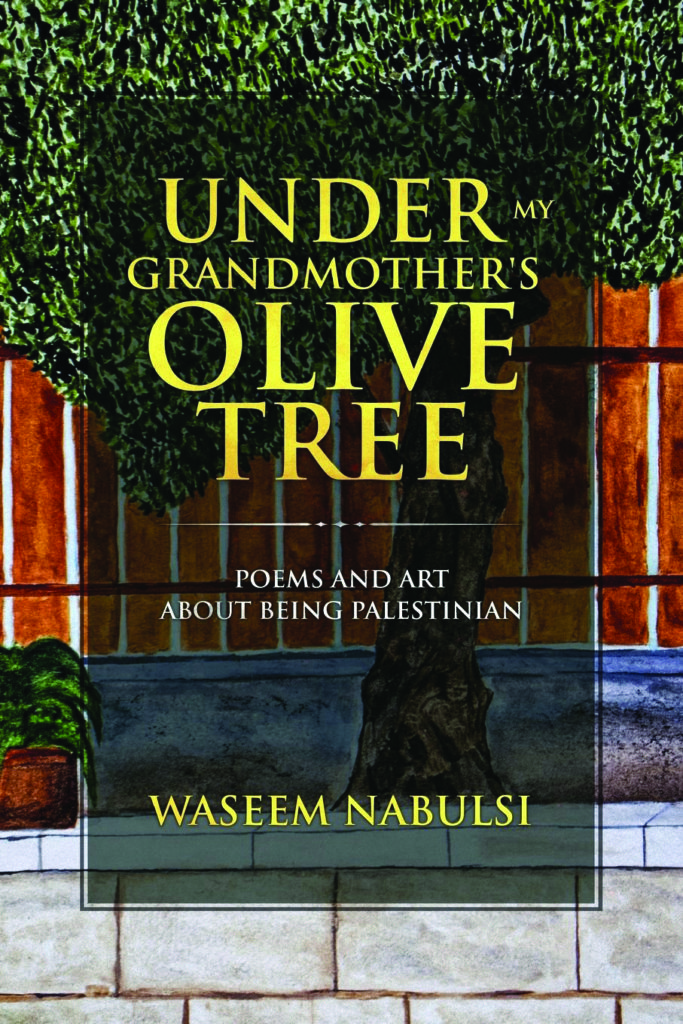 Since the book's release on October 19, it has leapt up the ranks on Amazon.com. It reached the number one spot on the site's charts for newly released Middle Eastern poetry, the number two spot for best-selling Middle Eastern poetry and rose to number 83 on the list for best-selling poetry on Amazon.
The book is written in English, a language in which Nabulsi said he felt he could best express himself. He grew up in Dallas. His mother is from the West Bank and his father is from Jerusalem.
Nabulsi, who graduates this spring, said the book is about 30 to 40 pages and consists of both his poems and his artwork. The content stems from experiences he had visiting his parents' homelands almost every summer while growing up.
What I've seen recently, people are starting to care about the Palestinian issue. They're starting to care about Palestinian human rights.
He also said the negative experiences with the Israeli soldiers at checkpoints created unpleasant memories that he translated into poetry and artwork. However, the work incorporates pleasant memories created from the beauty of the region as well.
Nabulsi wasn't always interested in poetry. He was first introduced to it his freshman year by an English teacher, Curtis Smith, and by his personal discovery of the famous Palestinian poet Mahmoud Darwish.
Darwish's poetry made Nabulsi realize that poetry wasn't required to be long, Shakespearian stories, but could be about everyday life and about very personal things. Before high school, he said he hadn't allowed himself to experience these things because he'd closed himself off.
He also said that like most Arab American kids his age, both of his parents are doctors and that a lot of the kids want to become doctors or surgeons, too.
"I think that is, more than anything, just going along with what our parents want," he told The AANews. "I sort of had this same thing. I had thought I was better at STEM subjects at school. Even though I did enjoy those subjects and I was good at them, I first started really enjoying poetry and literature when I entered high school."
When he began writing poetry during his freshman year, he kept them on scraps of paper that would almost always find their way to the trash. Later, he began to save them on his computer; and in the last year he began dabbling with the idea of publishing them.
Nabulsi interned at the non-profit Jerusalem Fund and Palestine Center in Washington D.C. this past summer. He said he tries to involve himself in Palestinian projects as much as possible.
"It was an interesting experience," he said of the internship. "It is an area, even beyond the familial ties to it, it's so interesting to me. I think the Middle East in general, including Palestine and the Arab world, I think it's something I definitely want to pursue when I go to college."
He said he's fairly sure he plans on majoring in Middle Eastern studies and minoring in either literature or comparative English studies.
Nabulsi also said he's seen a shift in attitudes about Palestine recently.
"I think that as we focus in on this past election cycle, we see that although the Democratic Party traditionally considers themselves fairly liberal and progressive, the Palestinian issue has always been that one issue they don't support," he said. "They take a more conservative approach and take the sort of Zionist approach. I think that as we look at this past year and we see how society has shifted, we see that society has become increasingly more focused on Palestinian issues. It's not just Arabs out there supporting Palestinians."
He's seen White Americans, Black Americans and young Jewish Americans begin to support Palestine over Israel. He said he finds this incredible because it would be unheard of even four to five years ago.
"What I've seen recently, people are starting to care," Nabulsi said. "People are starting to care about the Palestinian issue. They're starting to care about Palestinian human rights.
"It's a humanitarian issue," he added. "I think the reason why this issue hasn't died in the media and people keep backing this issue is because we are all humans. Humans are going to naturally shift towards areas where they feel there is injustice. People are seeing it more and more as a humanitarian issue. It's the best thing we can ask for because it's the message that Palestinian advocates have been preaching all along. It's not a political issue; it's a human issue."