Here's our 2017 year-in-review of the most important news and developments as reported by The Arab American News locally, nationally and internationally.
Community and local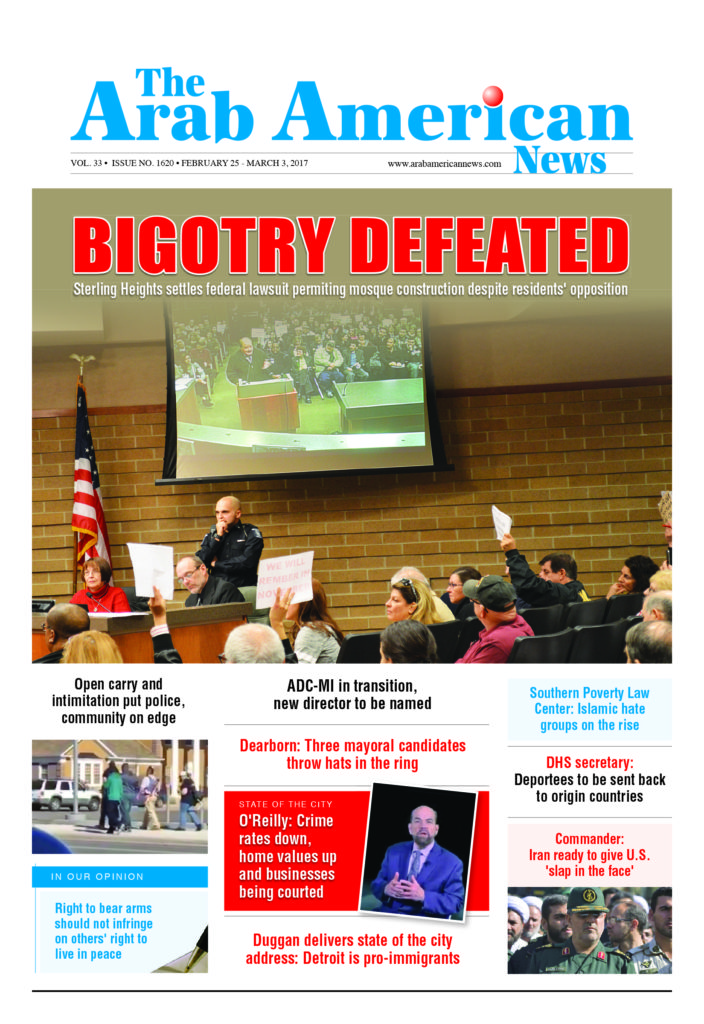 1. Former Dearborn City Clerk Kathy Buda was convicted on embezzlement charges, after clerk office employees reported suspicions she was stealing cash from fees collected from residents. Buda retired about two weeks before her arrest on Feb. 9. She avoided jail time and six other charges in exchange for a guilty plea and was sentenced to two years probation and fined more than $1,600.
2. Abdul El-Sayed became the first Arab American to run for governor of Michigan. In 2015, the Egyptian American doctor became the nation's youngest health director when he began serving as executive director of Detroit's Health Department. His platform includes support for single-payer healthcare, a $15 minimum wage and 100 percent renewable energy.
3. The city of Sterling Heights settled a lawsuit permitting the construction of a mosque, despite residents' opposition. Since the mosque was proposed, mainly Iraqi Christians spearheaded protests and constantly raised concerns about Muslims during Planning Commission and City Council meetings. The Department of Justice sued the city in December 2016 after the commission denied the construction in Sept. 2015. The Islamic center first sued the city in August 2016.
4. Dearborn Public Schools educator Imad Fadlallah's sudden death shocked the community. He was the principal of Fordson High School until his passing in March at 57-years-old, following complications of an open-heart surgery.
5. Immigration and Customs Enforcement (ICE) raids and arrests in Metro Detroit's Iraqi communities spread fears. Hundreds of Iraqi immigrants who had been ordered deported years ago due to criminal convictions were detained. Iraq until recently had refused to take them back, but struck a deal with the U.S. in March to take back its citizens, sparking the immigration sweeps. This week, a federal judge in Detroit ordered their release or that they be granted bond hearings after the ACLU sued the government.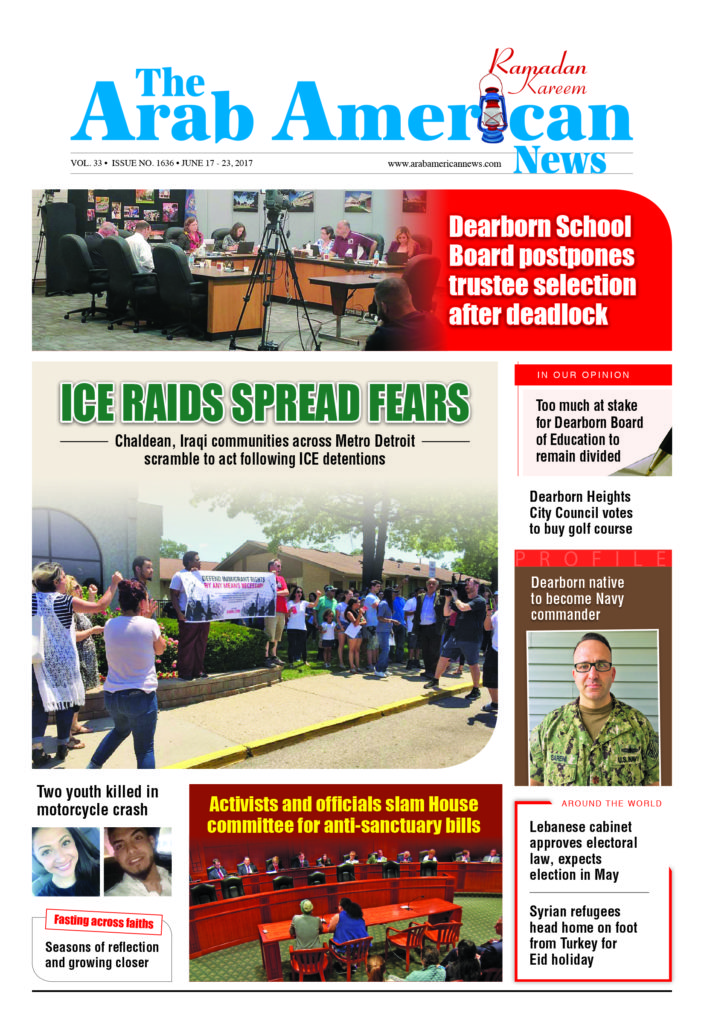 6. Voters in Dearborn, Dearborn Heights, Westland, Hamtramck and Detroit kept their incumbent mayors. At the same time, more Arab Americans entered the public service arena, with the election of Fadel Al-Marsoumi to the Hamtramck City Council, Bill Bazzi to the Dearborn Heights City Council, the appointment of Celia Nasser to the Dearborn School Board and the re-election of Susan Dabaja and Mike Sareini, the top two-voter getters on the Dearborn City Council.  Mariam  Bazzi was also appointed by Gov. snyder as a Wayne County Circuit Court judge.
7. State police raided a Dearborn medical clinic for overprescribing opioids. Investigators said Dr. Mohammad Derani and his employee Zahra Alwajed were arrested in mid August for prescribing half a million pills in six months and that roughly half ended up on the street. Derani is charged with four counts of delivery of a controlled substance.
8. A sexual hazing incident at Dearborn's Fordson High School outraged residents in October, especially after a clash regarding labels. School administrators called it "rogue hazing", while some students argued it was a sexual assault. Three sophomores were charged with one count of assault and battery against a 13-year-old freshman. The freshman was allegedly sitting in the locker room before football practice on Oct. 9 when the sophomores assaulted him.
9. A resolution to divest from companies that invest in Israel was passed in November by the University of Michigan's Central Student Government body. The historic resolution created a committee to determine if companies partnered with the university profit from the violation of Palestinian human rights.
National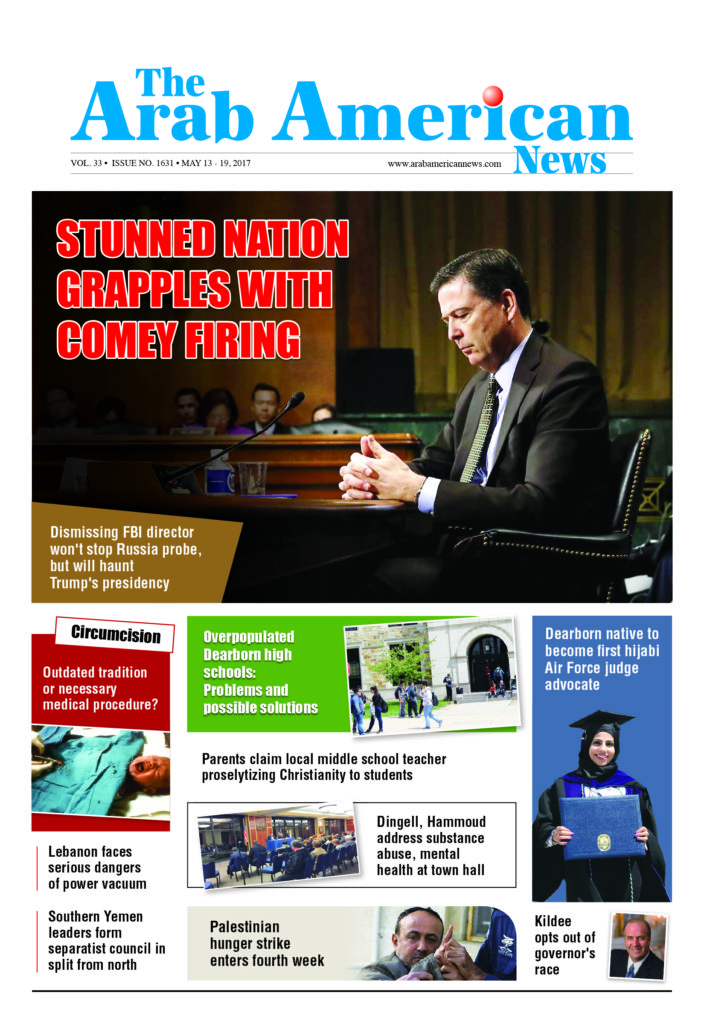 1. President Trump's first executive order after taking office was to implement a travel ban on several Muslim-majority countries, delivering on his campaign promise to impose "a total and complete shutdown of Muslims entering the United States." His action sparked massive protests across the nation and condemnation from local and federal officials. Several federal courts across the country temporality halted parts of the ban, until the Supreme Court granted it full effect at the end of the year. The ban's third iteration includes Chad, Iran, Libya, Somalia, Syria, Yemen, Venezuela and North Korea.
2. More than 80 sexual assault allegations against film producer Harvey Weinstein rocked the world of Hollywood and beyond. More victims were inspired to come out against numerous entertainment and political actors, sparking the #MeToo movement. Bill O'Reilly was subsequently dropped from Fox News on similar charges.
3. President Trump fired FBI Director James Comey amid investigations into collusion with Russia and meddling in the 2016 U.S. elections.
4. For his first foreign trips as president, Trump visited Saudi Arabia and Israel.
5. A White supremacist stabbed three passengers who were standing up to his racist tirade against a Muslim teen on a train in Portland, Oregon.
6. Deadly hurricanes in Texas, Florida and Puerto Rico and massive wildfires in California left millions of Americans homeless and cost billions of dollars in damages.
7. The worst mass shooting in modern American history occurred on the Las Vegas Strip, leaving 58 dead and 546 injured.
8. U.S. Representative John Conyers (D-Detroit) resigned after 53 years in office amid accusations of sexual harassment, while U.S. Rep. Sander Levin announced his retirement from Congress.
9. President Trump signed the most significant overhaul of the U.S. tax code in 30 years, while failing to deliver on his promise to repeal and replace Obamacare.
International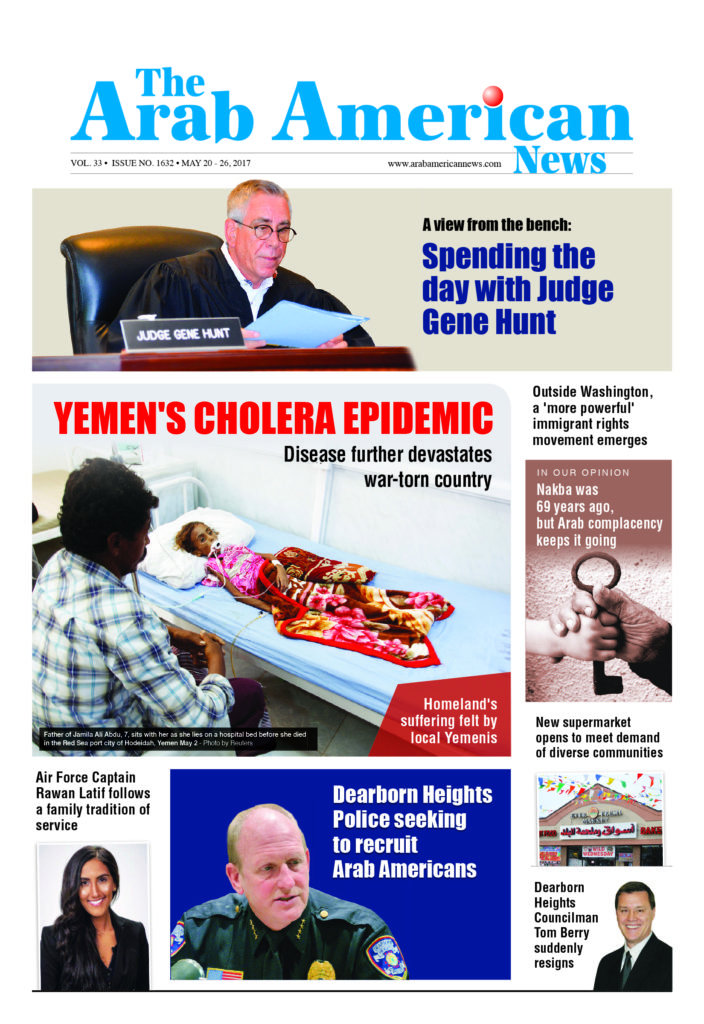 1. President Trump launched an attack of 59 Tomahawk missiles on an airbase in Syria, where the U.S. accused the Assad government of releasing Sarin gas, a chemical nerve agent that poisoned and killed scores in Idlib.
2. Palestinian prisoners in Israeli jails went on a 40-day hunger strike.
3. The constant bomb shelling of Yemen by a Saudi-led military coalition deepened the devastated county's poverty, hunger and Cholera epidemics. A failed agreement between the Yemeni government and Houthi militia resulted in former President Ali Abdullah Saleh's assassination.
4. Saudi Arabia's King Salman elevated his son,Mohammed bin Salman to crown prince.
5. Rohingya Muslims fled genocide in Myanmar to Bangladesh.
6. ISIS was defeated in Iraq, Syria and Lebanon, but regional conflict continues to wreak havoc in the Arab World.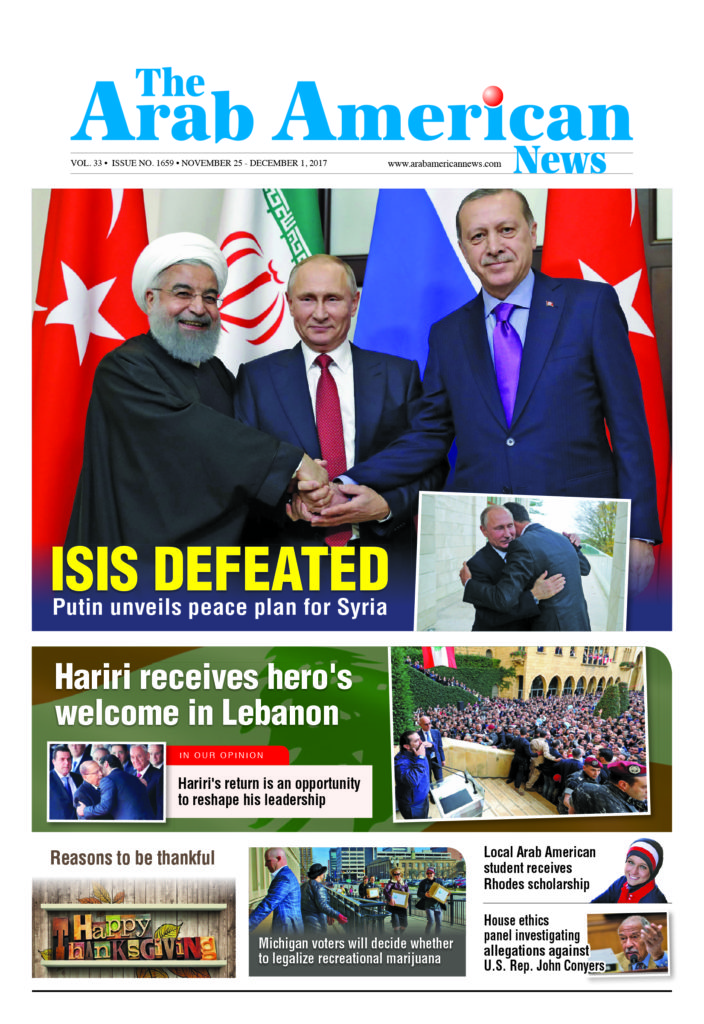 7. In July, Palestinians protested restrictions by Israelis of worshippers entering the Al-Aqsa mosque. It followed a deadly shootout on July 14 that killed two Israelis and three Palestinians. When the compound was reopened two days later, Palestinians refused to enter, objecting to metal detectors installed by Israel. Religious officials said about 10,000 worshippers entered the mosque during Friday prayers when the metal detectors and an age restriction were lifted two weeks later.
8. Saudi Arabia lifted its ban on women drivers.
9. Lebanese Prime Minister Saad Hariri sent waves of shock and confusion when he announced his sudden resignation on television from the capital
of Saudi Arabia. He was allegedly detained and forced to resign, coinciding with a Saudi corruption crackdown. Some of the world's wealthiest businessmen, former officials and princes are being held as prisoners at a Ritz Carlton Hotel while their assets are frozen. With the help and pressure from world leaders, Hariri returned to Lebanon a few weeks later and rescinded his resignation.
10. Trump declared Jerusalem the capital of Israel on Dec. 6, igniting protests and fury around the globe. Leaders of 57 Islamic nations declared East Jerusalem as the capital of Palestine at a summit in Istanbul, while United Nations 128 member-countries voted against Trump's decision.