DETROIT — It was an obvious choice for Rafed White, owner of Dollar Center at Warren Avenue and Greenfield Road.
In fact, he said it was "100 percent the best investment" he's made in his store.
Two years after Mayor Mike Duggan and Police Chief James Craig announced Project Green Light, White and about 230 others, including owners of gas stations, party stores, car washes, restaurants and residential buildings, have joined a network of businesses that have a unique partnership with the Detroit Police Department.
It's part of an initiative that began with eight businesses wanting to make it safer for their shoppers and customers at the pumps, while contributing to Detroit's resurgence.
White, an Iraqi American who lives about a 40-minute drive from his shop, said he couldn't imagine going back to the nerve-wrecking days of getting up in the middle of the night to check the cameras in his store on his phone — a routine he started after losing thousands in stolen inventory.
"We stopped calling the police because it would take so long for them to come," he said.
But starting a year ago, obvious signs— a flashing green light that can be seen from a mile away and high-definition feeds watched live at the Police Department's Real Time Crime Center— are enough to bring in a growing stream of shoppers into his store and to neighboring businesses.
"I'm taking safety personally," he said.
As the number of partners spreads throughout the city, it's not just the small businesses that benefit from the fruits of Project Green Light.
Duggan and Craig announced on January 4 that violent crimes in 2017 were down 12 percent from the year before. There were 267 homicides last year, down from 302 in 2016 – the lowest since 1966. The report shows that carjackings are down 41 percent and other non-violent theft-related crimes are down 13 percent.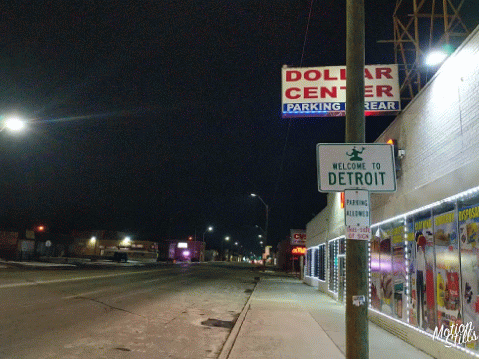 The officials credited the crime reduction to the hiring of more than 500 officers and more than 100 who were moved from desk jobs to the street, the crime center and Ceasefire Detroit, a multi-agency effort designed to address gang-related gun crimes and Project Green Light.
White said he used fear for himself and for his employees' safety, calling police "very often" before partnering with Project Green Light, adding that the blaring signs have been a major deterrent.
A visible patrol presence has also been increased around his shop and officers are on average a five minute call away, giving priority response to Green Light partners, he said.
Now, the number of 911 calls is down to about once a week, mainly for loitering and shoplifting.
"They know right away that somebody is watching them, so they're less likely to put something in their pockets," White said of unwelcomed customers. "And if they do, they're less likely to get away with it because their pictures is captured on camera and available to the police."
Costs and incentives
Yaseen, a manager at a Sunoco gas station on Livernois and I-94 East, said the "huge difference" in the reduction of theft and loitering at his station that he's noticed in the six months since joining Project Green Light should be enough to convince all Detroit business to install the high-tech security system, which includes facial recognition and license plate reading capabilities.
We want the city to work with us, for police to respond and for them to take us seriously. In return, we want to invest our hard-earned money to help the city protect people who work, visit and do business here.
But the Green Light security system isn't free to install, with costs running up to $6,000, which could dissuade modest-sized businesses from benefiting.
The program requires installation of a minimum of four cameras, signage, adequate lighting and high-speed Internet. Lighting alone costs $450.
Recently, the city teamed up with Comcast Rocket Fiber to offer a monthly payment program for $499 to $995 down and about $140 to $180 a month for digital storage and the leasing of camera equipment.
"Get it and save yourself the headache," said Yaseem, attesting to a return on investment.
Moussa Bazzi, co-owner of three gas stations on Detroit's east side for 25 to 33 years, said becoming a Project Green Light partner is a "wise" long-term investment and protecting employees should be "part of every business plan."
Bazzi said he sees such great value in Project Green Light that about 30 cameras have watched every corner of his three stations since its inception, making him one of its original partners, and pointed to the thousands it costs just to build a bathroom at a store.
Some business owners suggested the city offer tax breaks and other incentives for signing up. However, Bazzi, who was present during the first meetings in 2014 with the mayor regarding the project, said that would have added financial burdens to a city recovering from bankruptcy and it would put the city in a contractual bind with some businesses. It would have been nice, but he said the business owners understood why it wasn't feasible.
"We want the city to work with us, for police to respond and for them to take us seriously," he said. "[In return], we want to invest our hard-earned money to help the city protect people who work, visit and do business here."
Bazzi said he's seen about a 10-15 percent increase in business at his gas stations, as criminals leave the area and more customers pour in.
He said the safer it is, the more wealthier customers will stop by and make a purchase. Forging relationships with the police department also sends a signal that the business is free of dishonest practices, like selling illegal cigarettes and drug pipes.
"You're inviting the good people to come over," he said.
A safer Detroit
Bazzi moved with his family to Detroit almost six years ago, after recognizing the city's potential and anticipating its resurgence when he saw that Duggan and Craig were, "very serious about improving the quality of life in the city."
In the past year, Bazzi said he's seen that goal become more of a reality as more businesses sign up.
A report by the police department shows that incidents of violent crime within 500 feet of the original eight Project Green Light partners were reduced by 50 percent, comparing January to July 2017 data to 2015.
Bazzi, Yaseen and White all said the cameras at their businesses have stopped crimes in their neighborhoods or helped solve them. Bazzi said that within the first week of installing them, police were able to identify and arrest a taxi driver who hit a boy on his way to school in front of one of his gas stations. This week, he said police are using his cameras to investigate an incident at an adjacent business in Grosse Pointe.
Detroit Police Department Commander Todd Bettison told The AANews he's heard would-be criminals complain about not being able to operate because of the private-public partnership.
Bettison oversees the Project Green Light program at the department and said its deterrent effect has saved one business about $2,000 a month it was losing in stolen goods. For those who commit crimes, especially in multiple locations, their prosecution is now substantially more likely.
In November, 20 individuals were convicted in court after being caught through the live feed, including a woman who fired multiple shots at a Mobil gas station in March 2016. Two hours later, she was recognized at a traffic stop while driving a mile away from her home and was arrested.
"It speeds up the criminal justice system," Bettison said.
Bettison said police officials were originally cautious about who could join the program, focusing on businesses in areas with high crime and customer traffic that open early or stay open late. However, the demand for Project Green Light is so great that other properties like grocery stores, movies theaters, apartments and retirement complexes want to reap its benefits. The number of partners have doubled in one year.
He also said some development authorities are in talks about installing a few Project Green Light systems that would monitor several stores along various business district corridors.
Stores owners and city officials in other communities, including Redford and Flint, have also begun approaching program directors about getting involved, Bettison added.
In response to the growing interest, Bettison said the city has invested "millions of dollars" to turn on more than 200 live high definition camera feeds, hire more crime analysts and expand the Real Time Crime Center's footprint.
From frustrations to success
As much as Project Green Light contributes to Detroit's comeback, its seeds were planted amid a rocky relationship with City Hall in 2014.
Small business owners, mostly Arab Americans, complained of unjustified ticketing and hefty fees. Arab American gas station and liquor store owners even accused the city of discrimination and threatened to sue the mayor's office.
Soon after, some of the owners, including Bazzi and local entrepreneurs, business and community leaders, began meeting with the mayor and police chief to mend fences and implement a plan that would benefit every stakeholder in the city.
Businessman Nasser Baydoun, an advocate of the project since its inception, told The AANews the concept was based on the "blue light" program founded by Dan Gilbert's Rock Ventures in Downtown Detroit and that it was the mayor who proposed adding the cameras.
It was to be called Project Lighthouse and its partners' beckoning green lights would signal they were "safe havens" in troubled neighborhoods.
At the press conference announcing the project in January 2016, Duggan and Beydoun said the city and businesses have put their differences aside and share the same vision of "One Detroit."
Today, Beydoun said Detroit's green lights are lighting the way for hope among officials in similar districts in Los Angeles and even in Brazil.
---
About this series
New Michigan Media (NMM) is the collaboration of the five leading minority media outlets in the region. The New Michigan Media Newspapers have a combined estimated reach of more than 140,000 weekly, and include The Latino Press, the Michigan Chronicle, the Jewish News, the Michigan Korean Weekly and The Arab American News.  For the past three years, NMM has also been a member of the Detroit Journalism Cooperative (DJC), the unique collaboration between some of the leading media outlets of the region, which includes The Center for Michigan's Bridge Magazine, Detroit Public Television, Michigan Public Radio and WDET. Funded by the John S. and James L. Knight Foundation, the DJC aims to report about and create community engagement opportunities in Detroit and the region. The article you are reading is part of the DJC project of this year and will appear in all the NMM member newspapers, as well as with the DJC partners.