DEARBORN — Dearborn Real Estate associate broker and businessman Sam Baydoun announced that he will seek the Wayne County Commission seat being vacated by Chairman Gary Woronchak, who has opted against seeking another term on the county's governing board and will instead run for an open seat in the State Senate. Woronchak represents District 13, which includes Dearborn and Allen Park.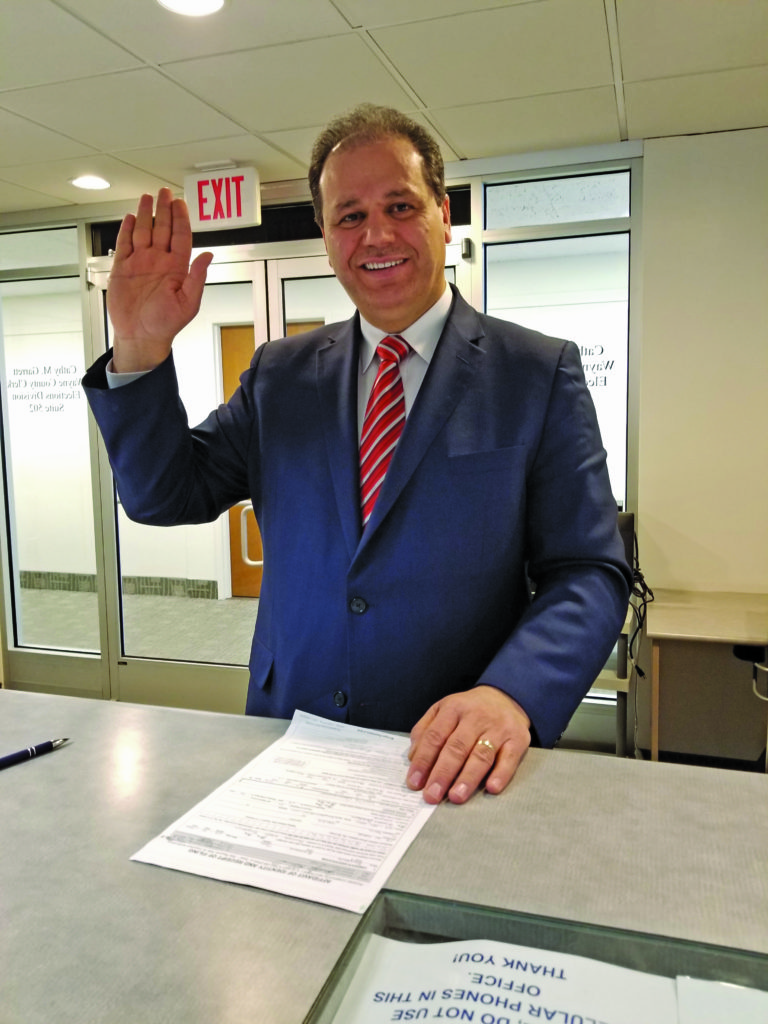 Sam Baydoun, 54, a longtime Dearborn resident, is a successful associate broker of Century 21 Curran & Christie, with an impeccable career spanning more than 31 years in the real estate business, 27 of which are punctuated with the highest Century 21 International awards, including induction into the Centurion Hall of Fame. He has consistently been honored by his company for his solo top sales production— without a team— and with one assistant.
For nearly a decade, Baydoun has lead the local realtor organization as the chairman of the Government Affairs Committee, which subsequently piqued his interest in public affairs and his support for RPAC, the Realtor Political Action Committee.
Baydoun believes it is time to serve his country, state and county by giving back to the country that gave him a great opportunity to advance in his life, raise his family and realize the American Dream.
"I believe it is time for me to step forward and serve the community and the people of Wayne County," he said.
Baydoun realizes the challenges and opportunities facing the people of Wayne County, with Detroit reemerging from bankruptcy into a robust city that is surely recovering under the leadership of Mayor Mike Duggan. Baydoun's hometown of Dearborn is joining the progress and meeting the challenges with a huge investment by Ford Motor Company that presents a historic opportunity that we must expand upon.
"Under the leadership of Mayor Jack O'Reilly, Dearborn has weathered the economic downturn and is moving forward with plans to improve lives in the city by updating the infrastructure and building bridges of cooperation with the surrounding cities," Baydoun said. "And I want to be able, through my position on the County Commission, to help build on this progress and move Dearborn and Allen Park forward."
Baydoun believes that Wayne County has made a significant progress under the leadership of County Executive Warren Evans.
"In just three short years, Mr. Evans and his team were able to rescue the county from a possible bankruptcy, enhanced business climates, encouraged investments and addressed the jail issue," he said. "But there are still challenges and I would like to help in my position on the Commission to build on the progress made so far, as well as address poverty, fix the deteriorating county roads, encourage investments by small businesses, support women's rights and address the issue of sexual harassments and discrimination against minorities, especially in the working environments."
Baydoun immigrated to America from Lebanon at the age of 15 in 1978. He quickly assimilated into his new country and attended Fordson High School. He had a passion for sports, especially soccer, which he played competitively for many years. While he only recently traded his soccer cleats for serious walking shoes, he routinely walks several miles every day in Dearborn, with a group of fellows. He may stop to snap a quick selfie with an old acquaintance, a famous local or any of the forest's wildlife that timidly greets him.
A determined student, Baydoun went on to complete two years at Henry Ford Community College, earning his associate's degree in liberal arts. He went on to get his bachelor's degree in business administration/marketing from Detroit College of Business, now known as Davenport University.
Life has not been free of challenges for Sam Baydoun, personally. In July 2016, just as he began to contemplate giving back to his community by pursuing a more active role in public service, his wife, Ibtihal, the love of his life, fell critically ill, requiring him to hire caregivers to care for her at home.
Sam and Ibtihal raised four children: Moe, 27, who recently joined Sam in the real estate business as a licensed assistant; Ally, 24, who will be pursuing a law degree; Angela, 22, who is studying education at U of M, and Lilliana, who at the delicate age of 12, already shares her father's warm smile and tender heart.
Bob Curran, CEO of Century 21 Curran & Christie, fondly acknowledged Baydoun's role in his establishment.
"We are proud that Sam Baydoun has built a name and persona for himself and our firm that is respected and recognized throughout his city, community and industry such that literally hundreds of business owners and families seek him and trust him annually to help them accomplish their real estate plans."
Sam Baydoun is a Democrat and a member of the Dearborn Democratic Club, the League of Women Voters Dearborn/Dearborn Heights, a commissioner on the Dearborn Zoning Board Of Appeals and is involved with several local organizations.
He is a leader in his industry, served as a director of the Dearborn Area Board of Realtors and was twice elected president within the past 20 years. Ultimately, Baydoun's exemplary service to his realtor constituents earned him coveted recognition as Realtor of The Year two separate times, in 2003 and 2016— something that has only happened five previous times in the history of the 90-year-old organization.
Sam Baydoun has had a great career and will continue to service his clients, friends and family members with all of their real estate needs.
"I will continue to help people realize the American dream of homeownership," he said. "This will also allow me to live out my passion for public service and be a voice and advocate for my constituents on the commission."
Sam Baydoun can be reached at 313-384-6000 or email:
SAMBAYDOUN@aol.com.