DEARBORN — The conversation around upgrading an aging infrastructure is taking center stage around the nation and especially in Michigan, where lead-contaminated water pipes have poisoned an entire city, mold grows in middle school classrooms and bad weather makes for deadly potholes.
Weak roads, coupled with drastic thawing of snow, has drivers more worried this year.
On Feb. 20, a man died after the car he was in hit a pothole on Detroit's west side, crashing into an electricity pole and leaving the driver in serious condition.
Michiganians even complain the most about potholes, according to a Gearheads.org map that uses data based on 100,000 tweets posted over 30 days.
But drivers could soon be swerving less to avoid damage to their car tires and axles, as the state legislature passed a package to fund quick patching of potholes across the state.
On Thursday, the Michigan Senate voted for an additional $175 million for the project after the House of Representatives unanimously approved the bill last Wednesday.
State Rep. Abdullah Hammoud (D-Dearborn) said House members were eager to find any money to upgrade infrastructure and repair roads, especially after Detroit didn't make the cut to become Amazon's second home – a "big shock and message" about the potential rewards the investments would bring.
"I drive on the same roads," he said. "The roads are in such dire condition and we're all fed up with it."
However, he said the legislature has yet to come up with a comprehensive plan and that "the reality is we're still short funding" such projects.
He said that a hike in the gas tax is an "extremely inefficient" way of raising money and suggested reexamining how funds for infrastructure repair are collected, including further increasing truck weight limits and implementing a gradual income tax imposed on the state's wealthiest residents, which he said would bring in more than $700 million in revenue.
The plan allocates $38.1 million for cities and townships, $68.4 million among the state's 83 counties and $68.4 million for state roads, which would mostly be used for road preservation, patching and asphalt overlays. A portion of the state road funds will pay for enhancement projects that will improve mobility for senior citizens and technology that help coordination among autonomous vehicles.
Wayne County would receive $6.4 million, Oakland County would get $7 million and Macomb County $4.4 million.
Dearborn would receive $703,803, Dearborn Heights would get $363,521, Hamtramck would receive $127,952 and $5,843,355 is allocated for Detroit.
Democrats proposed amendments to the bill to add $145 million more from the state's rainy-day fund, its savings account, but all Republicans voted against it.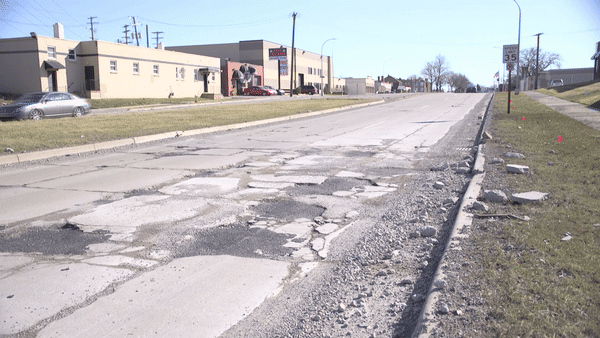 However, an extra $150 million for road repairs has been accumulating since 2015 in the state's general fund that will kick in this October, after the legislature agreed to increase gas taxes and vehicle registration fees.
Even with the promised $325 million to fix roads, Michigan spends much less than neighboring states with similar weather conditions that have considerably better roads, made clear by a mere drive across the Michigan-Ohio border.
Although Michiganians pay one of the highest gas tax fees in the country, only a small percent (18.7 cents per gallon) is used to fund roads in the state, according to the Michigan Department of Transportation.
The state also falls last in U.S. in the amount it spends on roads per capita, according to 2010 U.S. Census data. Michigan spends about $154 per person on roads, compared to $214 per capita in Ohio, a difference of $60 per person.
That adds up to more than $1 billion a year additional funds invested in Ohio for nine years.
Minnesota invests $275 per capita on roads, Indiana spends $289 per capita, Wisconsin spends $302 per capita and Illinois invests $412 per capita.
In Dearborn, crews have been working around the clock to patch potholes and replace patches of roads.
The city's Highway Department has poured about 150 tons of Unique Paving Material's Cold Mix, a more viscous, weather-proof and expensive material than regular asphalt, with 90 more tons expected to be used this week, said Mark Pultorak, the superintendent of Dearborn's Public Service Division.
He said workers normally temporarily repair potholes with about 800 tons of Cold Patch annually, but he projects about 1,000  tons will be used this year.
Last year, the city spent about $3 million to repair about eight miles of crumbling roads, including replacing concrete panels, but that's a separate project from revamping the infrastructure and separating sewage lines required under some roads. Some $32 million is allocated for that project, to be completed by 2029.
However, the department is not responsible for repairing every road in Dearborn.
Wayne County-owned roads include Telegraph Road, Michigan Avenue, Ford Road, Wyoming Avenue, Warren Avenue, Greenfield Road, Rotunda Drive, Oakwood Boulevard, Southfield Road, Dix Highway and Miller Road.
City roads include Yinger Avenue and Littlefield Boulevard.
According to Dearborn Public Information Director Mary Laundroche, the priority is to try to do the worst potholes first.
"Our crews are out across the city," she said. "On Saturday, Feb. 24, we had 11 crews on overtime trying to get a handle on the potholes on city streets. Normally, we have one or two crews working potholes Monday-Friday)."
She added that if police alert the Dearborn Department of Public Works about particularly bad potholes, the crews go there in a timely manner.
"This is true whether the pothole is on a city road or a county road," she said. "Otherwise, the city alerts the county to potholes on county roads that are reported to us. The county had dedicated crews in Dearborn Thursday-Sunday. There have been other county crews in Dearborn this week."
She acknowledged that resources are tight for both the city and the county, but said both are prioritizing trying to fill the potholes.
"So far, our crews have filled an estimated 5,400 potholes on city streets this year," Laundroche said.
While the city's numerous car repair shops are getting busy this season, various counties and cities are making it possible to get reimbursed for vehicles damaged by potholes.
All freeways are state roads, so MDOT is liable for any damage claims.
Wayne County residents can call the claim office at (313) 224-7766 or fill out the Wayne County Damage Claim Form and return it by mail or in person to the Wayne County Risk Management Claims Division at 500 Griswold, 20th Floor in Detroit.