DETROIT – On Thursday, April 5, local filmmaker Mohamed "Hamoody" Jaafar's "Detroit Diamond" will make its world premiere at the Cleveland International Film Festival, an Academy Award qualifying festival.
"Detroit Diamond" follows a young single mother attempting to regain custody of her child from the state, despite her powerful heroin addiction.
"Heroin addiction is really personal to me because I lost my cousin to it when I was in my early 20s," Jaafar said. "I lost another good friend of mine in high school right around the same time to the same thing."
Jaafar said as soon as he read the script he wanted to make it happen. Among the many reasons he liked the script was because he said he believes it creates a conversation about how the 22-year old protagonist became so addicted to heroin.
"I'm always trying to shed light on people rather than a stereotype," he said. "I think a lot of times people associate drug addicts with junkies and that's it. I don't believe in that. I think it's very circumstantial. There's a lot of variables that can go into why you become an addict. I'm always trying to tell stories that can challenge people's thinking and perspectives and just have a healthier conversation on the issues."
Jaafar, 31, is a 2005 graduate of Woodhaven High School. He subsequently obtained a business degree in marketing and advertising from Wayne State University in the winter of 2010.
"Which has nothing to do with film," he told The AANews. "I made my first short film right out of college."
He said that was the first time he took something from screenplay to reality. Jaafar wrote, produced and acted in that film. Shortly after graduating, he moved to Los Angeles to pursue acting.
Since then he has directed three films, "The Paillard of the Community", "Welcome to Ohio" and most recently, "Detroit Diamond."
"Welcome to Ohio" appeared in the Made-in-Michigan Film Festival while "The Paillard of the Community" got into the Trinity Film Festival and the New Filmmakers New York Film Festival.
Jaafar said he never took any film courses in college; instead learned as much about the industry as he could while working on films as an actor in Los Angeles.
After about a year of developing a television pilot he'd written, Jaafar was looking forward to a pitch meeting with Sony. Unfortunately, it fell through at the last minute.
He then decided to return to Michigan on the advice of his sister and joined her at Quicken Loans. She told him if he was confident in being a filmmaker he should come to Quicken, make money to support that dream and then pursue it.
Jaafar moved back home when he was 26 and worked at Quicken Loans for three years.
"I knew it would be a means to an end to be able to make my own content," he said.
In his second year at Quicken Loans Jaafar directed "Welcome to Ohio." After "The Paillard of the Community" got into more festivals he decided to let Quicken Loans founder Dan Gilbert know.
Gilbert referred Jaafar to his production company, Woodward Original. Jaafar, then 29, decided to leave his position as director of mortgage banking, where he made more than six figures a year, and become an intern at Woodward Original to pursue his dream.
He still works there and said he mainly writes and directs commercial and documentary content.
"Detroit Diamond" was a side project financed primarily with his own money and that of his childhood friend, Joe Vinson. Other contributions came from Luke Depauw and Jaafar's cousin Jawad.
Jaafar said that the narrative film industry isn't very abundant in the area. Because of that, people in the industry are willing to work for less money when non-commercial projects are offered.
"Usually people will work for free or for a much lower wage then they generally do," Jaafar said about narrative projects. "The budget was right around $20,000."
He said most of the budget was spent on high quality cinematography equipment. The film was shot with an ARRI ALEXA Mini, one of the best cinema cameras on the market.
"Detroit Diamond" was shot in Detroit and everyone in the cast and crew was from Michigan, mostly Detroit. Jaafar said the only thing on set not from Michigan was the lens because Michigan didn't have any Kowa anamorphic lenses. For those, he had to go to Ohio.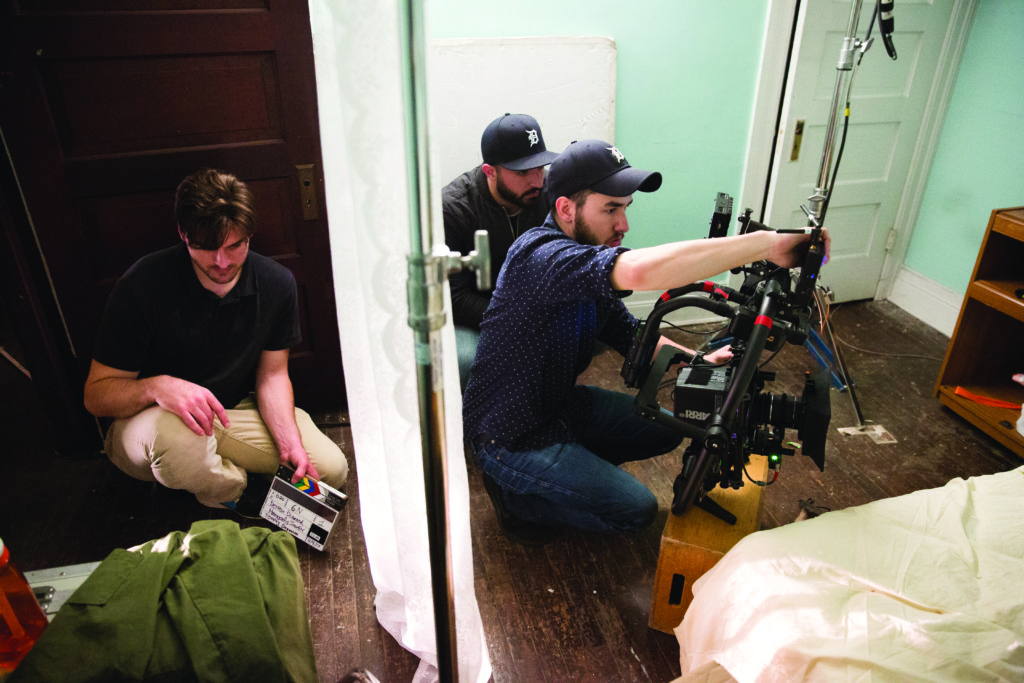 Jaafar said the lens was needed in order to create a specific look for the film and to attempt to elicit a specific emotion.
All of the characters in the film are female and, with the exception of the protagonist, in a position of power.
One of the characters was originally written as male, but about a week prior to filming writer Michael Flores suggested the character be switched to female. That made way for an all-female cast, an idea Jaafar said he loved but that wasn't fully accepted.
"Everybody wasn't on board, but the writer and I were adamant about it," he said. "Ultimately, I have the decision; so I was like, 'yeah let's do it.'"
Underground artist Miz-Korona, who appeared in "8 Mile", ended up playing the role.
Jaafar said it was important for him to have an all-female cast because of the ways women have traditionally been represented in film.
"From a creative arts perspective minorities and women are generally just kind of thrown in to complement a White male lead," he said. "Usually stories are predicated on the White male lead and those other characters are just supporting roles. For me, it was an awesome opportunity to be able to not have any White males in the cast really at all. Any time I can sort of put women and minorities in a position of power and shed light on them I want to do that."
Jaafar said he was raised in a conservative Middle Eastern household and his father, an immigrant from Lebanon, struggled for a long time. Often his parents urged him to go into a stable income profession.
"I think a lot of times in the Middle Eastern community you'll find that parents that weren't born here want their kids to go into paths that are safe when it comes to income," he said. "Go into the health industry, go into law, go into these different things where they know you'll make money. It doesn't come from a place of, 'I don't want you to pursue art.' It's just technically they don't because there is no real security in it, income wise."
Jaafar said he got his degree to pursue his larger dream of film making.
"I got my degree to make sure I had security in my life," he said. "I would just make sure that my nights and weekends were dedicated towards making films."
Whether it was writing screenplays or going to auditions as an actor Jaafar said he would try and pick up as much information about the industry as possible. He began to write roles for himself, act and direct them into short films.
"That was my way of getting on camera," he said. "I ended up forcing myself to learn how to write and direct from that."
A first generation Lebanese-Muslim American, Jaafar goes by the name Hamoody instead of Mohamed because of the perceptions some members of society associate with his name. He urged young people interested in the industry to keep persevering through failures they may encounter in their career.
"There's a big opportunity right now for Arab or Muslim filmmakers," he said. "Because there's not enough of us. I think there are some cool stories that we could tell out of Dearborn that people might not even realize come from our community. That's something I want to do."
"Detroit Diamond" will be competing in the Cleveland International Film Festival for a 2019 Academy Award nomination for best live action short film.