LANSING – Republican gubernatorial candidate Patrick Colbeck outraged both Democrats and fellow Republicans when he claimed that one of his Democratic rivals, Abdul El-Sayed, is part of an organized plot to take over American political leadership positions and start a "civilization jihad."
Colbeck, currently a state senator from Canton, was delivering a slideshow presentation to a group in a video posted on the website of United West, a Florida-based organization recognized by the Southern Poverty Law Center as anti-Muslim hate group.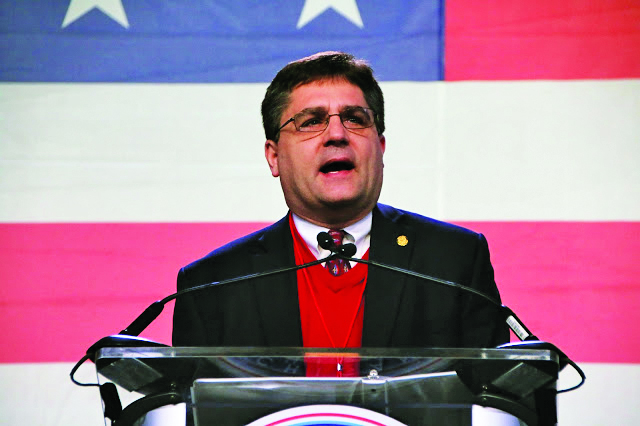 In the video, Colbeck recounted a conspiracy theory held by many conservative politicians that Muslims are aiming to implement Sharia law and took a jab at El-Sayed, charging that he and his family have ties to terrorism.
"There are a lot of pressures being applied in our society right now," Colbeck said in the video. "You're seeing Muslim legislators in the state legislature and you're seeing a push at the local level. Hamtramck is the first Muslim-majority city council. But we also have somebody that I will be likely running against in the general election, Dr. Abdul El Sayed, whose parents apparently have ties to Muslim Brotherhood back in Egypt. This is scary stuff."
El-Sayed, 33, was the director of Detroit's health department — and the youngest health commissioner in the country — from 2015 until his resignation last February to focus on his run for the seat.
His father, an Eastern Michigan University engineering professor immigrated to the U.S. from Egypt in 1978.
El-Sayed, along with leaders from both sides of the aisle, slammed Colbeck for his comments through statements to news outlets and on social media.
"Of course, I knew that in choosing to run for governor as an unapologetic, proud Muslim and American, I was going to contend with the ugly face of White supremacy that Donald Trump and his friends have sanctioned," El-Sayed said in a statement. "But what has inspired me most is that, having traveled to over 100 cities statewide — including places where there are few people of color at all, let alone Muslim Americans — Michiganders are not asking how I pray, but what I pray for — and what I care about."
In a speech on the floor of the Michigan Senate on Thursday, Colbeck defended his claim that El-Sayed was tied to the Muslim Brotherhood, arguing that the organization is supported by the Muslim Student Association, which El-Sayed participated in while attending the University of Michigan.
State Rep. Abdullah Hammoud (D-Dearborn) said he was "deeply disturbed and disgusted" by Colbeck's remarks.
"These remarks reek of desperation and echo the sounds of a political career coming to its rightful end," wrote Hammoud. "His words have no place anywhere, let alone in a legislative body."
He defended the faith he and El-Sayed share and urged Colbeck to learn more about it and to "resign immediately."
"I hope you're looking at me, senator, as I call you a coward," said State Sen. David Knezek (D-Dearborn Heights. "These comments are nothing more than that of a bully."
Progress Michigan, a progressive political advocacy organization that aims to hold government officials accountable, lambasted Colbeck and pressed rival gubernatorial candidates and fellow Republican officials to denounce "bigotry and fear-mongering."
"It's imperative that gubernatorial candidates denounce this type of bigotry and fear-mongering, especially [Lt. Gov. Brian] Calley and [Attorney General Bill] Schuette because they're both sitting elected officials," said Lonnie Scott, executive director of Progress Michigan. "Patrick Colbeck's statements cannot go unanswered by people from his own party. The Republican Party for too long has danced with Islamophobia in public and private and it needs to end. Michigan should be a place where everyone is welcomed, regardless of how they worship."
Sarah Anderson, spokeswoman for the Michigan Republican Party, quickly distanced the party from Colbeck.
"The party isn't interested in peddling any conspiracy theories and anything he said was not on behalf of the party," Anderson said in a statement. "We categorically condemn any sort of hate speech, regardless of the source."
In a tweet, Brandon Dillon, chairman of the Michigan Democratic Party, called Colbeck "a pathetic, bigoted fool."
The AANews Publisher Osama Siblani, who is also chairman of the public relation subcommittee of the Arab American Political Action Committee (AAPAC), called on the Republican leadership to condemn Colbeck's "racist" remarks and to forbid him from participating in the party's official activities.
"While we appreciate the statement by the spokesman of the Michigan Republican Party, we call on the leading Republican gubernatorial candidates and Governor Rick Snyder to voice their unambiguous condemnations of Colbeck's hateful statement," Siblani said. "There should be no place in the party of Abraham Lincoln for such bigots."
He also said the Arab and Muslim American communities have "a strong memory" and will "respond properly" at the ballot box.