DETROIT — At least 14 polling places in Metro Detroit over Tuesday's primary elections experienced power outages, while others ran out of ballots.
DTE Energy posted a video to its twitter feed 7:30 a.m. Tuesday morning, explaining that some polling places were still without power because of storms Monday evening. 
"Right now our main focus is on getting crew assigned to work on restoring remaining polling places for the vote today," said Ryan Stowe, DTE's executive director. "We came on this morning with about 14 sites still without power, we've been able to restore five sites so far.
"So, we're doing everything we can working with local communities to … get our crews out there and get it restored."
He also said the bulk of damage from storms on Monday happened on the east side of Detroit. Dearborn also reported outages at two polling places.
Many officials cited the unusually high voter turn out for Michigan primary elections for the lack of ballots at many precincts. 
Ferndale city officials posted on Facebook that two precincts there had run out of ballots.
"Oakland County has struggled to keep up with the higher-than-anticipated turnout," the Ferndale city post said. "Our staff is doing everything in our power to expedite the voting process and get more ballots."
State election officials and even candidates took to social media Tuesday evening to remind voters to stay in line and wait for ballots to come in so they could cast their votes.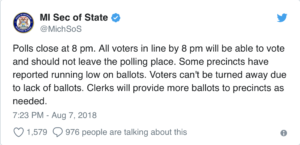 "Polls close at 8 p.m. All voters in line by 8 pm will be able to vote and should not leave the polling place," the Michigan Secretary of State's account tweeted Tuesday. "Some precincts have reported running low on ballots. Voters can't be turned away due to lack of ballots. Clerks will provide more ballots to precincts as needed."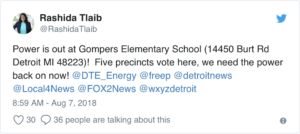 There were reports of similar problems at polling places in Birmingham, West Bloomfield, Farmington Hills, Berkley, Hazel Park, Troy, Pontiac and Royal Oak.