DEARBORN – Democratic gubernatorial candidate Gretchen Whitmer has reaffirmed her "unwavering support" for Israel and said she is 100 percent opposed to BDS."
In response to what Whitmer's campaign calls "baseless smears" from her Republican opponent Bill Schuette's "partisan attack dogs" in the form of articles published by conservative news outlets, Whitmer released a joint statement with her running mate Garlin Gilchrist denouncing the attacks.
In the statement, Whitmer said the GOP candidate and his supporters were lying about her standing against Israel during a Dearborn town hall meeting and stressed that the Boycott, Divest and Sanction (BDS) movement was harmful to Michigan's alliance with Israel.
Following the statement, Schuette's campaign doubled down, stating in a recent video ad that Whitmer had "failed to stand up for Israel."
History backing Israel
In the statement, she gave examples of bills she proposed while serving as a state senator from 2006 to 2015 to assert her position.
As senate Democratic leader in 2012, Whitmer sponsored and helped build bipartisan support to pass Senate Resolution 126, which reaffirmed the relationship between Michigan and Israel. It stated that "The United States of America, the first country to recognize Israel as an independent nation in 1948, is Israel's principal ally. Indeed, Israel is the United States' greatest friend in the Middle East."
In 2008, Whitmer sponsored and helped pass Senate Resolution 191, which recognized the 60th anniversary of the State of Israel. The resolution stated "that we reaffirm our long bond of friendship and cooperation, and we commit to strengthening those ties and our support for Israel's right to exist and defend itself against threats to its security."
"The truth is that in the State Senate I proudly sponsored resolutions to reaffirm the unbreakable partnership between Michigan and Israel," Whitmer wrote in her statement. "I believe that the BDS movement is an affront to that relationship, and I am one hundred percent opposed to BDS. I strongly support the bipartisan anti-boycott legislation that was signed into law by Governor Snyder last year and will do everything in my power to uphold it as Michigan's next governor."
In January, Gov. Snyder signed into law two bills prohibiting all state agencies from entering into a contract or hiring anyone "unless the contract includes a representation that the person is not currently engaged in, and an agreement that the person will not engage in, the boycott of a person based in or doing business with a strategic partner."
The bills aim to protect "Michigan's economy" from the devastating financial effects of boycotting Israel, as its engaged with economic trade totaling tens of millions of dollars annually with Israeli entities and partners with commercial interests in Israel. Major trade sectors include technology research and development, defense and health sciences.
Conflicting answers
However, at a town hall meeting on Aug. 27 in Dearborn, Whitmer was met with applause when she responded conflictingly to a question about her position on BDS, saying she would use "every ounce of power" to protect free speech.
"We've seen people use their office to better their own political future," Whitmer told the audience. "We have seen people cut off from debate for having a candid conversation about our health care. I've seen my colleagues lose their right to speak on the floor. Those are fundamental rights that I am going to protect for every Michigander. That's important to the health of our democracy."
Gilchrist, who is running for lieutenant governor and currently serves as executive director of the Center for Social Media Responsibility at the University of Michigan, echoed Whitmer's commitment to Israel in a seperate statement.
"Gretchen and I support the Jewish community," Gilchrist said. "BDS is detrimental to a truly robust peace process. To be clear: I support the State of Israel as an important ally of the state of Michigan and the United States, as well as a homeland for the Jewish people. I believe the path to peace is a two-state solution and that terrorist groups like Hamas threaten that peace. Israel is an important economic partner for Michigan."
He also retracted contradictory comments he'd made in a series of anti-Israel tweets 2009, saying he, "waded into a complex geopolitical issue and made comments about a conflict I did not fully understand."
In one tweet at the time, Gilchrist said he was, "sick of politicians and evangelicals kissing Israel's ass regardless of what they do in the name of 'defense.'"
In another, he suggested that then-President Obama calling out Israel could end the American approach that Israel could do no wrong and that Hamas, "is a completely legitimate elected party that only rose to power b/c of Israeli aggression & Western complicity/enablement."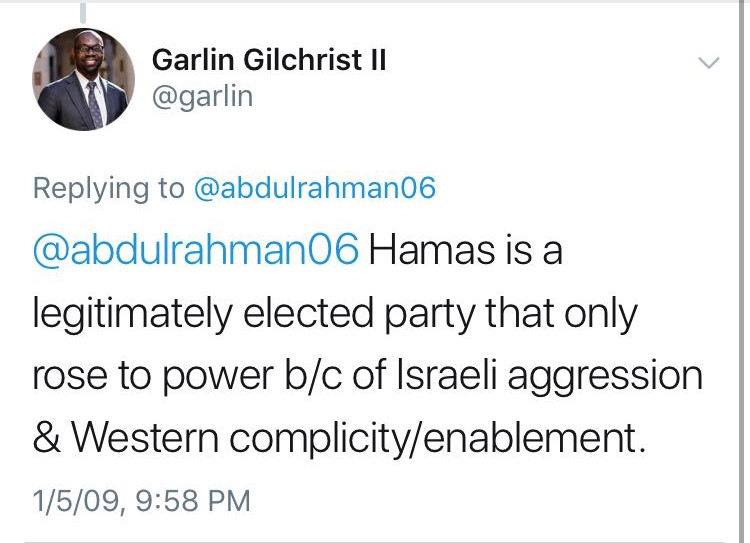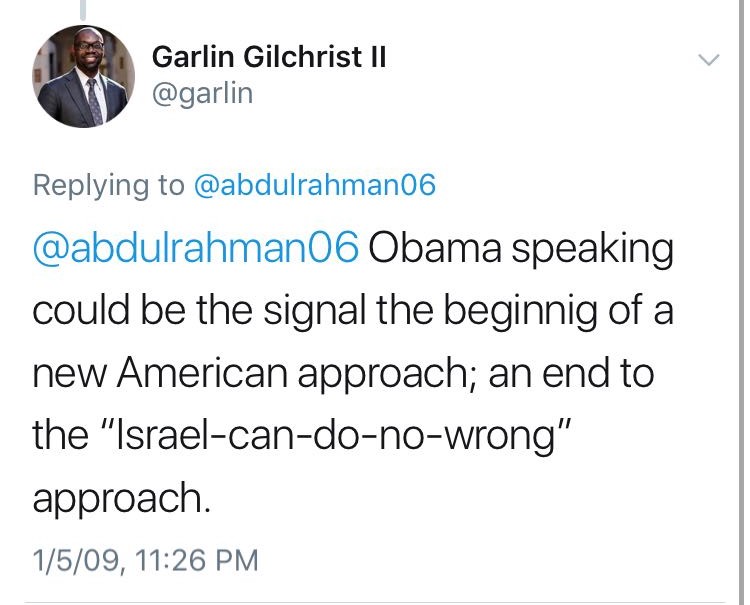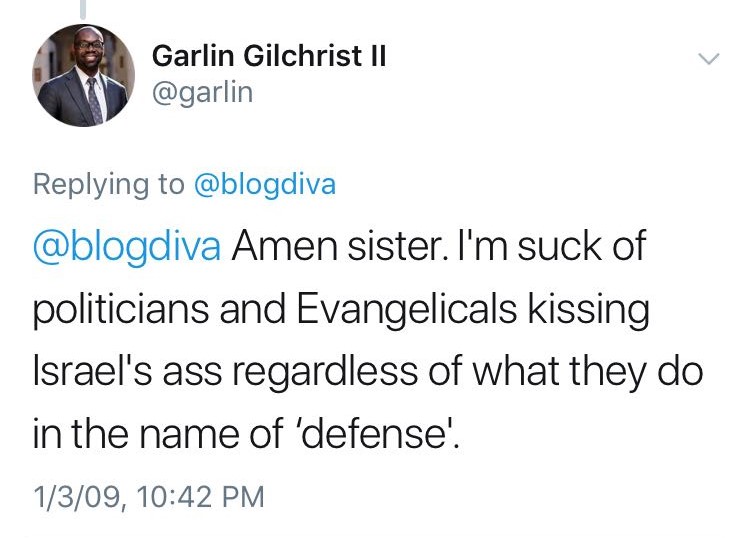 Losing Arab American support?
Some officials and activists say anti-BDS bills explicitly violates Americans' civil rights by criminalizing participation in Constitutionally protected boycotts, ensured by a Supreme Court decision protecting the 1960s boycott of White-owned businesses in Mississippi.
Following the defeat of Bernie Sanders-endorsed Egyptian American Abdul El-Sayed to establishment Democrat Whitmer in the primary, some Arab Americans are wondering whether the immigrant community will head to the polls to vote for Whitmer in November with the same enthusiasm as they did for El-Sayed in August. They worry that lower turnout could possibly threaten her chances of defeating President Trump-endorsed Schuette, mirroring a repeat of Hillary Clinton's defeat in 2016.
Michigan is home to one of the largest Arab American populations in the nation, according to 2010 U.S. Census data, and many Arab Americans have deep roots in countries impacted by war or acts of aggression by Israeli military forces.
In a Facebook post, El-Sayed reaffirmed his backing of Whitmer, but said it was, "essential that our next governor be fully committed to the protection of free speech."
"The right to spend — or not spend— your money as you choose is a deeply held right guaranteed us by the Constitution," El-Sayed wrote. "And per the ACLU, anti-BDS policies violate that right. Whether it be fossil fuels, weapons of war or another country, Michiganders deserve the right to know they will be protected, and not penalized, for their choices about how to use their money. And in many cases, let's not forget that anti-BDS efforts have served to marginalize communities of color."
Amer Zahr, a Palestinian activist and adjunct law professor at the University of Detroit Mercy, told The AANews that he can't stand behind Whitmer after she made conflicting and insincere comments regarding free speech rights.
"Politicians frequently say I don't agree with the KKK, but everyone has the right to an opinion," Zahr said. "But when it comes to Palestine, they want to pass legislation to criminalize opinions and points of view. We can't stand for that as Arab Americans."
He added that as it stands, Whitmer will lose Arab American votes, stressing that President Trump won Michigan over Clinton by only about 10,000 votes and pointing to the increasing number of Arab Americans energized to vote that could sway an election.
"Hillary never addressed our issues; she didn't carry Bernie Sanders' mantle," Zahr said. "Hopefully Gretchen will learn from that, because we're a community that votes as a block. We've been turning a blind eye for too long and maybe it's time to make Palestine front and center."
State Representative Abdullah Hammoud (D-Dearborn) told The AANews that while he believes anti-BDS laws are unconstitutional, he doesn't think Whitmer's statement affirming her support for Israel will be seen by enough Arab Americans to hurt her race.
He said her back-tracking on the issue was the aftermath of pressure from within the Jewish American community.
He also said most Arab Americans acknowledge that Schuette's election would be more detrimental to the community's causes than Whitmer's and strongly urged Democrats to vote for her in November.
Hammoud also advocated for strengthening relationships with candidates early on during a campaign and educating them about the issues facing the community.
"We don't walk away," he said. "[The Arab American community] is maturing. We have resources and we have to pull on the right levers to have a frank conversation. Using that power that we have garnered to build bridges and partnerships is one way to disengage an enemy."
Osama Siblani, publisher of The AANews and public relations chair of the Arab American Political Action Committee (AAPAC), said he spoke with Whitmer after she released her statement and expressed dismay with its contents. He requested a meeting with the gubernatorial candidate, because an issue like this, "can't be swept under the carpet, especially when it deals with the First Amendment of the Constitution."
A meeting date has not yet been set.