DEARBORN – The buildings of the state's third largest public school district are by no means anything like what has been documented at Detroit's public schools.
Dearborn's 29 schools seem relatively in fair shape, clean and properly maintained – there are no major safety hazards, no visible mold or asbestos falling from ceilings.
For an aging city facing issues with student capacity, its schools are in good shape. That's because the district has spent a great deal of its resources on periodically maintaining and upgrading the facilities' infrastructure and equipment as the needs arise.
Constant maintenance
However, more than a dozen of the city's 29 public schools will turn a century old between 2020 and 2030. As they continue to age and needs change, maintenance is becoming costly and construction to accommodate necessary upgrades, including for improving security, energy efficiency and addressing overcrowding, is becoming increasing difficult to work around.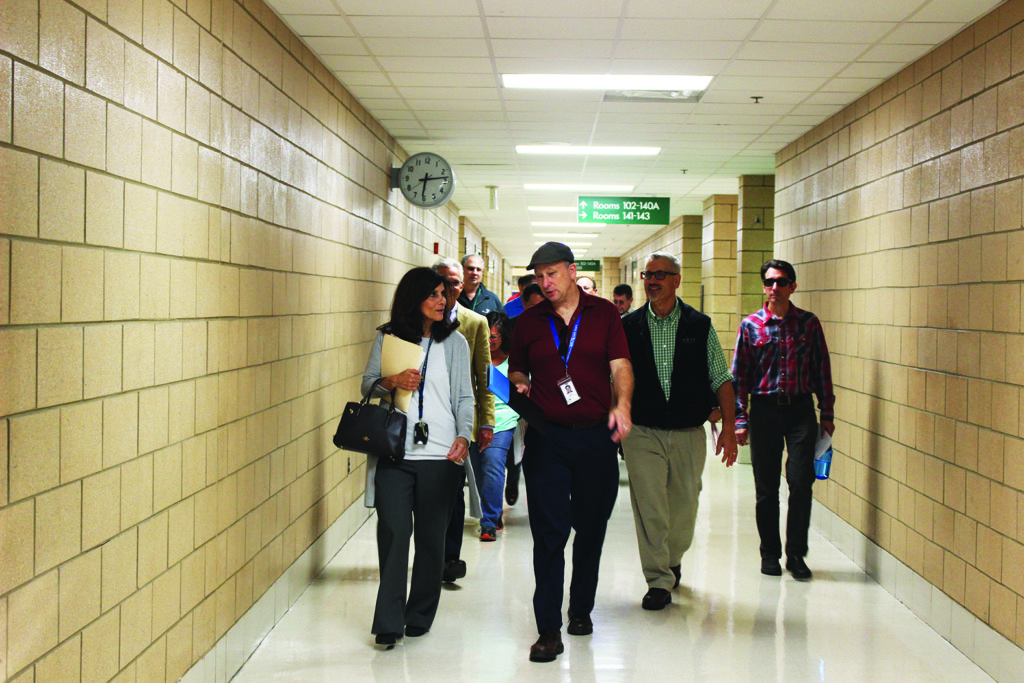 "This district is always invested in the maintenance of its buildings with its in-house personnel," Tom Wall, executive director of Business & Operations, told The AANews. "Over the last 10 years, as financing has gone the other way for the school district, that discretionary income that the district always put toward improvements, we only have had enough money to just keep up with roofs, so there's no money to upgrade bathrooms and other parts of the district."
The district's operations department has determined that about $200 million in maintenance and repair is needed to update the schools. That includes replacements and repairs to roofs, boilers, electrical and plumbing systems, as well as installing additional cameras and securing entrances, according to an expenditure and priority plan for the 2017 to 2037 school years, provided to The AANews by the Dearborn Public Schools Business and Operations Department.
"School are designed differently nowadays," said David Mustonen, the district's communication director. "Their needs are different and the way we use the buildings are different."
To come up with a plan and money to address those needs, the school district has organized an infrastructure and capacity task force, a volunteer committee of community members whose job it is to evaluate and discuss ways to address the schools' needs and present recommendations before the Dearborn School Board. The board will ultimately create a plan, paving a path for residents to possibly vote on a bond millage to fund the project at an election as early as next year.
School conditions
On September 26, the committee met for the fourth time this year, taking their first tour led by school officials and experts to get a snapshot of the buildings' conditions and identify their needs. This reporter was among those on the tour.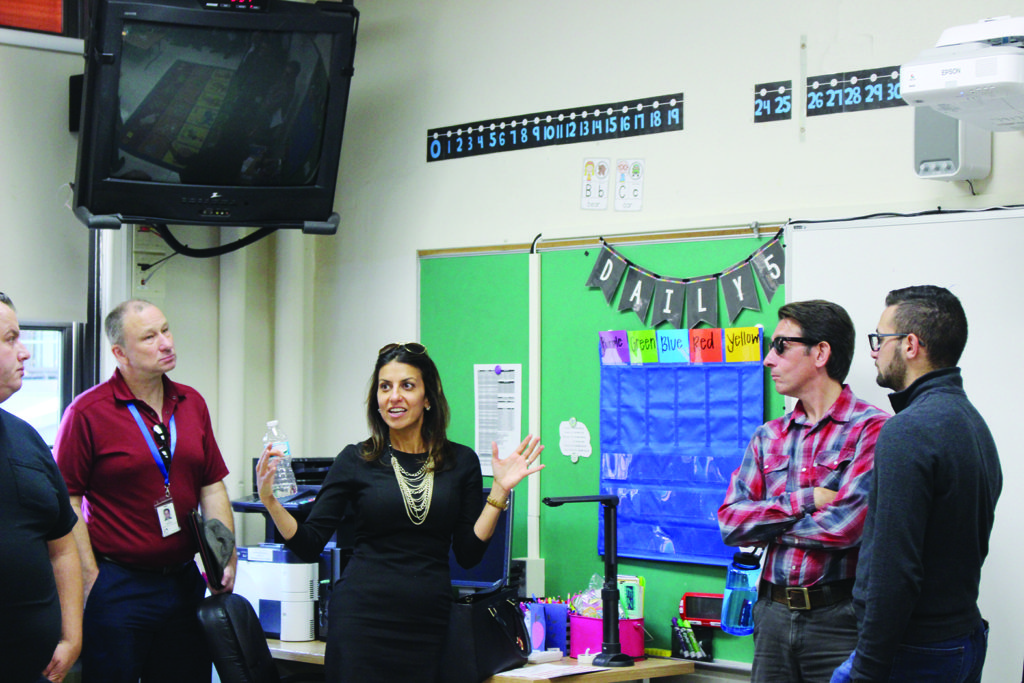 The district invited members of the committee who have some stake in the schools, which included principals, parents and representatives of community organizations, among others.
Carl Weiss, executive director of the Metropolitan Detroit Bureau of School Studies, said his organization, a neutral party that works with 75 districts in the region, is helping facilitate the committee meetings. He said there are about 35 community members on the committee, 25 of whom participated in the tour.
The tour revealed stark differences in the conditions and needs of buildings across the district. Some were built as long ago as 1919;  some between the 30s and 50s and some as recently as 2005.
Mustonen said the Business and Operations Department has prioritized items that require immediate to long-term attention, with a focus on safety, energy efficiency and saving money.
That includes improving entry ways, adding new boilers and fixing roofs, windows and mortar.
Salina Intermediate is set to celebrate its 100th anniversary this October and and DuVall Elementary School will turn a century old in 2020.
All the schools within the same age-range are in similar conditions. However, mere upgrades and fixes are becoming a non-viable solution at Lowrey Elementary and Middle School, which was established 91-years-ago. Its aging infrastructure and mounting needs means it's cheaper to completely gut the building for renovation or build an entirely new school to the tune of an estimated $64 million.
Inside a first grade classroom at Lowrey, Don Ball, director of Maintenance, Safety and Security, explained how they've worked to keep everything in "ok shape", but that an aging building means, "working conditions are not what we'd like them to be."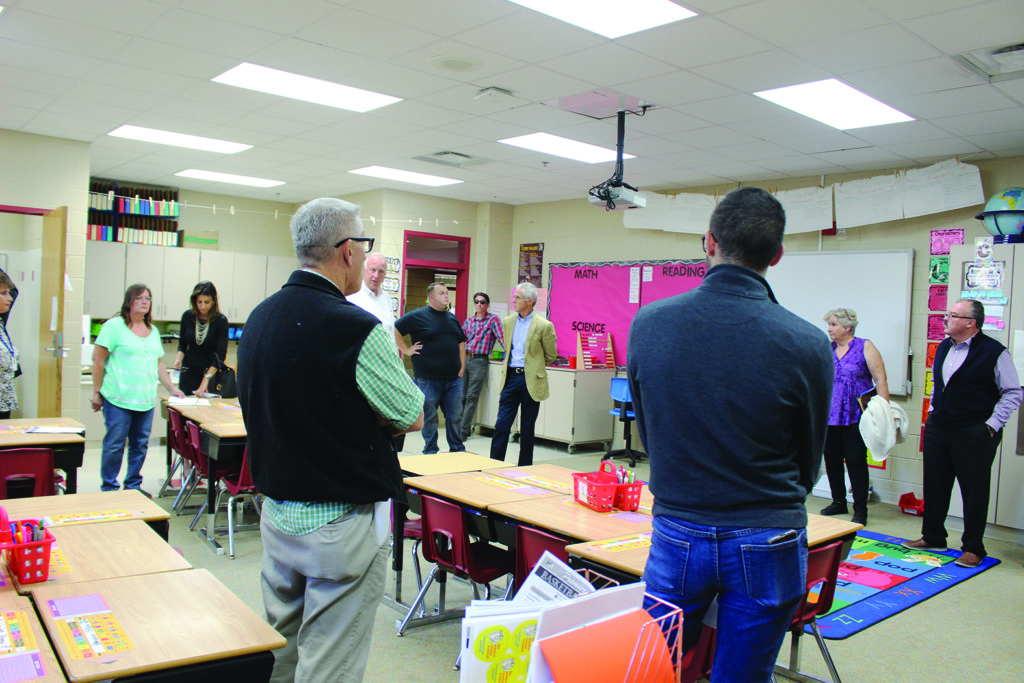 The 850 square foot classroom's tiles, held by weak environmentally friendly glue, need replacement. Cabinets are smooth, but show chipping. Wires run below a hard plaster ceiling covered by a drop tile ceiling and above chalk boards, leading to plugs installed in 1927 when "you only ran one thing."
"We have lots of difficulty applying today's standard technology to a 100-year-old building," Ball said.
Steam heat radiators, rather than hot water radiators along the walls, are inefficient and make temperature control difficult. Installing new heating and electrical systems would take completely stripping down the walls to concrete.
Many of the schools' old and massive boilers, including three at Lowrey, are kept in good shape, as in-house engineers take them apart for cleaning annually. However, they need to be replaced with newer and more energy efficient boilers, which cost about $500,000 each, but would require less technical know-how to operate.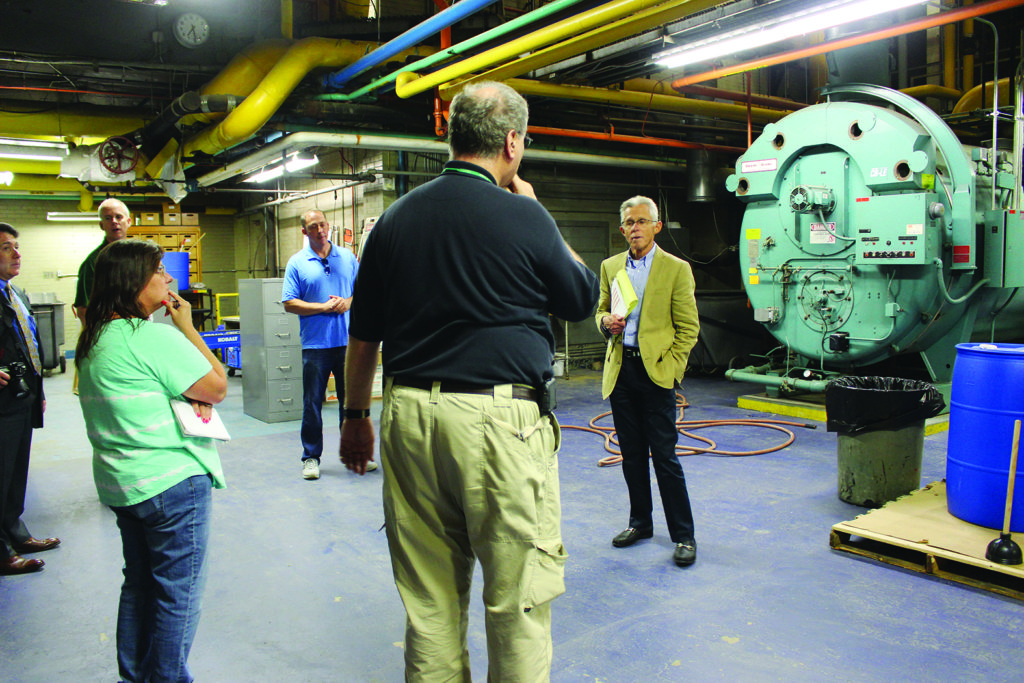 In June, the school board allocated about $500,000 to install at least one AC in every building by end of this school year, according to Tim Gruszczynski, director of labor, trades and contracted services.
The goal is to have air-conditioned rooms in all the elementary schools by next spring and the middle schools by fall of 2019, he said.
However, fully air conditioning schools throughout the district is a major feat that would cost an estimated $50 million to complete. The buildings' old infrastructure doesn't easily allow for implementing a new heating and cooling system.
"It's a whole different world for us," Ball said. "Those are just some of the building innovative advances that have come over the years that this building can't take advantage of."
Much of Lowrey's interior, including hallways, receive little to no sunlight. The cafeteria is in the basement.
Additionally, Salina, located near a power plant, needs to upgrade its air handling unit, which filters air before coming in. Its scrubbing filters are meant to last up to 10 years, but are only lasting up to five years because they work harder to filter pollution, according to Gruszczynski. The school rarely opens its windows, as that would defeat the filter's purpose.
The bricks at Lowrey are also held by near 100-year-old mortar. This year, the school had to hire a contractor on an emergency basis to re-mortar and secure bricks at the building's smoke stack, where sunlight would shine through the bricks.
Mustonen said the task force is considering whether to completely tear down Lowrey and build a new school or to gut the building to its bare infrastructure and pursue a total renovation. They will also weigh the viability of tearing down the existing building and moving the students to another school for the time being, versus building a new school elsewhere and tearing down the building later. They could also build in phases, but there would still be a portion of students to move. The first option would take more time, he said.
Weiss said figuring out where the students will go during construction will be "a significant issue for the task force to take on." He also said building a new school would be cheaper than a renovation.
The task force had the opportunity to tour newer but comparable buildings like McCollough-Unis Middle School, which underscored the urgency of the older schools' needs and their potential options.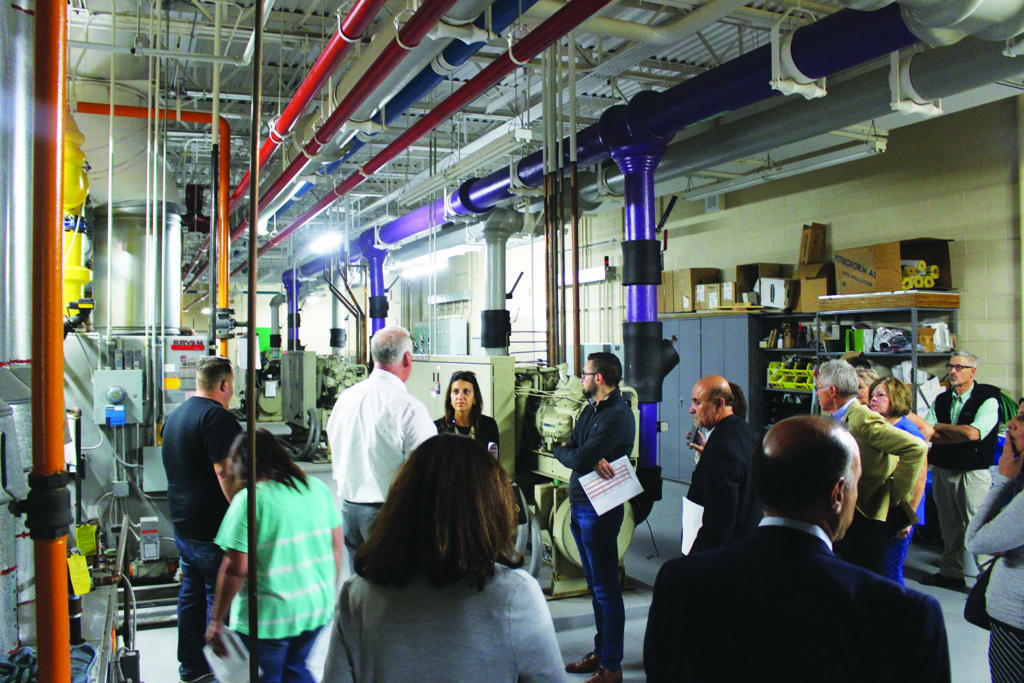 McCollough-Unis enjoys amenities like central air conditioning and spacious cafeteria with an architecturally designed ceiling that lets in plenty of sunlight. For comparison, its first grade classrooms are larger and feature their own bathroom, kitchen area, a storage room and carpeting.
The committee also toured Fordson High School as an example of what could be done in terms of incremental upgrades at older schools.
Overcrowding
Last August, the Dearborn School Board was tasked with finding a solution to overcrowding at the schools. It looked at the possibility of building new schools to accommodate the city's rising population, but opted to redraw district lines so that the buildings' capacities are taken full advantage of and have a proportioned number of students at each school.
There are more newer schools in Dearborn's east end than in the west, because "that's where the growth has come," Mustonen said, requiring schools to be built there.
As Dearborn's population and economy grows, so has its need for buildings, Weiss said. But unlike neighboring cities, Dearborn is "land-locked" and has limited options for buying land and building new facilities.
"Dearborn is growing, but there's no room," he said.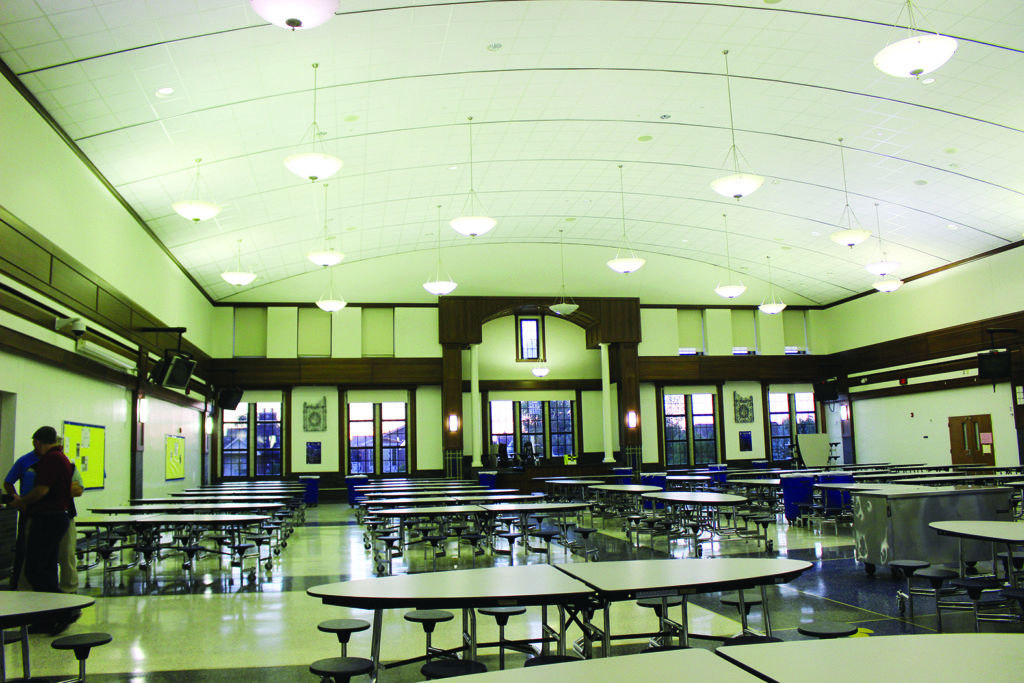 Aside from the option of adding new classrooms at each school, which would take structural changes, Weiss pointed to the challenge of expanding spaces, including athletic fields, bathrooms and parking lots.
Safety and security
To ensure safety, the school district relies on a strong partnership with police, which employs seven resource officers stationed at the schools and up to 30 officers who make about 600 to 800 visits to schools a month, according to Dearborn Police Chief Ron Haddad.
However, as a recent increase nationwide in gun-related violent incidents has alarmed schools to step up their security measures, Dearborn is looking to implement upgraded technology, like more cameras and card-access systems at entry points, and structural changes, like adding vestibules at main entrances.
A card-access system was implemented at the main entrances in all schools about five years ago, but the district wants that system at more doors.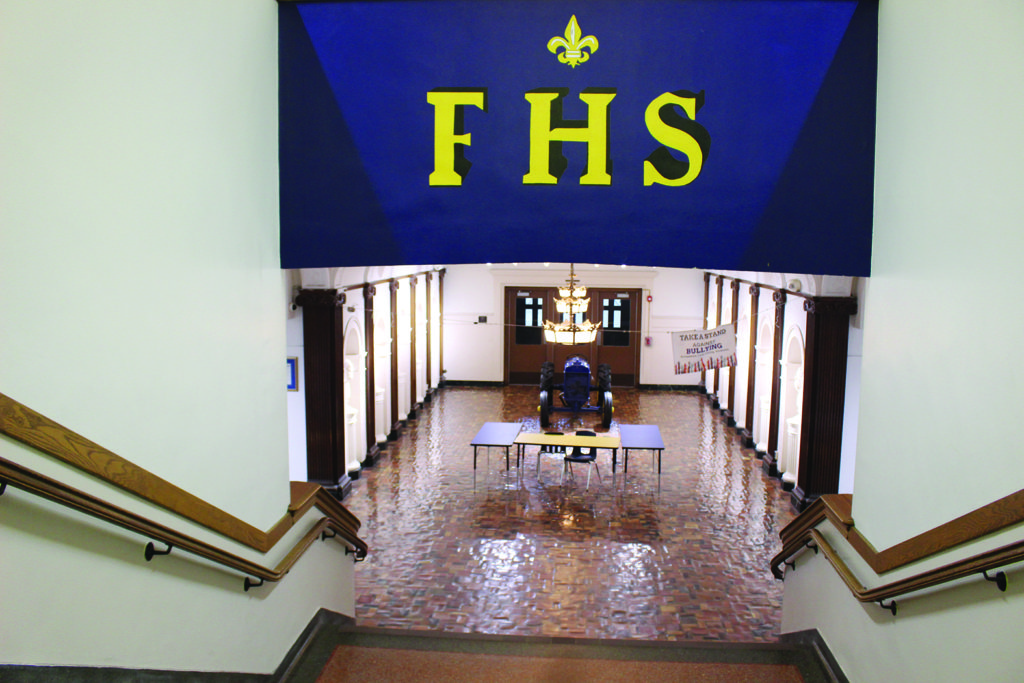 In addition to the small cameras on the buzzer system at main entrances, the district also wants to install more high definition security cameras throughout the buildings, as only a handful of schools have them.
For example, there are no security cameras at Lowrey, while McCollough-Unis had some that watch the parking lots and Fordson has them throughout the school.
Another much-needed transformation would have visitors buzzed in at a school's main entrance. They'd then have to pass by a secretary's office, which would be located between a double door system or vestibule. In order to do that, an office and vestibule would have to be constructed.
Ball said currently, a secretary or staff member at most schools would see a visitor through a low-definition camera before buzzing them in.
After that, Ball said, "You basically have the freedom to roam the entire building unless somebody asks you what are you doing here.
"Nothing beats eyeballs on the door," he added. "Nothing beats a human."
Going forward
Mustonen said the next step is for the committee to "build consensus among the group on some type of recommendation." At the end of October, the committee will present its recommendations to the school board, which will use the input and "weigh them against financial and logistical hurdles" to develop a plan to move forward.
"The board will have to figure out what's the best balance for using those dollars for the long range impact for the district," Mustonen said.
The board will consider either a bond proposal that would be set at the same rate residents are currently paying in property taxes, putting the total cost at around $200 million; ask voters to approve a 0.5 mil increase or seek a 1 mil increase, slightly increasing property taxes.
The soonest an infrastructure bond could appear on a ballot would be in November 2019.
The cost of making Dearborn schools safer: Safety protocols in place, but further security plans lack funding