DEARBORN — With the deadline for voter registration coming up on Tuesday Oct. 9, political action committees and nonprofits are working to increase voter education and awareness in Michigan, especially in Arab, Muslim and other minority communities.
Muzammil Ahmed, who sits on the executive board of the Michigan Muslim Community Council, said the MMCC works with local mosques in places like Canton, Bloomfield and Rochester Hills to increase voter interest in elections.
"We've given talking points to local imams to encourage people to be registered to vote," he said. "We have people sign up after the prayer services so that anyone coming to or connected to the mosques will get the message."
He said research given to the organization indicates Muslim and Arab populations have some of the lowest voter turn out in the country.
"Registration is half the battle; the second half is getting people to make the time and actually vote," Ahmed said. "It's amazing how many people take the time to register but don't actually follow through and vote."
Ahmed said the MMCC partners with groups working to motivate other immigrant communities as well, like Asian and Pacifica Islander Vote and others.
"We have a common cause with all these groups and ethnicities," he said.
Husain Haidri, civil engagement ambassador at the MMCC, said they will hold a phone bank with Arab American Institute to educate voters on proposal issues and will participate with other groups to coordinate local candidate forums before the elections in November.
"Now we're focused on getting the people we've registered to get out to vote," he said. "It doesn't really matter if they've registered if they don't vote."
The MMCC also works with Emgage Michigan, a branch of the only national Muslim lobbyist group.
Nada Al-Hanooti, the executive director of Emgage, stays on the frontline of the PAC's efforts.
"I've been on the ground working on voter registration a lot this week," she said.
Al-Hanooti said Emgage's biggest goal is to motivate Michigan's Muslim and minority communities.
"We want people of color to vote because we're very under-represented," she said. "So the goal is to get them voting and get that representation."
She said a good way to help people understand issues and drive interest in politics is holding voter education events.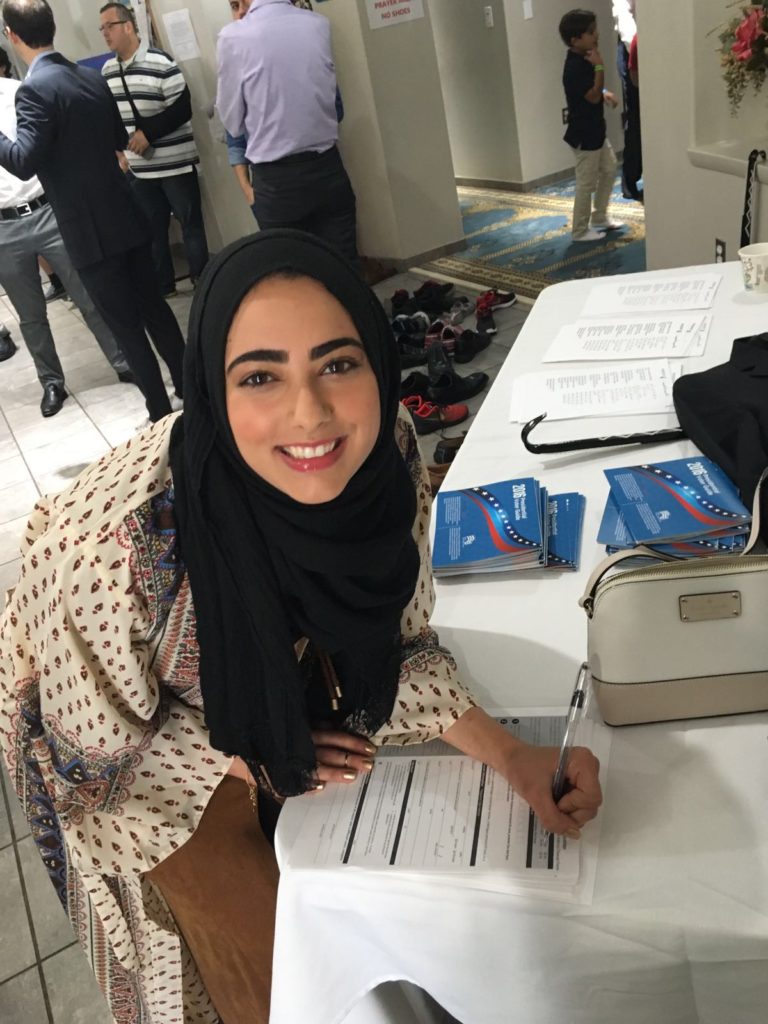 A recent educational meeting at the Arab American National Museum hosted by Emgage and Voters Not Politicians explained Ballot Proposal 2, which would create a nonpartisan redistricting commission to end gerrymandering in Michigan if passed in November.
"A lot of community members are very candidate-driven," she said. "They'll go out to vote over the excitement of a candidate, so we wanted to educate them on gerrymandering and how much our vote is affected by it."
Al-Hanooti said there isn't always a candidate to raise excitement and voters' awareness. 
At another nonpartisan educational event, Emgage joined with a group called Know Your Rights to help register people in the Yemeni community to vote.
Al-Hanooti said the Yemeni community is one of the most under-represented of Arabic cultures in Michigan. 
"They have the lowest turnout rate," she said, "and politicians don't even go to those places because they don't need them.
"We offered them some literature that explain things in Arabic so they can understand," she added. "We have a lot of immigrants being turned away, especially if they don't have the language."
She said the meeting included a legal team that taught voters their right to bring along someone for support or to request a translator.
"Technically, you don't even need to present identification to vote, you can just sign an affidavit," she said. "A lot of people in the immigrant community don't know to protest and that they can't turn you away."
Al-Hanooti also said she doesn't just leave voter education at Emgage events.
"I try to educate people while they're going through the registration process," she said. "We're also doing nonpartisan 'Get Out To Vote' phone bank events, calling Muslims in a few districts to get people out and voting.
"We have a very hot election cycle," she added, "and we're trying to get as many people motivated as possible and hopefully increase the voter turnout in the Muslim community."