DEARBORN – As varied as the issues facing Arab Americans are, it's rare to hear them all addressed with clarity and poignancy in one place.
On October 11, several hundred community members and elected officials from every level in government convened at the Arab American Civil Rights League's (ACRL) Fight for Justice Gala. Its seventh annual gala at the Ford Community and Performing Arts Center was a summit that had leaders proclaim piecemeal victories against injustices in the U.S. and unwavering responsibility to pull the people of their homelands to greater heights.
The evening's theme was inspired by Martin Luther King Jr.'s dictum: "Injustice anywhere is a threat to justice everywhere." Issues hinged on the advancement of civil liberties and diversity, the right to boycott, protecting freedom of the press and challenging corruption in government.
Ahed Tamimi, who's been described as one of the new symbols of Palestinian resistance to Israeli military occupation in Palestine's West Bank, was the keynote speaker and addressed the attendees via a video message.
Tamimi, 17, is from the village of Nabi Saleh in the West Bank. She has become best known for an incident last December, when she was detained by Israeli authorities for slapping a soldier. It was recorded and went viral, sparking international interest and debate. Tamimi was sentenced to eight months in prison and released on July 29.
"I thank you and I thank the Arab American Civil Rights League and the Arab American community for their support, help and solidarity in our Palestinian struggle," Tamimi said in the video. "We always say that you are not only our supporters, but also our partners in our struggle for freedom."
The activist explained that the struggle was about expelling Zionism from their land and not against Judaism. She called for boycotts and isolation [of Israel], for the occupation to be recognized as a war crime and for American universities to bring attention to the Palestinian struggle.
"We, as the new generation of Palestine, we will continue to defend our land," Tamimi said. "As we will not return to trusting international organizations or the two-state solutions that Israel has destroyed through its actions."
Amer Zahr, a Palestinian activist, comedian and adjunct law professor who introduced Tamimi, said boycotts are a part of American society. He also said the Black civil rights movement showed that boycotts are an effective way "to get the message out."
"The struggle of Palestinians is a fight for civil rights," Zahr said.
Nasser Beydoun, ACRL's board chairman, echoed the ACRL's promise to continue championing civil rights in the spirit of Dr. King's legacy. He recounted past achievements and warned of a rocky road ahead, including a successful lawsuit the ACRL filed in which a Detroit federal judge temporarily halted President Trump's travel ban as it related to permanent U.S. residents, as well as defending Arab Americans from unjustified bank account closures, airline discrimination and placement on a secondary screening or terrorist watch list.
"Since the election of 2016, we've witnessed a reemergence of discrimination, racism and intolerance," Beydoun said. "A political paralysis and lack of civility that threatens of the basic foundation of our nation."
Beydoun also showed solidarity with the press, which has been under ongoing attacks by President Trump and his allies, and condemned the disappearance and alleged murder of political activist and Washington Post contributor Jamal Khashoggi, who was last seen entering a Saudi consulate in Istanbul on Oct 2.
"Domestically and internationally, we see that human rights, civil rights and freedoms of the press are under attack," Beydoun said. "Those who wish to silence the press understand that democracy dies in the darkness."
He called out anti-BDS laws being pushed on the local, state and federal level as "abominations" to the Constitution.
"Nothing hits home more than the crusade against the boycott, divest and sanction (BDS) movement in support of the legitimate aspirations of the Palestinian people," he said.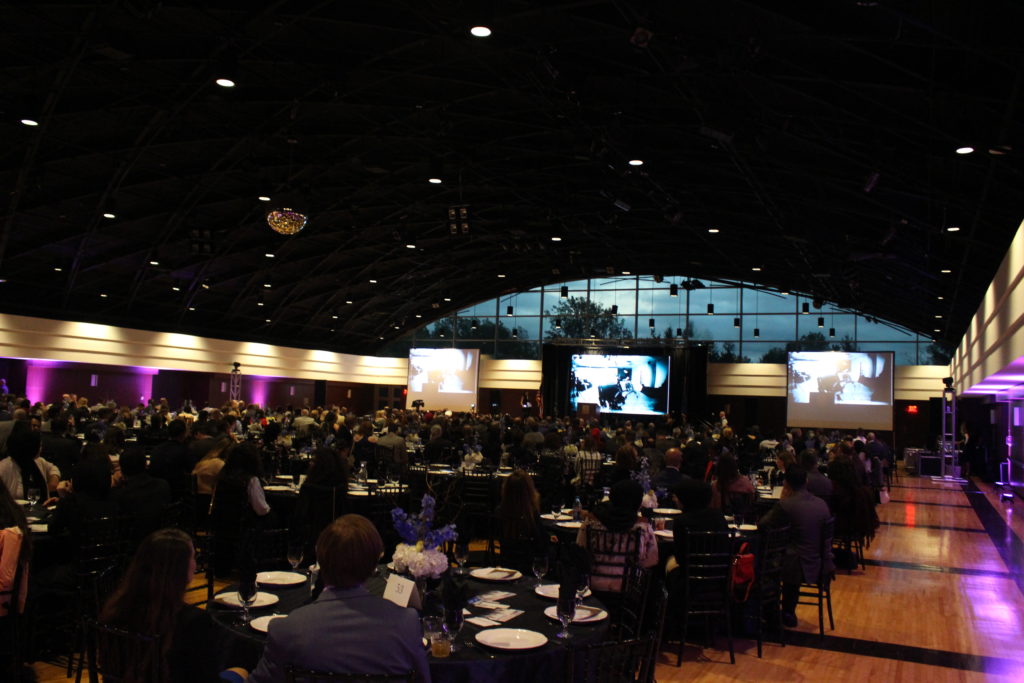 Beydoun said the ACRL swiftly opposed proposed federal legislation that would criminalize individuals who support international campaigns to boycott businesses profiting from Israel's occupation of Palestinian territories. The ACRL also send a letter to the University of Michigan's president, criticizing the institution for punishing a professor who refused to write a student a letter of recommendation to study in Israel.
"Any politician who supports the anti-BDS movement should be considered persona non grata in our community," Beydoun said. "Especially in Michigan, where we have the votes, as we've shown in the last election, to help or to hurt anyone running for office."
He encouraged attendees to use their votes as a weapon to rid government corrupt politicians.
"We cannot afford to sit back and say that everything is going to okay," Beydoun said. "If good people do not resist political thieves, our democracy, our nation will be lost."
At one point during the evening's events, Rev. Wendell Anthony, president of the Detroit branch NAACP, gave an inspiring and bombastic introduction to Wayne County Executive Warren Evans, whom the ACRL presented with the Courage in Public Service award "for his ethical leadership and diverse representation in government." Evans is also seeking re-election this year.