HAMTRAMCK ― An organization promoting cultural visibility in Hamtramck is sponsoring another mural highlighting the vast diversity of the city's neighborhoods. 
A mural dedicated to the Bangladeshi community of Hamtramck appeared this week, painted by the Boston-based Mexican American artist Victor Quinonez, also known as Marka27. 
OneHamtramck initiated and organized the mural's production with the goal of illuminating Bangladeshi presence and culture. It was funded by a large matching grant from Michigan Economic Development Corporation and the remaining 60 percent was mostly from Bangladeshi donors.
Marka27 began painting on Monday, Oct. 15 and will finish Oct. 20 before a formal unveiling event on Oct. 21.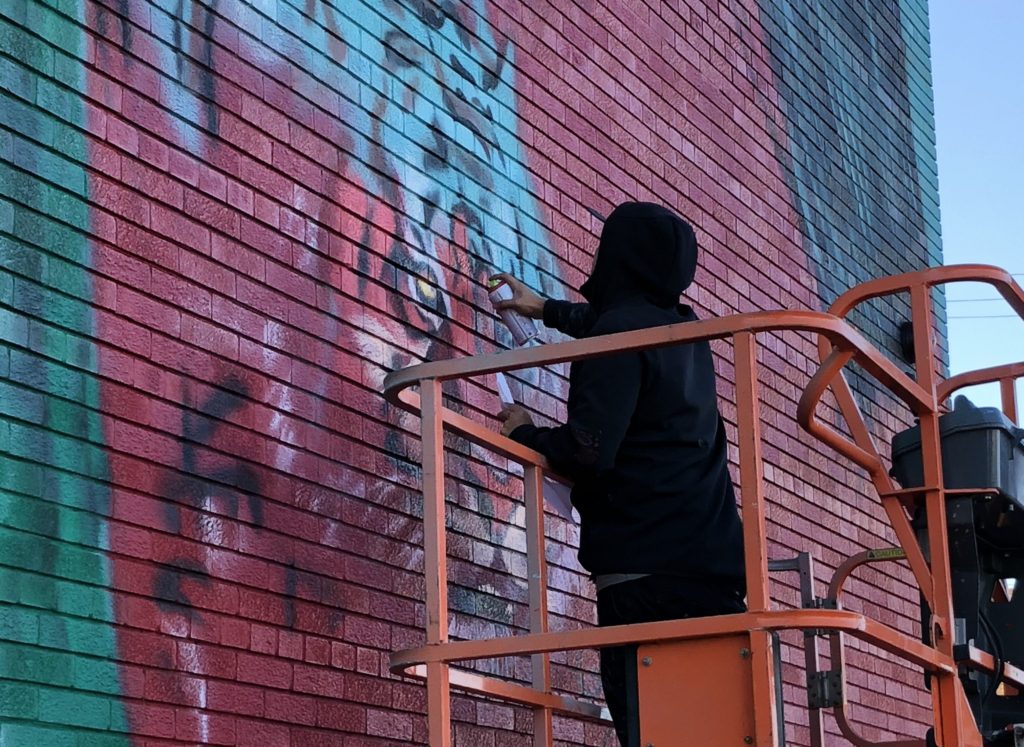 The mural is the largest representing Bangladeshi culture in America at 55 feet wide and 45 feet high. 
OneHamtramck Executive Director Bill Meyer said the mural project is solely community based.
"We went right to the Bangladeshi community and enlisted support from people," he said. "Only Bangladeshis voted on what was going to be in the mural. It's a community street art project. No corporations, no companies and no government. Just involving members of the community." 
Meyer said the city of Hamtramck allowed a mural to go up in 2012 without having consulted the respective community surrounding it.
"They ended up putting an offensive mural in the Yemeni community," he said. 
A part of the Detroit Beautification Project, an Atlanta-based artist called SEVER painted a mural featuring cartoon-like characters carrying a coffin labeled "Street Art."
"[SEVER] chose randomly to put it on the side of a building that happened to be in a 99 percent Yemeni community with a picture of a coffin," Meyer said. "Implying that street art is dying, which is a very powerful statement. However it was misunderstood by the Yemeni community and disliked."
He added that the city was eventually asked to and did change the mural. 
"That's what prompted us to put our murals up," he said. "Our project got going to try to create more social and historical oriented art that's representative of the people that live there."
OneHamtramck sponsored a mural on the side of Sheeba Restaurant on Joseph Campau, which features images representing the Arab, Yemeni and Muslim communities there. The mural, titled "The Middle East: Coming to Hamtramck" by Dasic Fernandez, was completed in 2013.
According to a press release on Oct. 7, Meyer approached board member Abu Hanif and another community activist, Kamal Rahman, shortly after the mural on the wall of Sheeba Restaurant was finished, to begin plans for the Bangladeshi mural project.
In 2014 the project was stalled by OneHamtramck's search for a muralist. 
Hanif passed away unexpectedly in 2016, prompting Meyer to continue the project with the support of the Hanif family, in his honor.
"It's very exciting to be a part of this whole project," Meyer said.
According to the release, the project's committee shortly grew to consist of 24 members.
Meyer said OneHamtramck plans to host a Bangladesh-themed music concert next year.
"We hope to bring communities together so we're aware of each other," Meyer said. "We try to expel any kind of Islamophobia or mistrust or misunderstanding. Dialogue is always important and this mural will hopefully develop that."
After four years of development, the celebration event marking the "Bangladesh: Coming to America" completion on Sunday, Oct. 21 will begin at 2 p.m. in front of the mural on Carpenter street on the border of Hamtramck and Detroit.