DEARBORN HEIGHTS – Leaders of various faiths gathered in Dearborn Heights on Thursday, Nov. 1 to pray for peace and stand with the victims of the mass shooting carried out at the Tree of Life synagogue in Pittsburgh on Oct. 27.
Imam Mohammad Ali Elahi, Rev. Robert Schoenhals and Rabbi Nate DeGroot led this call for tolerance at the Islamic House of Wisdom— as well as a condemnation of the heinous crimes with which the accused shooter has been charged.
Robert Bowers has been charged with murdering 11 people who were welcoming an 8-day old baby boy into the Jewish covenant.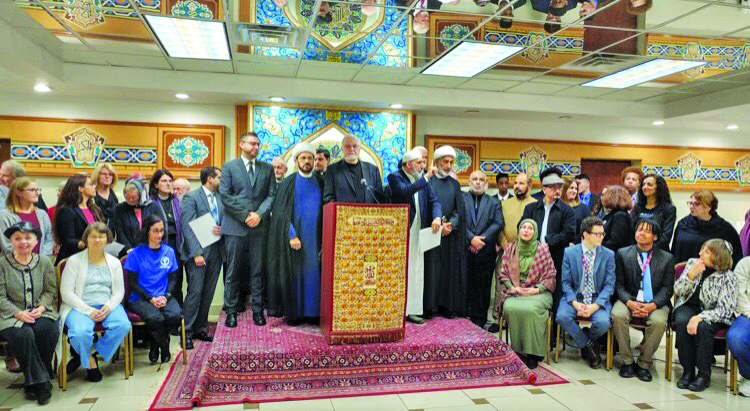 "If we thought that this was the only event for the Jewish community, we, of course, would be mistaken," Rev. Ed Rowe said. "They have been targets of discrimination and racism for a very long time. But we also cannot forget other killings like the Emmanuel A.M.E. Church shooting in South Carolina while they were studying the Bible and assassinated while joined together in faith; African Americans at a Kroger store in Louisville killed by a man on his way to an African American church to kill more; the terror of killing LGBTQ members of our human family in a Pulse Nightclub; the social media game that gave points for terrorizing Muslims; pipe bombs sent to former presidents and a Jewish philanthropist; it's all connected."
Rowe said people of faith must find their voices.
"No faith has the ability to find their voice alone," he said. "We are either together and we can transform the world or we have surrendered to the violence. We must be one voice; not simply in opposition, but we have to bring forth a vision of what a world with a beloved community might look like. We can be instruments of peace or we can be in silent betrayal."
Congressional candidate Rashida Tlaib also addressed this hate crime.
"It was an African American Baptist pastor who said something that really resonated with me," she said. "He looked right at me, in the audience, and said, 'We are not a country that is divided. We are a country that is disconnected.'
"Hate; there is so much anti-Blackness in our country…anti-poor, anti-gay, anti-brown, anti-Jewish, there's so much," Tlaib said. "There's so much hate and there's so much violence. We need to make sure our children are not dehumanized by this because that's what happens when you see all of this violence."
DeGroot spoke on the wave of devastation felt by the Jewish community as well.
"The real object of such hate, our thinking went, was our Black neighbors, our LGBTQ neighbors, our Muslim neighbors, our disabled neighbors, our immigrant neighbors," he said. "It was them that we must stand up for and support. Saturday changed all of that. We know now, deep inside, that it is not them that we must support, but all of us that must be supporting each other. Our world and our country have a sickness. This sickness claims that diversity is a threat and that Whiteness is supreme, but we here today know and proclaim loudly that that is not the truth. We here today know that diversity is our greatest blessing and our truest strength."