WASHINGTON, D.C. — Following in the footsteps of her colleague, U.S. Rep. Rashida Tlaib (D-Detroit), U.S. Rep. Ilhan Omar (D-MINN) sparked controversy this week with stark comments about the country's most prominent pro-Israel lobbying group, the American Israel Public Affairs Committee (AIPAC).
"It's all about the Benjamins baby," Omar said on Twitter Sunday about AIPAC's exorbitant lobbying spending focused on Congress over the years.
Sunday's post from Omar also accompanied a retweet of a Haaretz article and comments from journalist Glenn Greenwald.
"GOP Leader Kevin McCarthy threatens punishment for @IlhanMN and @RashidaTlaib over their criticisms of Israel," Greenwald wrote. "It's stunning how much time U.S. political leaders spend defending a foreign nation even if it means attacking free speech rights of Americans."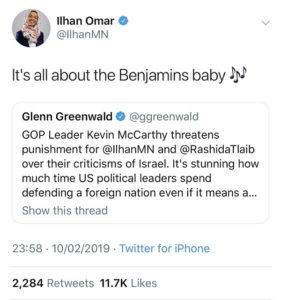 The article detailed McCarthy's comments about Tlaib and Omar, against whom he said he would take action for criticizing Israel if the Democratic majority did not do so.
"If they do not take action, I think you'll see action from myself," McCarthy, the minority leader from California, said. "This cannot sustain itself. It's unacceptable in this country."
McCarthy did not say which statements in particular he found offensive, but both congresswomen are supporters of the Boycott, Divestment and Sanctions movement against Israel; and both have been criticized by pro-Israel groups for comments critical of U.S. foreign policy and overwhelming, one-sided support to the detriment of occupied Palestine.
This week Omar also tweeted "AIPAC!" in response to a tweet from The Forward journalist Batya Ungar-Sargon, mentioning the lobbying group by name.
"Would love to know who @IlhanMN thinks is paying American politicians to be pro-Israel, though I think I can guess," Ungar-Sargon said.
Condemnation against Omar was swift in favor of Israel, including from Speaker of the House Nancy Pelosi (D-CA), who called the tweets "deeply offensive."
"We are and will always be strong supporters of Israel in Congress because we understand that our support is based on shared values and strategic interests," the statement read. "Legitimate criticism of Israel's policies is protected by the values of free speech and democratic debate that the United States and Israel share, but Congresswoman Omar's use of anti-Semitic tropes and prejudicial accusations about Israel's supporters is deeply offensive.
"We condemn these remarks and we call upon Congresswoman Omar to immediately apologize for these hurtful comments."
President Trump responded by calling for her resignation.
"Anti-Semitism has no place in the United States Congress and Congressman Omar is terrible, what she said," Trump said. "And I think she should either resign from Congress or she should certainly resign from the House Foreign Affairs Committee. What she said is so deep-seated in her heart that her lame apology…was just not appropriate.
"I think she should resign from Congress, frankly, but at a minimum she shouldn't be on committees, certainly that committee."
Omar apologized for her comments, but also refused to back down before firing back at Trump.
"Anti-Semitism is real and I am grateful for Jewish allies and colleagues who are educating me on the painful history of anti-Semitic tropes," Omar wrote in a tweet on Monday, Feb. 11. "My intention is never to offend my constituents or Jewish Americans as a whole. We have to always be willing to step back and think through criticism, just as I expect people to hear me when others attack me for my identity. This is why I unequivocally apologize.
"At the same time, I reaffirm the problematic role of lobbyists in our politics, whether it be AIPAC, the NRA or the fossil fuel industry," she added. "It's gone on too long and we must be willing to address it.
"Listening and learning, but standing strong," she also tweeted.
On Wednesday, Feb. 13, Omar added the following in a response to the president.
"Hi @realDonaldTrump— You have trafficked in hate your whole life— against Jews, Muslims, Indigenous, immigrants, Black people and more.
"I learned from people impacted by my words. When will you?"
Pro-Israel lobbying tops $5 million per year
According to OpenSecrets.org, pro-Israel lobbying is a lucrative venture, with more than $5 million spent in 2018 alone and annual totals rising each year since 2012.
The total does include $300,000 spent in 2018 by the progressive, moderate J Street organization, but the vast majority is spent by AIPAC and similarly one-sided pro-Israel lobbies.
A total of $3,518,028 was spent by AIPAC itself in 2018.
"AIPAC, along with the NRA, are two of the most powerful lobbies in America," said Dawud Walid, executive director of the Detroit chapter of the Council on American-Islamic Relations. "They have a multi-million dollar budget that they use to influence people's views, including politicians', about Israel.
"So it's really undeniable that they have an excessive amount of influence on American politics."
Politicians who expose this connection, especially Black politicians like Omar, a Somali American, are often "lambasted" for allegedly being "anti-Semitic," Walid added.
"Criticizing influence of the pro-occupation lobby is politically dangerous for any American," he said, adding that moderate Jewish organizations are now supporting Omar's position, including groups like J Street and the Jewish Voice for Peace.
"I do believe her efforts were blown out of proportion," Walid said, "but [it's] a necessary reminder that politicians must be careful about the delivery and specificity of their messages."
An undercover investigation by Al Jazeera in 2016 recorded pro-Israel lobbyists speaking openly about how they use money to influence the political process, in ways so blunt that if the comments were made by critics, they'd be charged with anti-Semitism, a report from The Intercept said.
Ron Stockton, a professor of political science and a research associate at the University of Michigan's Center for Middle East and North African Studies, said Tlaib and Omar may have to adjust their delivery in order to avoiding becoming politically marginalized over time.
Rula Aoun, an attorney and director of the Arab American Civil Rights League, said she did not believe the accusations of anti-Semitism against Omar are justified.
"Rep. Omar was simply bringing attention to a matter of importance in our country today," she told The Arab American News, "that being the influence of powerful lobby groups on foreign and domestic policy, particularly given the recent trends in legislation."