DEARBORN — Weeks after being fired from the Dearborn Historian, Bill McGraw, a former Detroit Free Press writer and co-founder of Deadline Detroit, said he still hasn't been given an exact reason why he was fired. 
McGraw said he hasn't heard from anyone at the museum for the last 11 days. 
"I have no idea who actually fired me," he said. "I was terminated, but I don't know who gave the order."
He said he wasn't given a specific reason and he was told the termination was applicable in 30 days.
"So I guess technically I'm still the editor," he said. "They have every right to fire me, but I think it's at least polite to tell the person who's being fired who ordered it.
"The mayor didn't like the cover,"  he added. "But I don't know specifically what I did that was cause to be fired."
McGraw said his decision to use certain quotes on the cover may have been part of the controversy.
"The quote on the cover was very harsh," he said. "But it was chosen very carefully because I thought it really represented what the Dearborn Independent was all about. I thought it would be somewhat controversial, but it didn't put me off at all. That's a part of being in journalism."
He added that he never imagined that Mayor Jack O'Reilly would scrap the issue.
"It just seemed so crazy to do something like that," he said. "Because as everyone knows the cover-up is always much more costly than whatever the original thing is that you're covering up."
The article was posted on Deadline Detroit three days before the Dearborn Historian would have been sent out to subscribers.
McGraw said he planned with co-founder Allan Lengel to publish the article in Deadline Detroit since well before he knew O'Reilly had any issue with the article. 
"I thought it would be good for the Historian, which has a small circulation, to have a story in Deadline Detroit," he said. "So we were going to do it for publicity purposes. But once we understood the mayor was thinking of scrapping the issue I said we're going to put it out right away.
"I don't know why he thought there was no alternative for us to get the story out," he added.
O'Reilly agreed to allow the publication to be sent out to its subscribers on Feb. 7, after the Dearborn Historical Commission passed a resolution supporting the article on Jan. 31, in a plain-text booklet format. 
Mason Christensen, the archivist at the Dearborn Historical Museum, said as far as he knew the article's text was not edited.
"Ideally we would have liked the issue to come out, maybe with tweaks to the cover,"  Christensen said. "Let's put it this way, that wasn't the museum's decision."
In a signed letter explaining his reasoning behind halting the mailing of the Dearborn Historian, O'Reilly said he thought it was in the city's best interest to distance it from possible criticism.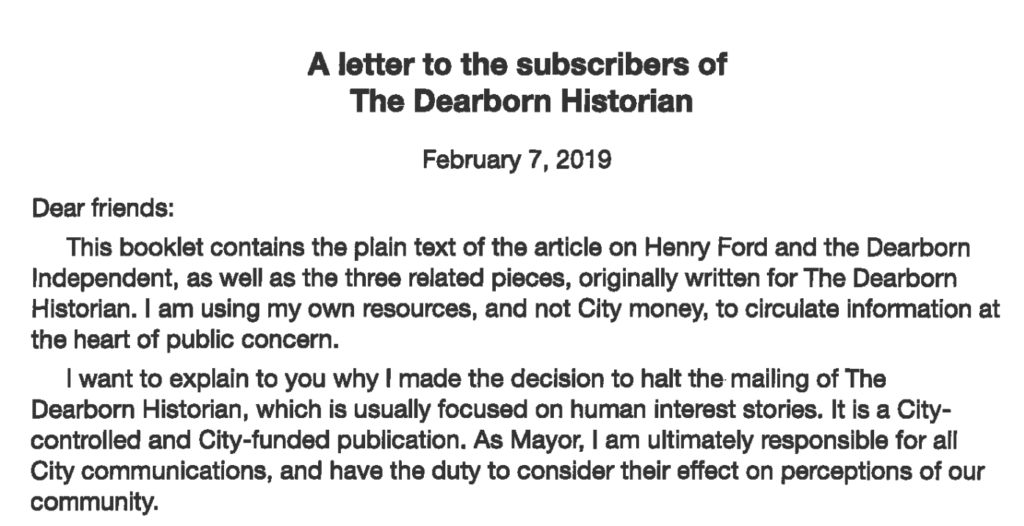 "I want to explain to you why I made the decision to halt the mailing of the Dearborn Historian, which is usually focused on human interest stories," he wrote. "I felt in a city publication, these viewpoints could interfere with people's understanding of our commitment to inclusion and respect. I felt they could potential undermine our efforts, and those of our community and business partners, to promote Dearborn as a welcoming place.
"I full support the good that can come from exposing and talking about hateful rhetoric," O'Reilly added. "We have worked hard in Dearborn over many years to confront forces that would divide us. I'm very proud to say that these efforts have led us to a much better place, a place that rejects discrimination and welcomes and supported people from all backgrounds."
In a letter to Mayor O'Reilly, published in the Press and Guide, Dearborn Historical Commission chairman Jonathan Stanton said the commission did not believe the article was inappropriate for publication in a historical journal. 
"To be clear, the Dearborn Historian is not a 'human interest' magazine," Stanton wrote. "It is a historical journal, and an award-winning one at that. This incident has caused real damage to the Historical Museum. Our members expect a journal with illustrations, which they're not getting, and those illustrations are important evidence for the author's case. We lost our editor, and with the cloud of censorship hanging over the publication, it's unclear what journalist might fill that position. There are serious questions to be answered for the future of the Historian and for the museum."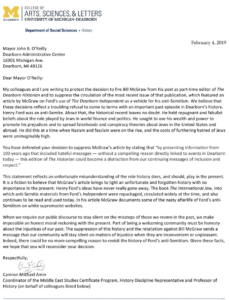 Stanton also wrote that the commission is regretful it was not consulted on the decision to halt the article. 
The University of Michigan-Dearborn's faculty also released a letter to Mayor O'Reilly protesting McGraw's firing.
The article highlights Henry Ford's paper, called the Dearborn Independent. It was one of the most circulated newspapers of its time. This January marked the 100th anniversary of Ford's acquirement of the newspaper.