DETROIT — Officials and community leaders gathered on Monday, April 1, to kickoff the Detroit 2020 Census effort. In a packed room at Focus: Hope in Detroit, Mayor Mike Duggan shared the podium with U.S. Rep. Rashida Tlaib (D-Detroit), Sen. Gary Peters (D-MI) and members from Detroit's various nonprofit and activist organizations that are the city's 2020 Census partners. Speakers highlighted the implications of the Census on state-wide funding allocations.
"It is $1,800 a year that we lose for every person that is not counted," Duggan said. "One year from today we start being counted. In 2010 the lowest response rate of any major city in America was in Detroit. This time we're not making any excuses."
Census data determines how billions of dollars in federal funding is distributed to states and cities for programs that impact residents.
"Head Start funding to give our children early advantage at school is allocated based on the Census count," Duggan said. "Health care and Medicare funding is allocated based on the Census count. Food assistance and federal road funding (and) U.S. state legislators and Congressional representatives are allocated based on the Census count "
Officials also highlighted the need for every person in the Metro Detroit region to be counted to ensure historically underrepresented communities get full access to federal dollars over the next decade.
Tlaib echoed concerns that the White House will underfund 2020 Census efforts.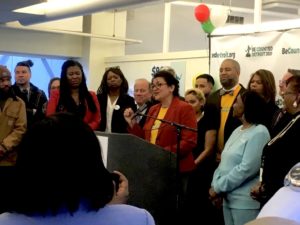 "In 2010 there were over 500 area Census offices, in 2020 they are only going to give us 248," Tlaib told a supportive crowd. "I want to challenge you all, show them, outwork the hate, outwork these kinds of un-American policies that say we don't count. It's not just about money, it's also about political power."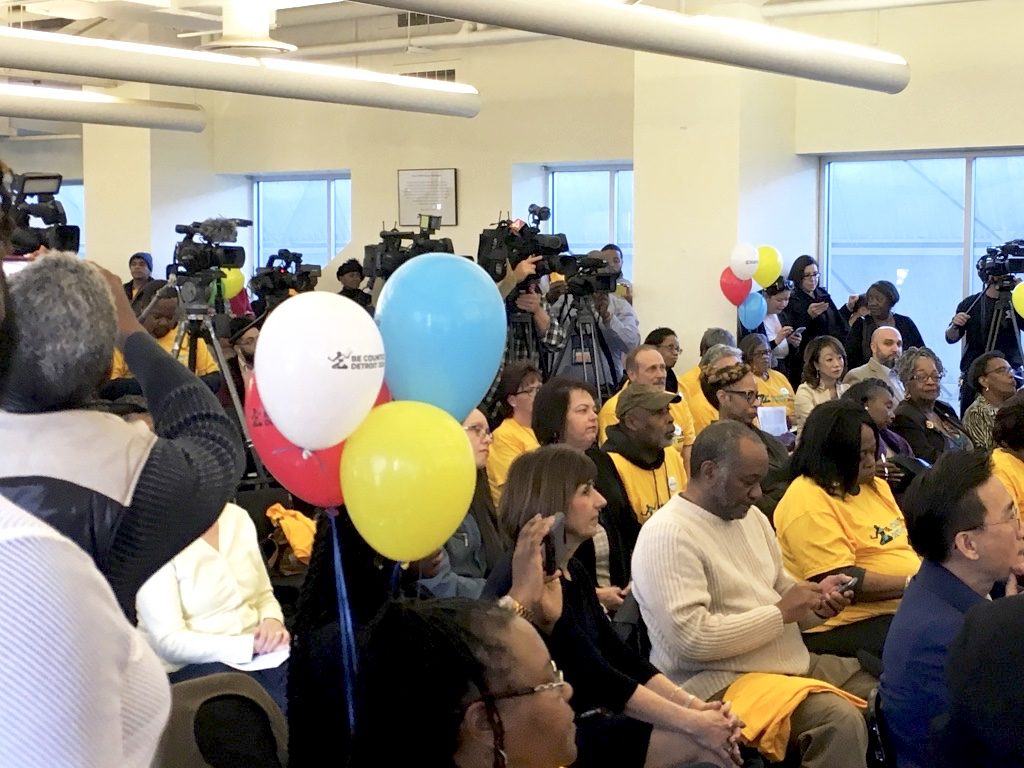 Peters, who is the ranking democrat on the Senate Oversight Committee for Governmental Affairs, which oversees the Census, built on the need to ensure that everyone in historically underrepresented communities is counted.
"The Census is a major undertaking," he said. "There are some folks in Washington D.C. that don't want everyone to be counted. They're going to do everything they can to do make sure that some folks in particular are not counted. We have stood up to them and said you can't be putting questions in the Census which makes it less likely that people want to answer it."
Peters and others spoke to concerns that adding a citizenship question to the questionnaire will most likely discourage immigrant communities from participating in the Census.
"The Census is confidential," Diego Bonesatti, director of legal services at Michigan United, a Michigan-based nonprofit, told The AANews. "People worried about ICE or other law enforcement using it should remain calm.  People can't have specific information until 72 years later.
"Furthermore, the whole process takes too long for ICE and other law enforcement." Bonesatti added. "ICE operates on much more current information: Getting information from immigrants they've already detained, visiting immigrant neighborhoods, looking for immigrants already in jail or prison for traffic or criminal issues and so on."
The Supreme Court is excepted to vote on the legality of the citizenship question by the end of June. Tlaib told The AANews that she's fighting hard to make sure the citizenship question does not appear on the form.
The U.S. Census Bureau is also hiring Census enumerators locally. According to Duggan, these jobs will pay between $15 and $19 an hour. In order to motivate younger residents, the department will allow the Census form to be completed online. 2020 also marks the first-time same sex couples will have the opportunity to identify themselves as such.
Joan Gustafson, external affairs officer at the Michigan Nonprofit Association (MNA), talked about mobilization efforts by statewide nonprofits to aid in the census efforts.
"We got in really early, to mobilize nonprofits to help the state get a complete count," she said. "Our campaign is a statewide campaign. There is so much at stake."
"Of the approximately $5.5 million that we've raised, a portion of that is going to statewide activities which MNA is leading," she added. "We have identified 13 what we are calling Census hubs. These are 13 large nonprofits across the state which will develop customized campaigns for their areas."
Duggan also announced this partnership in his talk at the rally.
"This fall, the city is going to be hiring, through our nonprofits and all of our partners, our own Census takers," he said.
He added that this partnership will ensure accountability and cross reference for actual census figures.
"Just in case the Trump administration isn't as thorough as we would like them to be," he said.