LANSING — Governor Whitmer signed a bill into law to reform Michigan's auto insurance system on Thursday, calling it "historic" and beneficial for the state's drivers.
The bill will give Michigan drivers plenty of new options for choosing their desired coverage plans and rates, and reform a system that she said was in dire need of change.
"By signing this legislation, we are providing relief to millions of drivers across the state and guaranteeing a better auto insurance system for everyone," Whitmer said. "This historic deal shows that, when we put party aside, we can find common ground on our state's toughest issues to provide realistic and affordable coverage options for drivers across Michigan."
The bill, known as Senate Bill 1, passed with overwhelming bipartisan support.
Whitmer says it will guarantee lower rates for every Michigan driver, protect insurance coverage options, and strengthen consumer protections, according to a press release.
The reform bill passed the Senate 34-4 last week, and then passed the House last Friday by a 94-15 vote.
Michigan currently has the nation's highest auto insurance premiums, Republicans and Democrats in favor of the bill said.
It was strongly opposed by trial lawyers and some medical lawyers, however, according to a report from the Detroit Free Press.
The bill will remove a unique Michigan feature that provides unlimited lifetime medical coverage to people who are seriously injured in an auto accident, as part of its "no-fault" insurance system. Michigan drivers have been forced to buy the full coverage option for decades.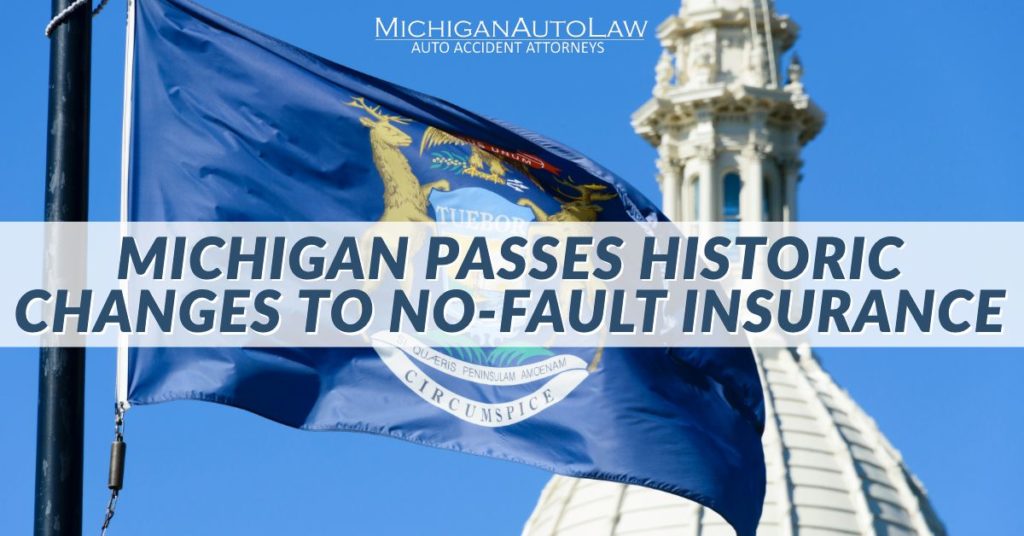 According to Whitmer, the following benefits will be provided for drivers under the reformed system:
—Guaranteed lower rates for eight years
—-The choice to pick their own personal injury protection (PIP) options coinciding with rate reductions
—Unlimited coverage or a complete opt-out for seniors or anyone with sufficient private insurance (100 percent PIP reduction plan)
—Increased consumer protections by banning companies from using non-driving factors, such as ZIP code, FICO score, gender, marital status, occupation, education attainment and home ownership, to set rates.
—Set fee schedules for hospitals and providers to prevent overcharging for auto-related injuries. Its goal is to give drivers rate reductions on a specific part of their insurance that ranges from 10 percent to 100 percent, sponsors of the bill said.
The bill will not begin to roll back rates until July of next year. Drivers will be given options on the level of personal injury protection they would like to sign up for under its provisions.
Under the current unlimited coverage deal, a 10 percent rate reduction in personal injury protection (PIP) coverage, which makes up about 50 percent of a typical insurance bill, is provided.
The other options drivers will have to choose from will include:
—A 20 percent reduction in PIP rates for $500,000 in coverage
—A 35 percent reduction for $250,000 in coverage
—A 45 percent reduction for $50,000 in coverage
—A 100 percent reduction for senior citizens and drivers with qualifying health insurance.
"We've accomplished more in the last five months than in the last five years," Whitmer said following the vote.
"This vote demonstrates that when both parties work together and build bridges, we can solve problems and make life better for the people of Michigan."
Critics of the bill, including Jeffrey Junkas, the assistant vice president of state government relations for the American Property Casualty Insurance Association, disagree.
"Although the bill will provide more options for drivers, it also creates numerous new problems that will need to be addressed," Junkas said.
"As effective cost-saving reform measures, like a meaningful fee schedule, were watered down, the bill misguidedly attacked issues that will not reduce overall auto insurance costs such as banning proven insurance rating factors."
Whitmer, however, strongly disagrees.
"I am proud to have worked alongside Senate Majority Leader (Mike) Shirkey, Senate Democratic Leader (Jim) Ananich, Speaker of the House (Lee) Chatfield, House Democratic Leader (Christine) Greig, and all members of the legislature to solve a problem that has been hurting Michigan families for far too long," she said.
In a tweet following the signing, Whitmer invoked one of her famous campaign slogans while also noting the bipartisan nature of the historic signing.
"Glad to have had the opportunity to work across the aisle to bring real reform to the people of Michigan," she said. "Now, let's work together to fix the damn roads, shall we?"
The full contents of the bill, SB-1, can be read on the Michigan State Legislature's website.