DETROIT — The Detroit Red Wings 2019 development camp wrapped up this past weekend under the watchful eye of new general manager Steve Yzerman at Little Caesars Arena downtown, as recent draft picks and free agent signees battled it out on the ice.
Among the latter group was Plymouth native Robbie Beydoun, a lifelong fan of the team for which all of his favorite goalies played, including Dominik Hasek and Chris Osgood.
Beydoun, who will start his third season at Michigan Tech later this year, said he was invited by Wings goaltending coach Jeff Salajko to participate in this year's camp.
"Oh it's a huge honor," Beydoun said to MIHockey.com.
"Growing up rooting for the Red Wings, watching games, all my favorite goalies played for the Red Wings, so, throwing on that jersey and seeing my name on it was pretty cool."
Beydoun had a 1.98 goals-against average and .931 save percentage in 12 appearances for Michigan Tech, located in Houghton in the Upper Peninsula, this past season, and said the invite to camp was unexpected.
"It hit me kind of by surprise. I wasn't really expecting it. Right when I got the call, I was super pumped, told my family and since I'm local, they're all trying to come out and watch me, hopefully they can," he said to MIHockey.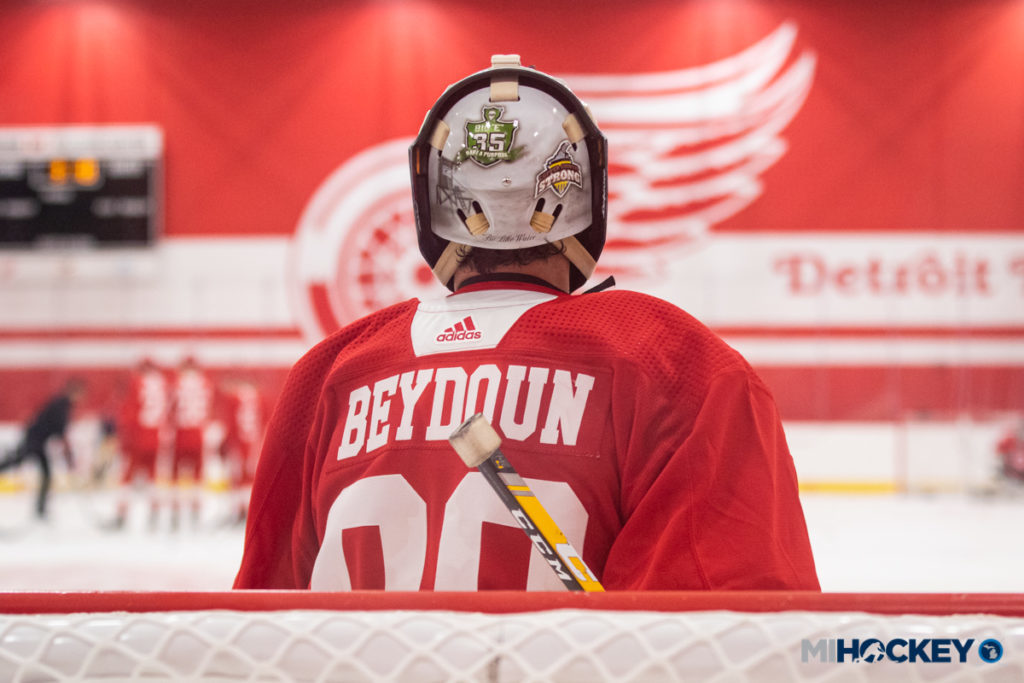 Beydoun said it's always been a goal of his to get attention from NHL teams, and took advantage of the opportunity to play with his favorite one over the course of the five-day camp, which included noteworthy young prospects like Jonatan Berggren, the Wings' 33rd overall draft pick in 2018.
Beydoun, a 5-foot-11, 22-year-old goaltender, previously played for Compuware amateur teams in Plymouth, which are known for churning out high quality prospects at all levels of hockey, as well as the Waterloo Black Hawks and Fargo Force of the USHL in the past two seasons.
A fierce competitor who relies on his athleticism but said he's been learning the mental game better over the past few seasons, Beydoun had a few difficulties settling into his part-time role last year with Michigan Tech, hoping to play in every game.
"I'm a pretty athletic goalie (and) that's something I'm never going to take out of my game because I think that's one of my biggest assets," said Beydoun to the Daily Mining-Gazette of Houghton.
"The biggest thing for me was not over-relying on the athleticism. The big thing I did (prior to last year's season) was slow things down, limit my movement, play controlled and just be more efficient."
But he has accepted his role gracefully, and the Huskies have benefited, winning back-back Western Collegiate Hockey Association playoff championships in back-to-back years with the Huskies.
And as his recent role with the Red Wings shows, Beydoun's career is coming along nicely from an individual standpoint as well.