DETROIT — The Democratic primary debate that took place July 30 left the audience with a comprehensive idea of which candidates seem to stand a chance of winning the nomination, what their plans entail and just how each of them could be right for Detroit, specifically, and Michigan at large.
Despite competing for voters at the left end of the Democratic spectrum, the leading liberals in the Democratic presidential primary, Senators Bernie Sanders (I-Vt) and Elizabeth Warren (D-MA) did not attack one another during the debate, which was hosted by CNN.
The discussion over "Medicare for all" dominated the first half of the debate. The two progressives are trying to sell a version of government-run health care that would essentially eliminate private health insurance altogether, an idea that didn't sit well with the other eight candidates on the stage.
However, if the audience reaction in Detroit's Fox Theatre was any indication, plenty of Democratic voters in the audience applauded in support of what both Warren and Sanders are proposing.
Sanders and Warren seemed to be on the same team, defending their shared agenda on health care.
Although they're in competition for the Democratic presidential nomination, Sanders and Warren did not at any point clash directly.
The other eight candidates taking part in the July 30 debate were Montana Gov. Steve Bullock; Indiana Mayor Pete Buttigieg; former Maryland Congressman John Delaney; former Texas Congressman Beto O'Rourke; Colorado Gov. John Hickenlooper; author Marianne Williamson; Ohio U.S. Rep. Tim Ryan and Minnesota Senator Amy Klobuchar.
Before the debate, Delaney was an unknown, but his repeated clashes with Sanders and Warren were a win for the former Maryland congressman, as the mere clash put him on the map.
As for the other candidates, they used the debate as an opportunity — and for some of them, likely a last chance — to express concern about their party's embrace of liberal policy goals, specifically the creation of a "Medicare for all"-style health care system (Sanders' lead goal), as well as the goal for a broad liberalization of the immigration system.
In Dearborn, Arab American organizations and activists are not dormant in the face of the coming elections.
The Annex at the Arab American Museum, in collaboration with several local organizations, hosted a get-together to watch the debate and discuss the importance of voting for both the Arab and Muslim communities.
The New American Leaders Action Fund (NALAF), ACCESS, the National Network for Arab American Communities (NNAAC) and Emgage sponsored and hosted a debate watch party with immigrant Americans and their families.
The Arab Student Union (ASU) from Fordson High school was also present to inform the attendees of what they do.
"As young Arab Americans, we want to see other young people from the community attend these events as we are the future," said ASU Vice President Adbullah Abo Hashim. "We could be up on that stage someday and we are all looking forward to voting next year."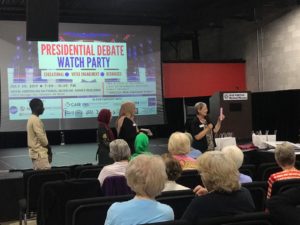 "We are the future and it is our responsibility to inform the people," said Jenna Kobeissi, the director for political action at ASU. "…Events like these are all about informing people. The voter turnout for Arab Americans is OK, and OK is not good enough.
"As was stated at the event, 60,000 Arab Americans were registered to vote and only 30,000 voted; these numbers are not enough."
Isra Daraiseh, NNAAC's program coordinator, one of the organizers of the event, told The Arab American News that this event was organized to encourage, "diverse relationship building, get(ting) to know each other and establishing this normality of seeing themselves in this country as people who can vote and make a change.
"We want them to see themselves as part of the deciding team, and we are non-partisan, so we try to push a platform for everyone to be a part of," Daraiseh added. "We want them to be informed and empowered community members."
Nada Al-Hanooti, executive director of Emgage Michigan — an organization that serves to empower Muslim and minority communities — said that their purpose for organizing this event is to "engage the Muslim community and get them pumped up for the 2020 elections.
"We want this to be an opportunity for them to engage with other organizations to start utilizing their resources, so that when 2020 comes up, they are prepared to engage," Al-Hanooti added. "We are not all from the same ethnicity or religion, but the common denominator between the organizations present here today is that we are all minorities."