DETROIT — Arab American life is full of taboos surrounding issues including cultural and religious traditions, marriage, dating and more, but increased media coverage and social media alike have both helped to "lift the veil" on these topics in recent years.
Zahra Huber, a 35-year-old Iraqi American journalist who grew up in New York City before moving to Dearborn to attend college at the University of Michigan-Dearborn, is among those working to dispel stereotypes in these areas, a goal she's taken on as part of her new podcast "Breaking Pita With Zee." The podcast debuted on iHeartRadio, Stitcher, Spotify, Apple Podcast and Google Podcast this month.
With a lighthearted, conversational approach, Huber was joined for her second episode, "Dating While Arab", by Lebanese American co-host Diana Hussein.
The episode delves into everything from the temporary Shi'a Muslim marriage called "mut'ah", to hanging out with male friends (and coming up with alibis to tell their parents) during the pair's high school years and other similar topics.
"We've gotten great feedback about it," Huber told The Arab American News. "This is something that is relatable and it's much needed having an Arab American female voice, which you don't hear very often."
The former co-host of the 910 AM Superstation TV show "The Civil Arab" with Amer Zahr, Huber also spent more than a decade as a reporter for WWJ 950 AM, and has worked for The Arab American News as well.
A Detroit media veteran whose shows have often focused on a mix of free-flowing, honest dialogue and humor, Huber said she has several topics lined up for the new podcast.
New episodes debut each week on Monday morning at 8 a.m.
"I try to use my sense of humor to get across my opinions and perceptions," Huber said.
Upcoming shows are expected to include topics such as what it's like to be a Black, Arab American Muslim woman; Arab traditions and customs that may seem strange to people from other backgrounds; Arab Americans who date outside of their race and religion and more.
While social topics are expected to make up a large percentage of the show, Huber also plans to discuss more serious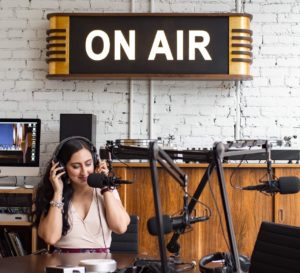 topics, such as mental health and the lack of a check box for Arab Americans on the 2020 Census form.
Among her inspirations are U.S. Rep. Ilhan Omar (D-MN), comedian Maysoon Zayid and Dr. Mona Hannah-Attishah, a pediatrician, professor and health advocated who exposed the Flint Water Crisis.
Huber said her background as a former resident of New York City, where segregation among religious and ethnic communities is far more rare, inspired her to become an advocate and a voice for a more inclusive and understanding community in Michigan. She also said she hopes her show will attract attention from communities outside Metro Detroit.
"When you go to New York, people just mingle," she said. "It doesn't matter where you're from, or what religion you are or what culture you are. Here I feel like it's so segregated; I feel like it's getting a lot better than when I first moved here, but when I first moved here it was pretty bad.
"I'm loud, I have opinions and I don't let anybody stop me," she added. "That's why I went into journalism to begin with; I wanted to do better to let people know who we are (as a community)."
So far, the podcast has received hundreds of downloads and gained a sponsorship from Al-Ameer Restaurant in Dearborn and Dearborn Heights.
To listen to her podcast, visit its iHeartRadio website here. Huber is also available via email at breakingpitawithzee@gmail.com.