Detroit — New research from New American Economy (NAE), in partnership with the office of the Wayne County executive and Wayne United, reveals that immigrants contributed more than $10.5 billion to Wayne County's GDP in 2017.
In addition to their financial contributions, including $430.5 million to Social Security and $110.6 million to Medicare in 2017, the report highlights how immigrants helped to offset and make up for population losses in Wayne County.
"When you look at the numbers, the economic case for inclusion and welcoming immigrants is irrefutable – Wayne County continues to benefit from its diversity dividend," Wayne County Executive Warren C. Evans said in a statement. "As we try to build a more prosperous county and future, we need to help raise awareness about the key roles immigrants play across economic sectors and in our communities."
The full report was released on Wednesday by Wayne County officials and community members at the Hamtramck Historical Museum. The report shows the significant contributions immigrants are making across key industries that are vital to Wayne County's economy. Approximately 164,442 immigrants lived in Wayne County in 2017.
The Wayne County Executive's Office emphasized certain statistics from the report at its release:
Despite making up 9.4 percent of the county's overall population, immigrants comprise more than a fifth (21.4 percent) of all science, technology, engineering and math (STEM) workers, 16.7 percent of transportation workers and 15 percent of manufacturing workers.
After taxes, immigrants in the county have a spending power of $3.2 billion.
As a result of immigration to the county, 7,564 manufacturing jobs were preserved – jobs that would have disappeared or moved elsewhere had it not been for immigrants.
Immigrants also represented an outsized 16.3 percent of the county's business owners and entrepreneurs.
Between 2012 and 2017, the total county population fell by 2.2 percent. Without growth in the immigrant population, the decline in the county's population would have been even greater, falling by 3.9 percent.
Wayne United is an initiative launched by Evans to partner with community, civic and business leaders to promote diversity and inclusion.
"Wayne County immigrants are playing a crucial role in boosting the population, contributing to the local economy and building a diverse and successful workforce," said Kate Brick, director of state and local initiatives at New American Economy. "If Wayne County continues its work to support its immigrant population, all members of the community stand to gain."
The report comes at an opportune time for the county, as it prepares to host a nationwide immigration policy conference penned NIIC (National Immigrant Integration Conference) taking place at the TCF Center, formerly known as Cobo Center, between October 20 and 22.
The conference will host speakers and analysts from varied backgrounds of academic and professional experience who'll discuss pertinent issues surrounding immigrant integration in the U.S.
Evans is set to deliver a morning plenary at the conference.
A summary of the NAE report's findings
The report indicates that for the 164,442 immigrants in Wayne County, the top five countries of origin were Yemen (14.5 percent), Mexico (13.0 percent), India (10.9 percent) Lebanon (9.1 percent) and Bangladesh (5.7 percent).
Between 2012 and 2017, the immigrant population in the county increased by 24.1 percent.
State and local taxes levied on significant economic activity by immigrant households including property, sales and excise taxes, generated crucial tax revenue the area. According to the report, immigrant households earned $4.3 billion in 2017.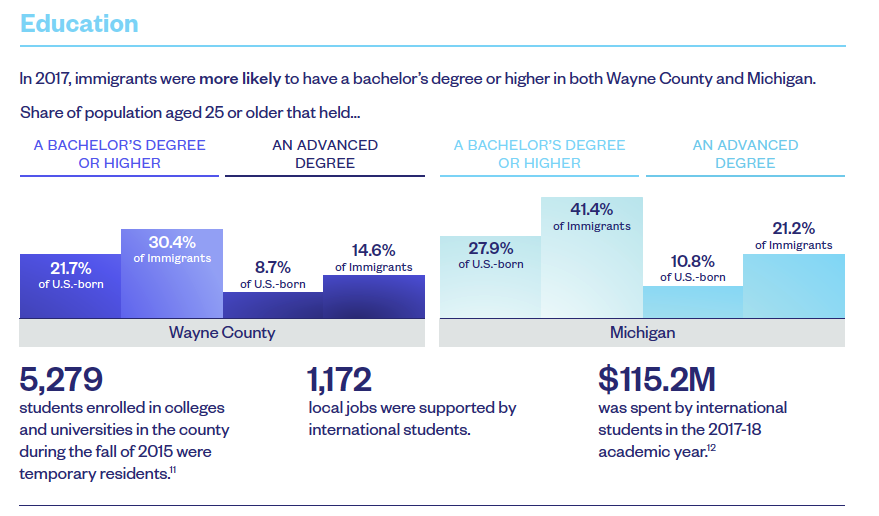 Out of this income, $736.3 million went to federal taxes and $345.9 million to state and local taxes, leaving $3.2 billion in spending power for these foreign-born households.
In 2017, foreign-born residents in the county contributed $10.5 billion to the county's GDP, or 11 percent of the total.
47.5 percent of immigrants in the county received Medicare or Medicaid, compared to 47.7 percent of U.S.-born residents in 2017. Further, 47.7 percent of immigrants had private healthcare coverage.
The report shows that immigrants occupy critical jobs in several key industries such as manufacturing, construction, healthcare and education. The county estimates that immigrants living in the county helped create or preserve 7,564 local manufacturing jobs that would have otherwise vanished or moved elsewhere by 2017.
Despite comprising 9.4 percent of the county's population, immigrants owned 16.3 percent of businesses in 2017. Also, 7,691 immigrant entrepreneurs lived in Wayne County, bringing in $145.3 million in revenue.
30.4 percent of immigrants aged 25 years or older held bachelor's degrees, compared to 21.7 percent of U.S. born individuals in the county. The number increases dramatically when one looks at Michigan totals, with 41.4 percent of immigrant adults holding these degrees compared to 27.9 percent U.S. born Michiganders.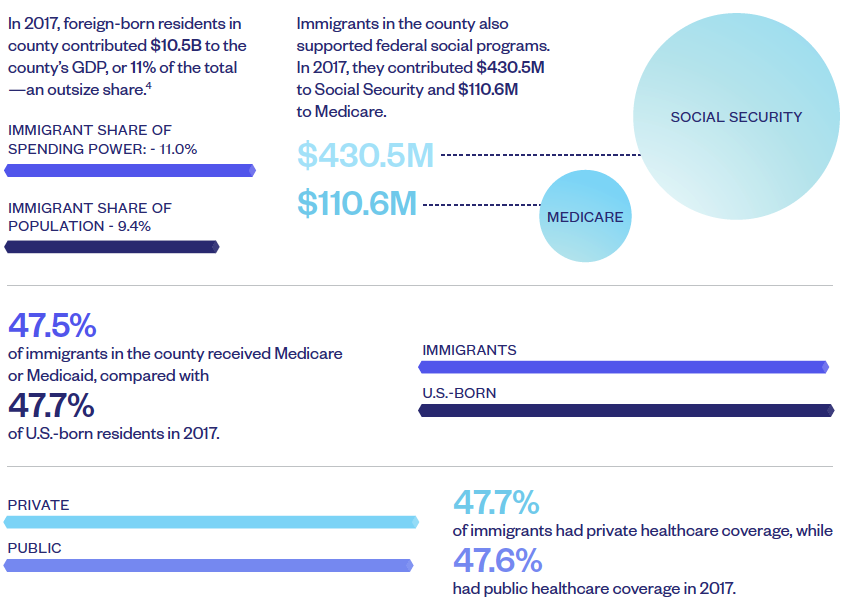 International students spent $115.2 million in the 2017-2018 academic year.
With housing, 63.5 percent of immigrant households in the region owned their homes in 2017, compared to 61.6 percent of U.S.-born households.
88,781 immigrants were naturalized U.S. citizens, 12,751 of whom were refugees.
Perhaps most importantly for those who believe the myth of immigrants leaving their homelands to enjoy free benefits without contributing to the economy, $426.3 million was the amount earned by undocumented immigrant households in 2017, with $28.1 million going to federal taxes and $18.5 million going to state and localities.