DEARBORN HEIGHTS —  Sara Raad, an Arab American poet from Dearborn Heights, released last week her first book, "My squeak. My Shout. My Roar." The book is a three-part chronicle of her experience with domestic violence.
"Anyone who has been in an abusive relationship could relate to the book," Raad told The Arab American News. "It feels very bittersweet [to release the book]. I say that because I'm letting go of a big part of me."
The first chapter, Raad said, symbolizes the loss of voice people have when they're going through domestic abuse. The second is about getting out of the relationship and starting recovery and the third represents "getting back on your feet … They built a solid foundation for themselves and now they're starting to blossom."
Raad, 27, said she was in an abusive relationship for two and a half years and left that home in 2017 with nothing but the clothes on her back.
"I had to pick up my whole life and start it again," she said. "I have closure now. I'm saying goodbye to the Sara who wrote all those poems and saying hello to the new version of me."
A daughter of Lebanese immigrants, Raad said she writes to heal from that trauma.
"I hope that the book shines a light on mental health and domestic violence," she said.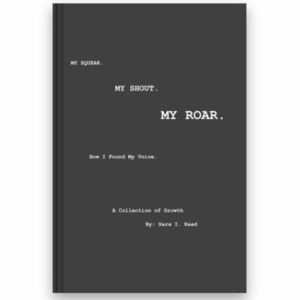 "My Squeak. My Shout. My Roar" can be purchased on Blurb.
Raad posts much of her poetry on her Instagram blog, www.instagram.com/sarapoetryofficial, which has more than 11,000 followers.
The National Coalition Against Domestic Violence reported that about 3 in 10 women (29 percent) and 1 in 10 men (10 percent) in the U.S. have experienced rape, physical violence and/or stalking by a romantic partner.
If you or someone you know needs help, call the National Domestic Violence Hotline at 1-800-799-7233 or visit www.thehotline.org.