DETROIT — Children around the world born with clubfoot have a new champion in Ahmad Hasan, a third-year medical student at the Wayne State University School of Medicine.
Hasan is the driving force behind The Little Feet Club, a new organization dedicated to helping end disability caused by clubfoot globally by ensuring every child born with the condition has access to quality treatment and the opportunity to lead a clubfoot-free life.
Clubfoot is a condition in which children are born with one or both feet inverted or internally rotated. Diagnosis can be made as early as 12 weeks into pregnancy.
"Clubfoot, a congenital condition of the feet, affects about one in 1,000 kids," Hasan said. "We are currently working in India, the world's second most populous country, on scaling a national diagnosis and treatment protocol."
The idea for The Little Feet Club, of which Hasan is the United States director of operations, traces back to 2017, when Hasan traveled to India to contribute to a health data project on clubfoot. India is the second most populated country in the world and has some of the highest clubfoot prevalence worldwide.
He was a graduate student then, studying health informatics at the University of Michigan. In India, he met and observed Mathew Varghese, M.D., a world-renowned orthopedic surgeon and Gates Foundation awardee credited with helping eradicate polio in India. Varghese is the medical director of CURE International India Trust, the largest national clubfoot treatment program in India. He is also head of orthopedics at St. Stephen's Hospital in New Delhi, where Hasan first saw him teaching other surgeons clubfoot treatment.
Varghese is now medical director of The Little Feet Club for India. WSU Associate Professor of Orthopaedic Surgery Walid Yassir, M.D., is the medical director for the organization in the U.S. Hasan, a father of three and an Ann Arbor resident, brought the doctors together to create The Little Feet Club. Hasan works with providers to ensure patient records are accurate and current, and shares the information for successful program monitoring.
"I've been practicing now for 20 years and this level of initiative is not common among medical students," Yassir said. "This stands out, especially for the amount of persistence. This is a project entirely of his own volition and every step of the way has been driven by his initiative. It is really, really impressive."
Hasan plans to complete his master's degree in health informatics between his third and fourth years of medical school education.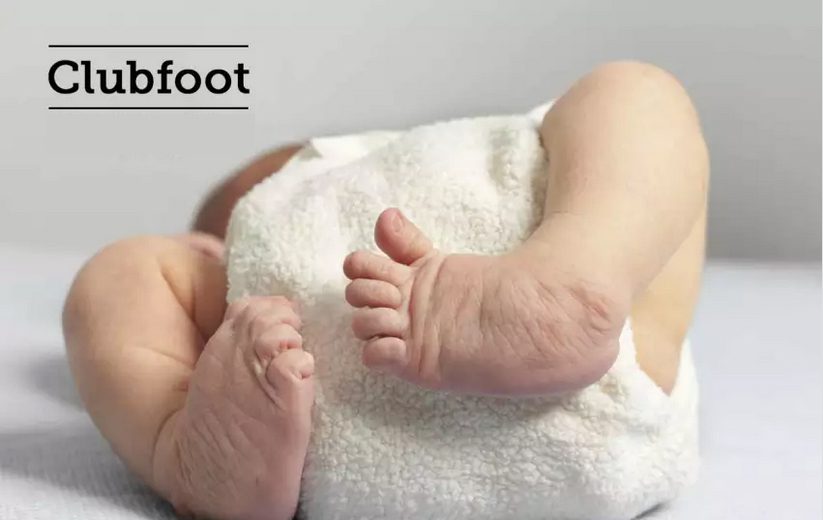 Yassir, chief of Pediatric Orthopaedic Surgery for Children's Hospital of Michigan, has extensive experience treating children with clubfoot, training under the guidance of the late Ignacio Ponseti, a Spanish physician and creator of the Ponseti method, who died in 2009.
Ponseti's method is the basis for the training to be provided by The Little Feet Club, first in India, before moving to other countries. The minimally-invasive technique involves the application of a series of casts and a period of wearing a special foot brace to ensure the foot doesn't relapse into the clubfoot position.
"We can use this anywhere," Hasan said. "Our immediate goal is to help India specifically, close the gap on clubfoot treatment and monitoring. I think it puts us in a unique situation … we can now develop a model and take it elsewhere."
Yassir and Hasan are scheduled to visit New Delhi March 13-20 for the organization's first national clubfoot clinical training conference.
"(Treatment) is really very operator-dependent on casting, as is judgement on when to move to the next step," Yassir said. "The undertaking is absolutely massive. The goal is to amplify the capabilities and hopefully set in place a mechanism that can be long-lasting. The success of the Ponseti method depends largely on parental compliance, and in India that can be very challenging."
The Little Feet Club is now seeking donations to help support initiatives like expanding a brace factory led by CIIT in India, hiring clinical and support staff, and creating education materials for parents of patients to ensure continuity of care.
"You have to return for weeks, so the continuity is very important," Hasan said.
So far, 65,000 patients have register through CIIT.
"To my knowledge, this is the largest countrywide clubfoot initiative in the world," Hasan said. "This is an open call for donations. (All) donations would go to clubfoot treatment."
For more information, visit www.thelittlefeetclub.com.
This article originally appeared on today.wayne.edu. It has been edited for style.