DEARBORN — Steven M. D'Antuono, special agent in charge of Detroit FBI Field Office, is excited about discovering new cultures, food and lifeways in his new role as the director of the bureau in the diverse state of Michigan.
This was at the heart of a conversation D'Antuono had with the staff at The Arab American News offices on Wednesday, as part of a community outreach and partnership effort that has brought him to multiple meetings with community and religious leaders since he assumed his post less than six months ago. 
Affable, sharp and attentive, D'Antuono is enthused by learning more about Dearborn's cultural heritage and in fact seems close to his own Italian roots and New England upbringing. Indeed, the Boston Field Office is where D'Antuono first cut his teeth, joining the FBI as a forensic field accountant in 1996. A graduate of the University of Rhode Island, he carries a distinct northeast accent with him to this day. 
"I was extremely excited to come to Michigan," D'Antuono told The Arab American News Publisher Osama Siblani. "I had no preconceptions (of the Arab American community), but once I got more involved, (the experience) has been absolutely fantastic.
"Going to community meetings and meeting doctors, lawyers, pharmacists and people from all walks of life has been both eye opening and fun." 
D'Antuono pointed to the fact that Roger Williams founded the state of Rhode Island on religious freedoms, and that growing up around many ethnicities in his home state added to his excitement about working in Michigan.
 "I'm all about learning and educating myself," he said. "I love cultural diversity and come from a state that is extremely culturally diverse."
D'Antuono's career with the FBI has taken him from one part of the country to another, with positions in Washington, Virginia and Missouri, investigating white-collar crimes, public corruption, organized crime, drugs and various forms of fraud. He most recently served as a section chief in the Criminal Investigative Division at FBI Headquarters in Washington.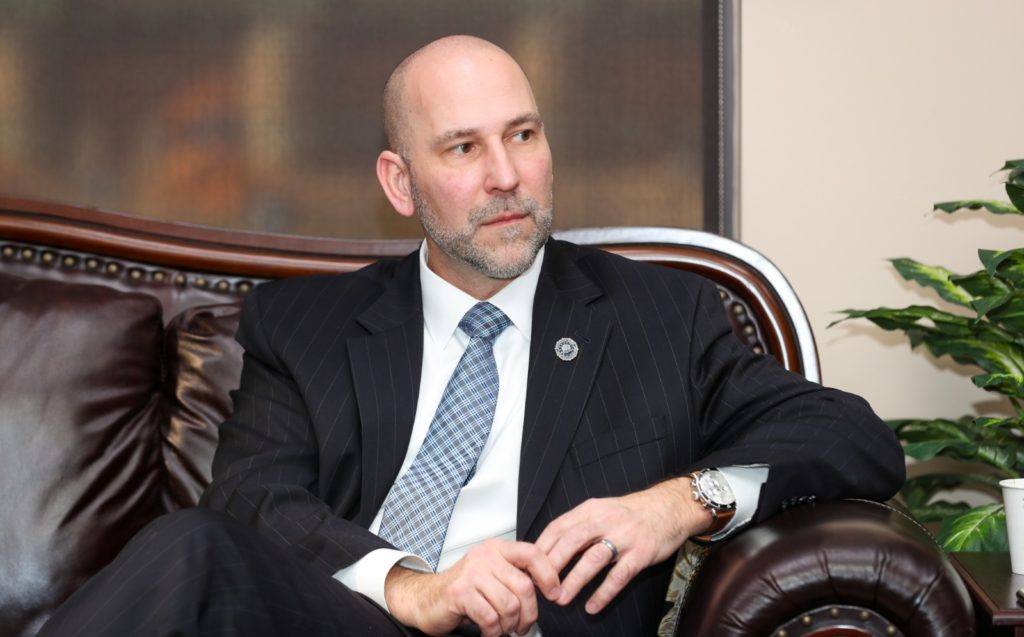 "My mission here is break down those walls, those silos and barriers that divide us. In order to do that you need to be involved in the community and present in the community. – FBI special agent in charge Steven D'Antuono
Dearborn and the greater Metro Detroit region is no stranger to the bureau's investigations into such matters, with last year's high-profile cases involving corruption at the top of the UAW, public officials and bribery in Troy and pharmacy fraud in Dearborn/Dearborn Heights.
The bureau sees the opioid crisis and opioid addiction as an epidemic. D'Antuono recently met with imams from Dearborn and Dearborn Heights in an effort to raise awareness about the issue. He said cultural taboos surrounding the issue are no different than other cultures in the American fabric. 
Siblani pointed to the historic relationship of the Arab American community to the FBI, which has been at times fraught with mistrust and suspicion, something that bureau has taken strides to overcome over the last few decades. D'Antuono said making the bureau more relatable by letting the community see who they are as people was key to this effort.
"My mission here is break down those walls, those silos and barriers that divide us," D'Antuono stressed. "In order to do that you need to be involved in the community and present in the community.
Last year, Mary Abouljoud was hired as a community outreach specialist by the Detroit Field Office. 
"Mary is absolutely fantastic," D'Antuono said. "Her knowledge about the community and the connections that she has here has been a boon to my education."
On some of the tougher issues and concerns Arab Americans have had about the FBI's procedures, D'Antuono said that agents are trained to be professional and treat people with respect. This includes knocking on doors with proper search warrants and making sure to be aware of the safety and rights of all involved. 
"We're an information and intelligence gathering organization," he said. "A lot of times when we talk to the community it is not to accuse someone, it is to gain information for our intelligence purposes.
D'Antuono made clear that the safety of Americans' was the bureau's priority, not spreading fear among them. 
"We want the involvement of the community because we can't do our job without the community," he said. "We need people to be able to talk to us, and if they're afraid to talk to us then it's hard for us to do our job."
The conversation cleared up other misconceptions some may have within the community about the FBI, including allegations of surveillance of local mosques. D'Antuono said emphatically that this was not the case. Though some fears may be legitimate and have historic roots, D'Antuono said he aims to remove stigmas about the bureau through open conversations. 
"We're all fighting for the same thing, the safety and security of our family, friends and our relatives that live in this country," he said.