DETROIT – To ensure that all residents have access to COVID-19 testing, the Coronavirus Community Care Network has opened a drive-thru testing site at the Joe Dumars Fieldhouse at the State Fairgrounds. The entrance to the testing site is at East State Fair across from Bauman Avenue. Beginning Wednesday, April 1, 2020, testing hours for the drive-thru will be 9 a.m. – 6 p.m.
Who can go to the CCCN drive thru testing site?
Individuals who have received a testing order from their doctor and have a scheduled appointment with the CCCN Call Center can get tested.
COVID-19 testing will be available to any resident of the tri-county region (Wayne, Oakland, and Macomb County).
Steps to Get Tested
Contact your doctor if you believe you have COVID-19, are showing symptoms or have come in contact with an infected person
Your doctor will schedule an appointment for you and call in a prescription for a test if they believe you have COVID-19
OR
Your doctor will give you a written prescription to receive a test and instruct you to make an appointment through the CCCN Call Center
How to make an appointment

Call the CCCN at 313-230-0505, 9 a.m. – 7 p.m. Monday – Sunday

Don't have transportation? – Tell the call taker who books your Fairgrounds appointment. They will connect you directly to the car service to book your $2 ride. The rides are only for Detroiters being picked up and dropped off at a Detroit residence.
When will I receive my test results?
Your test results should be available in seven (7) days.
Please contact your primary care doctor to receive your results. If you do not have a healthcare provider or your provider does not have your test results, please contact the Detroit Health Department COVID-19 hotline at 313-876-4000.
You can also view your lab results through the BioReference Laboratories patient portal. Visit www.bioreference.com/patient-portal to create your patient account.
REMEMBER: Individuals who do not have an appointment and a physician order will not be tested.
What if my test results are positive?
Continue to stay at home until your symptoms improve. If your symptoms get significantly worse, seek immediate medical attention.
While at home, avoid contact with others. Any individuals you have been in contact with since you felt ill should also avoid leaving their home for two weeks. If any of your family members are showing symptoms, they should also stay isolated until their symptoms improve.
Continue to wash your hands regularly and keep at least 6 feet from others.
If you must go out, wear a facemask or other cloth covering. Cover your mouth and nose with a tissue when you cough or sneeze or use the inside of your elbow. Clean and disinfect frequently touched surfaces daily, such as tables, doorknobs, light switches, countertops, handles, desks, phones, keyboards, toilets, faucets, and sinks.
Joe Dumars Fieldhouse
Enter off E. State Fair Ave. Beginning Wednesday, April 1, testing hours for the drive-thru will be 9am – 6pm.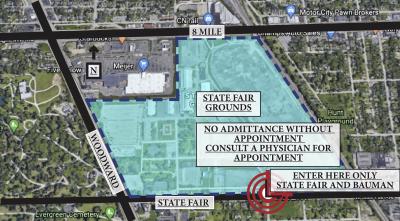 Doctors accepting new patients both insured and uninsured:
East
Popoff Family Health Center
10809 Mack Ave Detroit MI 48214
East Riverside Health Center
3901 E. Jefferson Detroit, MI 48215
Dr. Sophie Womack Health Center
7900 Kercheval Detroit, MI 48214
Noland Family Health Care
111 W. 7 Mile Rd. Detroit, MI 48203
East Medical Center
4909 E. Outer Dr. Detroit, MI 48234
UHC Health Center
4201 Saint Antoine Blvd, UHC Suite 7A, Detroit, MI 48201
(313) 822-9801 (Option 4)
East Jefferson Health Center
7633 E. Jefferson Ave Ste 340 Detroit, MI 48214
(313) 822-9801 (Option 2)
Professional Medical Center
3956 Mt Elliott Detroit Michigan 48207
West
Dr. Feleta Wilson Health Center
6500 W. Warren Detroit, MI 48210
Woodward Corridor Family Health Center
611 Martin Luther King Blvd, Detroit, MI 48201
Central City Integrated Health
10 Peterboro Detroit, MI 48201
The Health Center @ McKenny
19750 Burt Rd. Detroit, Mi. 48219
Professional Medical Center
20901 W Seven Mile Rd Detroit, MI 48219
Southwest
Gateway Medical Center
288 W. Grand Blvd. Detroit, MI 48202
American Indian Health & Family Services of SE MI
4880 Lawndale Detroit, MI 48210
CHASS  Center
5635 W. Fort Street, Detroit, MI 48209
Covenant Community Care
5716 Michigan Ave, Detroit, MI 48210
Outside Detroit
Western Wayne Family Health Centers
2700 Hamlin Blvd Inkster MI 48141
Northwest Medical Center
21040 Greenfield Oak Park, MI 48237
Henderson Medical Center
44405 Woodward Ave Pontiac, MI 48341
Pontiac Medical Center
46156 Woodward Ave Pontiac, MI 48341
Greenfield Health Center
3077 Greenfield Ste 400 Southfield, MI 48075
(313) 822-9801 (Option 3)
Hartfelt Physicians Services
20245 w 12 Mile Rd Ste 120, Southfield, MI
Ortel Health
3800 Lakeland Lane Bloomfields Hills 48302
Doctors Urgent Care Walk-In Clinic Warren
30736 Hoover Rd Warren, MI 48093
Doctors Urgent Care Walk-In Clinic Plymouth
1498 S Sheldon Rd Plymouth, MI 48170
Doctors accepting new insured patients including Medicaid:
East
Detroit East Jefferson
12871 East Jefferson Ave. Detroit, MI 48215
Detroit- Riverview Medical Office
7633 East Jefferson Ave., Suite 160 Detroit, MI 48214
Detroit- East Seven Mile
3040 East 7 Mile Rd. Detroit, MI 48234
Detroit – State Fair Gratiot
15200 Gratiot Ave, Detroit MI 48205
Detroit- North Central
4321 East McNichols Road, Detroit MI 48212
Detroit Medical Group-Bloomfield Medical Center
8282 Woodward Ave Detroit, MI 48202
Detroit Medical Group
6455 Gratiot Ave Detroit, MI 48207
Detroit Medical Consultants
4100 Woodward; Detroit, MI  48201
West
Oak Street Health Clinic Medicare Only
18610 Fenkell Ave Detroit Mi 48223
Detroit-West Seven Mile
12703 West 7 Mile Rd, Detroit MI 48235
Detroit-Plymouth Road
20720 Plymouth Road, Detroit MI 48228
Detroit Medical Group-Greenfield Family Practice Services
19141 Greenfield Rd Detroit, MI 48235
Romancare Health Services
9600 Dexter Ave Detroit, MI 48206