LANSING — After signing the latest order extending the previous "stay home" order till the end of April, Governor Whitmer went live to speak on what this new development means for Michiganders. She joined Michigan's chief medical executive, Dr. Janeigh Khaldoun, to emphasize that staying home and following distancing guidelines was still the most effective way to flatten the curve of the coronavirus spread. 
Whitmer talked of the latest COVID-19 treatment facility in Novi, the Suburban Collection Showplace, which will accommodate up to a 1,000 COVID-19 cases, similar to the TCF Center in Detroit. TCF will see its first 25 patients on Friday, while the center in Novi should be operational within the next few weeks. 
Michigan has been approved to receive pandemic food stamp benefits for children who are approved for free or reduced school lunches. The state is working on getting food assistance to its low-income population as well. The Michigan Unemployment Insurance Agency (UIA) has recently quadrupled its staffing and extended call center hours to meet unprecedented demand. In the last three weeks, Michigan has seen 816,785 total claims. 
Social distancing remains the best way to slow the spread and contain the virus in Michigan, something the state's government has derived from predictive models that take into account several factors that contribute to the spread. 
"We are in control of our fate here and it depends on everyone of us doing our part," Whitmer said. 
A University of Michigan model, which has informed Whitmer's team on major decisions about the outbreak, shows what happens if all Michiganders adhere to the "stay home" order. It shows that stopping social distancing in mid-April will drastically increase the number of cases in the state, in contrast to a marked decrease in spread if social distancing is adhered to through April 30. 
"By observing social distancing, by adhering to the stay home order, we're going to protect more families, we're going to save more lives and were going to help ourselves get back on our feet sooner, which will be better for our economy in the long run," Whitmer said. 
Virus has disproportionate effects for people of color and low-income residents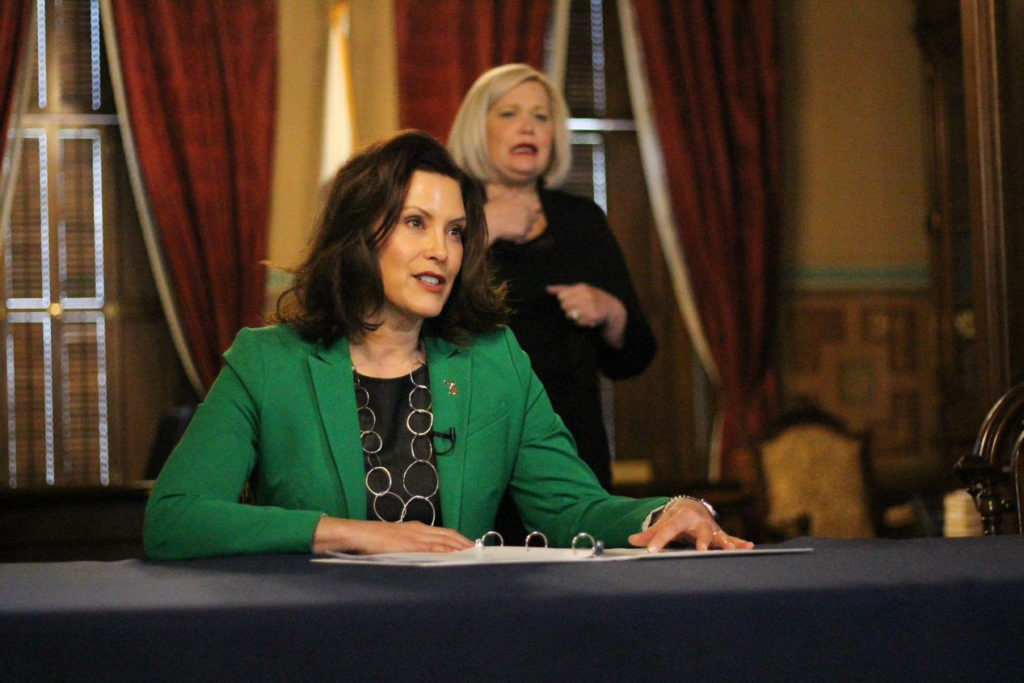 This virus is holding up a mirror to our society and reminding us of the deep inequities in our country. — Gretchen Whitmer
It is no surprise that the virus has had unequal and disproportionate effects on minority and low-income populations. On Thursday, Whitmer also announced the formation of the Michigan Coronavirus Task Force on Racial Disparities, with which Khaldun and her health department will actively collaborate. 
"14 percent of our population is African American, yet over 40 percent of the COVID-19 deaths in Michigan are of African Americans," Whitmer said. "This virus is holding up a mirror to our society and reminding us of the deep inequities in our country. From basic lack of access to care to lack of access to transportation to lack of protections in the workplace, these inequities hit people of color and vulnerable communities the hardest."
The Michigan Coronavirus Task Force on Racial Disparities will provide the governor with recommendations on how to address this disparity as the state works to slow the spread of COVID-19.