DEARBORN — With all votes counted, both State Rep. Abdullah Hammoud and Gary Woronchak say they are ready for a competitive race for mayor.
"Dearborn, we won," Hammoud said in a Facebook post. "Tonight's results showed that Dearborn residents are demanding change from City Hall. I'm honored and humbled with today's victory, and I will work just as hard to earn everyone's vote in the general election this November. We need a mayor who will put our working families first and tackle the tough issues, like lowering property taxes, stopping speeding and reckless driving in our neighborhoods, and fixing our crumbling infrastructure. Thank you Dearborn, this is only just the beginning. Let's get to work."
Woronchak told The Arab American News that while he is grateful to be moving on to the general election, it is important to remember it isn't over yet.
"Rep. Hammoud is certainly to be commended for a very strong showing in the primary, a lot of hard work went into that," he said. "But I've always urged people not to predict a general election based on a primary. More voters turn out in a general election; voters who cast for other candidates in a multi-way primary need to be convinced where they should now place their votes. Some can change their minds between elections and a one-on-one race is different, with more comparing and contrasting the accomplishments and ideas among two choices on a ballot. I look forward to those conversations and a competitive race.
Dearborn City Clerk George Darany provided the breakdown of the unofficial results to The Arab American News, which showed that while Council President Susan Dabaja had more votes at the polls, Woronchak had around 600 more absentee ballot votes, which helped him earn his spot on the November ballots.
Hammoud received 6,588 votes at the polls and 2,270 on the absentee ballots, giving him the most votes and securing his position on the November ballot as well.
A breakdown of votes received for the City Council race showed that the west end of the city primarily voted for Councilman Mike Sareini, Councilwoman Leslie Herrick, Councilwoman Erin Byrnes, Ken Paris, Councilman Robert Abraham, Silvio Davis, Lola Elzein and Gary Enos. The east side of the city favored Khodr Farhat, Kamal Alsawafy, Mustapha Hammoud, Sam Luqman, Khalil Othman and Saeid Alawathi.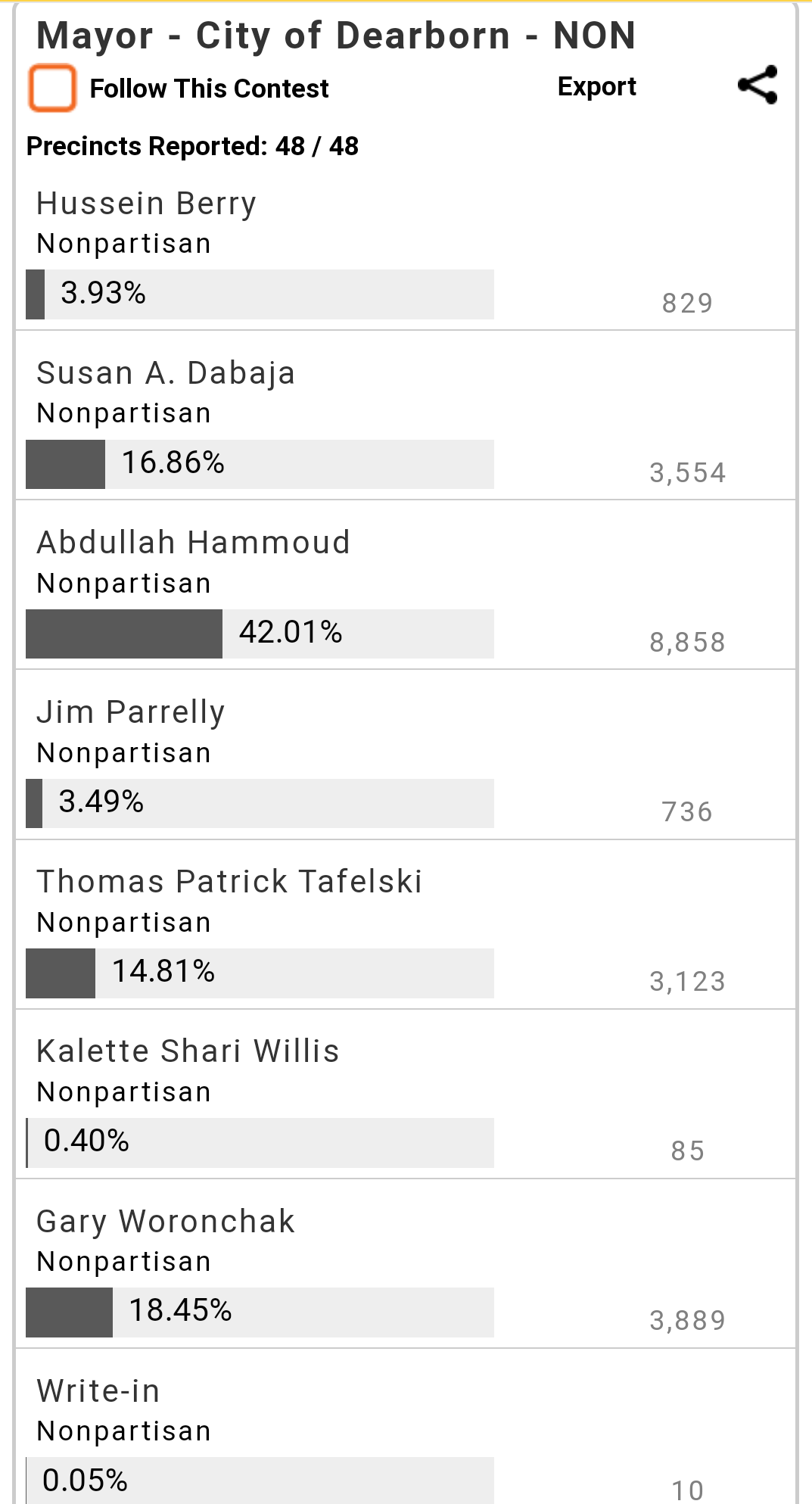 Voters were also in support of both Proposal A, which will create a Charter Revision Commission, and the library millage renewals.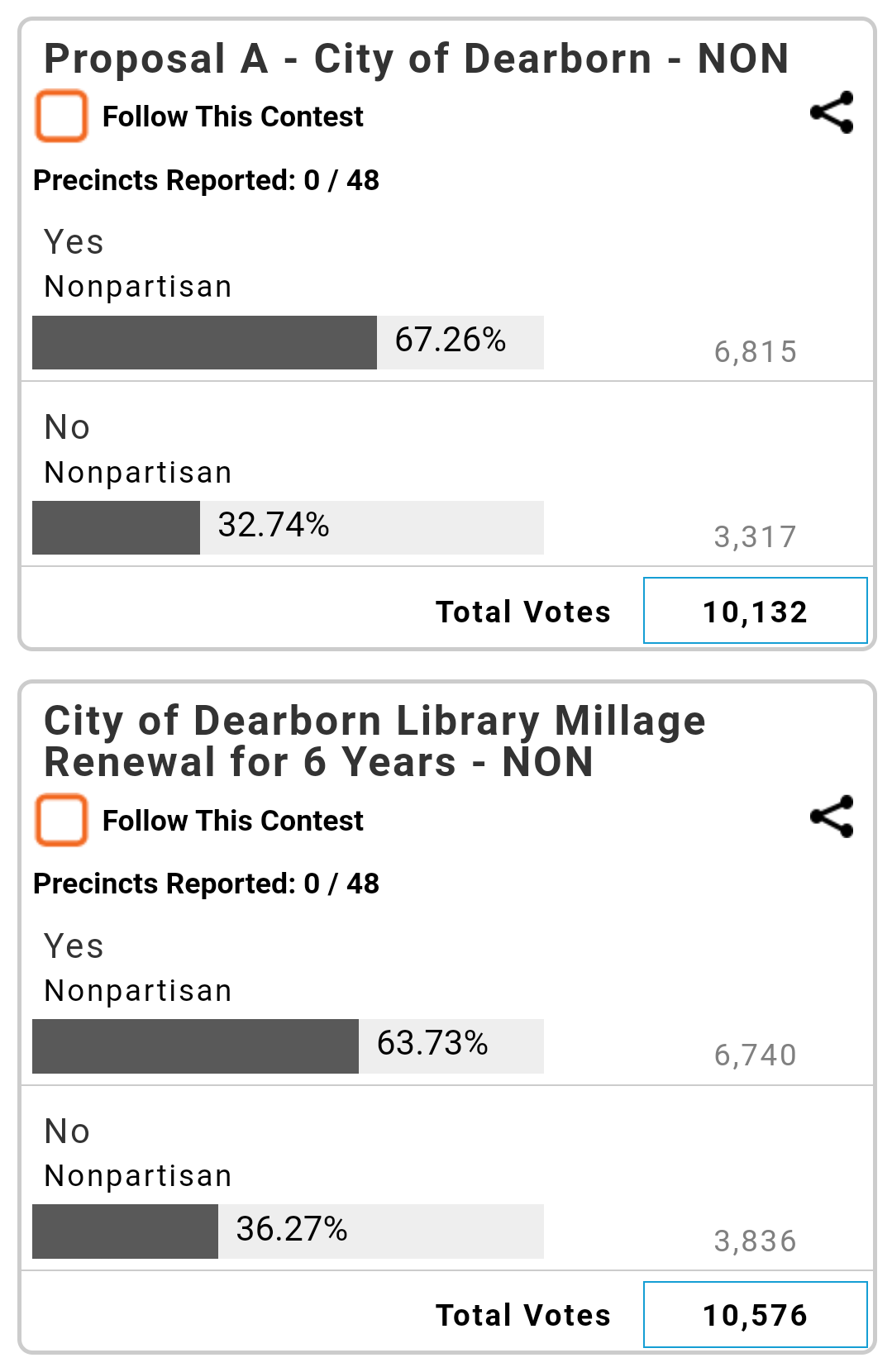 The clerk's office told The Arab American News that nearly 71,000 residents are registered voters in the city.
The clerk's office sent out 9,000 absentee ballots out and said that it received 7,000 back so far.
More information on registering to vote and finding your precinct can be found at the city's website at www.cityofdearborn.org/services/clerk/election-information.
Full interviews with the candidates can be found by searching the candidate's name at www.arabamericannews.com.