Every day, Tabshir Forkan walks to Georgetown's masjid, or mosque, on campus for its daily prayer services.
He steps into the sunlit, open worship space to pray. Afterward, he often finds himself in the masjid's community space, attending spiritual discussions and dinners, studying, meeting with friends.
"It's a space I feel myself drawn to," he said. "I can't seem to stay away."
In spending time at the masjid, Forkan has felt his Islamic faith deepen — something he had worried about in leaving his Muslim community and masjid back home for a Catholic, Jesuit university, and forging his own identity as a Muslim.
"To come here and not lose that space and not lose that community — only to find a new community and new friends to be around — has been incredibly powerful," he said. "It has only helped me progress along and connect more with my faith."
On March 18, Georgetown officially opened the Yarrow Mamout Masjid, the first mosque with ablution stations, a spirituality and formation hall and a halal kitchen on a U.S. college campus. Georgetown was also the first U.S. university to hire a full-time Muslim chaplain, Imam Yahya Hendi, 24 years ago.
The masjid, which opened its doors in fall 2019 and completed construction and design this year, provides a space for reflection, prayer, community and interfaith dialogue for Muslim and non-Muslim students at Georgetown. The masjid builds on the university's commitment to interreligious understanding and care for the whole person, or cura personalis, in creating sacred spaces on campus and community for students of all faith traditions.
"At Georgetown University, they come to a unique place," said Imam Hendi, director of Muslim Life. "They come to a place that cares for the whole person. They walk into the space that tells them they are not far from home. They are home."
"It's my second home"
Imam Hendi first envisioned the masjid 12 years ago, and has worked with students, faculty, staff, donors and a design firm to realize the dream. The masjid offers five daily prayer services, educational programming and spiritual discussions, and a built-in community. For many students, the masjid also offers a place of solace and refuge to disconnect from their routines and connect with fellow Muslims.
For Aleena Maryam Dawer, the masjid was one of the main reasons she came to Georgetown. She and her parents were excited to see the amount of support for Muslim students while visiting campus, she said. Now, she visits the masjid every day after class.
"It's like my little solace away from the chaos of university life," she said. "It's something that provides inner calmness and inner peace when you're constantly in the hustle bustle of the Georgetown community, running around, going to lab, going to a lecture, getting food. When you come here, it's a place of peace and belonging. It's pretty much my second home."
I wear a hijab, and that's always the first identity I'm seen as. But in this one space, I'm seen as me. And this makes me feel safe, knowing that I can just be who I am. – Roudah Chaker

Roudah Chaker, a junior who commutes to campus, also finds the masjid to be the place where she spends the majority of her time on campus. Chaker transferred to Georgetown in fall 2021. She didn't have a worship space at her previous university where she could pray and build a community. At the masjid, she's found a vibrant community, a deepened faith and a space where she feels comfortable being her full self.
"I wear a hijab, and that's always the first identity I'm seen as," she said. "But in this one space, I'm seen as me. I'm seen as my personality. I'm seen as my intelligence. I'm seen as my heart and my soul. And this makes me feel safe, knowing that I can just be who I am."
Chaker is a Muslim Life Fellow in Campus Ministry's Muslim Life Office and attends events in the masjid, like a mental health series and Islam series led by Iman Saymeh, a residential minister in Campus Ministry and clinical social worker. Saymeh said the masjid is a "refuge" for students, an important space for interfaith dialogue, belonging and prayer.
"This is an opportunity for students to feel proud of who they are and their identity here on campus," Saymeh said of the masjid. "It really promotes diversity and stands up for what Georgetown is promoting: togetherness, unity and building a sense of community."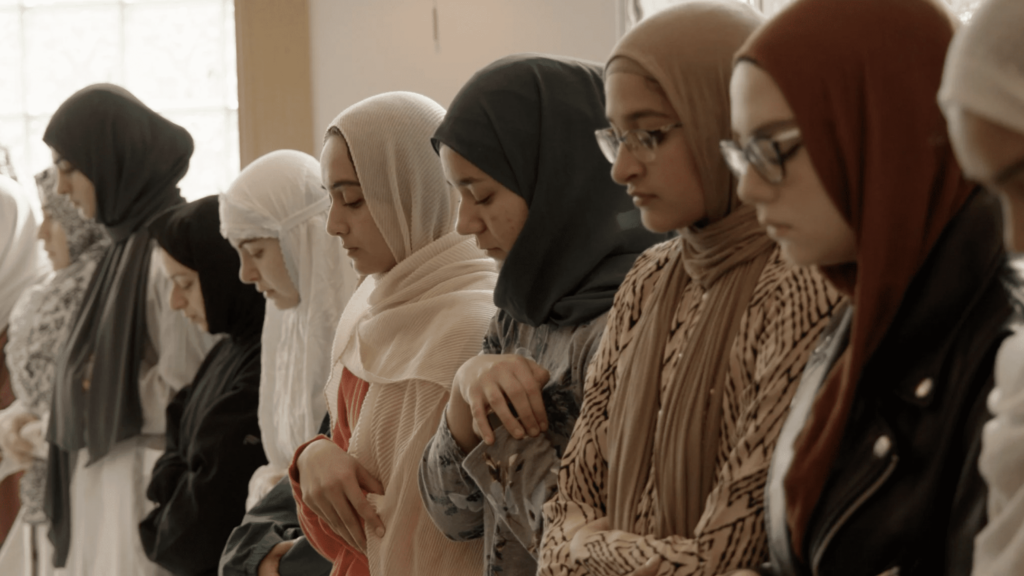 Increasing interreligious understanding
The Yarrow Mamout Masjid is one of seven sacred spaces on Georgetown's main campus — and one of three spaces for Muslim students to pray across Georgetown schools, including Muslim prayer rooms in Georgetown Law and the School of Medicine.
As the nation's oldest Catholic, Jesuit university, Georgetown continues to find new ways to foster its values of interreligious understanding and cura personalis. The masjid is the latest example, said Fr. Mark Bosco, SJ, vice president for Mission & Ministry.
"We're trying to form students to be people for others," Bosco said. "And in doing that, it means we need to embrace interreligious dialogue. Coming to these different places, being invited by another student to come to the masjid, for example, whether you're Muslim or not, invites us to explore the richness of Georgetown's heritage and its deep commitment to our faith traditions."
Dawer, who is on the Muslim Student Association (MSA) board, has helped plan recent interfaith discussions with the Jewish Student Association and with Sikh students. She said the events have helped students discover common ground and shared values, moving past perceived differences they often saw in the media.
"I think that there's a constant talk about the differences, but the fact is that the similarities bring us together," she said. "It really enriches us as a community, especially at a Catholic Jesuit university, engaging in conversations with students from diverse cultural and social contexts."
– www.georgetown.edu. Edited for style.