DEARBORN — The National Kidney Foundation of Michigan (NKFM) is hosting a no-cost, bilingual Diabetes Personal Action Toward Health (DPATH) workshop.
The six-week workshop will be presented in both Arabic and English and is offered at no-cost to all participants.
The workshop will feature a facilitator working with a small group to explore skills and tools to help people with diabetes and caregivers of those with diabetes to help improve the quality of their lives.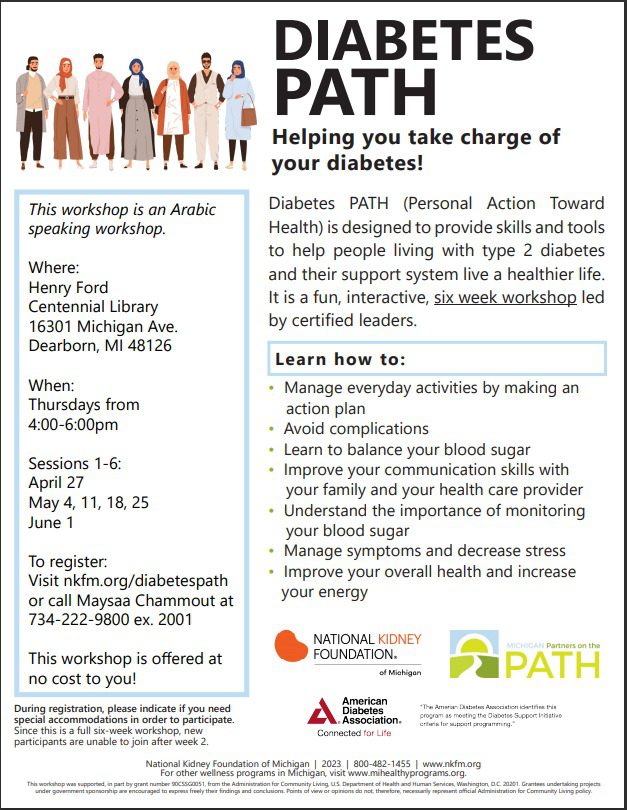 Participants will learn how to manage everyday activities by making an action plan, avoid complications related to living with diabetes, how to balance blood sugar, improve their communication skills with their family and health care providers, advocate for themselves, understand the importance of monitoring their blood sugar, manage symptoms and decrease stress, and how to improve their overall health and increase their energy.
The Arab American Institute estimates that of the more than 3.5 million Arab Americans nationwide, there are studies showing that the prevalence of diabetes among Arab Americans ranges from 4.8 to 33 percent. However, Arab Americans remain underrepresented in diabetes research. 
It was also estimated that the prevalence of diabetes in the Arab American population in Dearborn is 18 percent.
More than 1 million adults in Michigan have type 2 diabetes, which is the leading cause of kidney disease, according to the NKFM.
The in-person workshop will take place on Thursdays from 4 p.m. until 6 p.m., starting on April 27. They will continue for six sessions taking place on May 4, May 11, May 18, May 25,and June 1 at the Henry Ford Centennial Library, located at 16301 Michigan Ave. in Dearborn.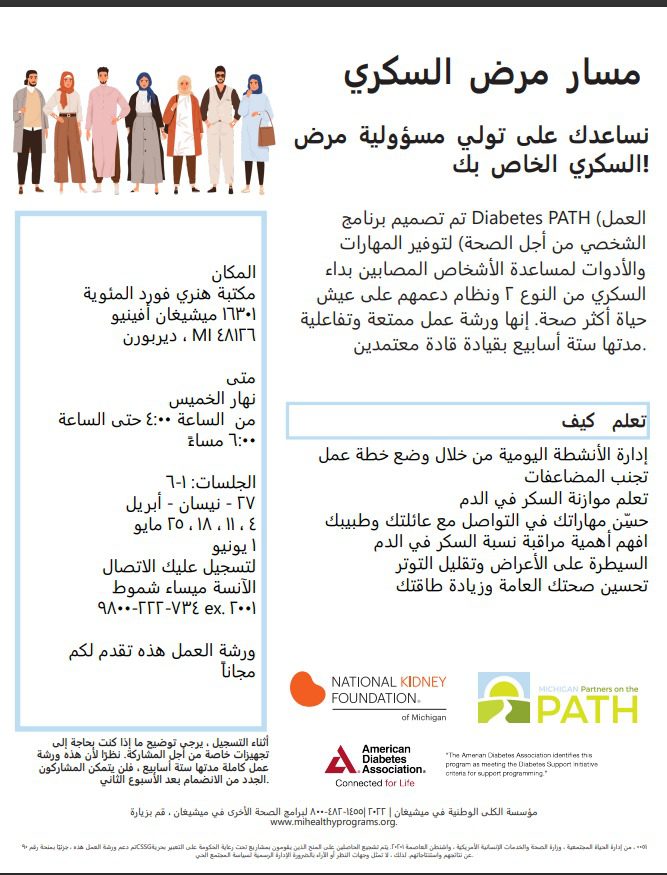 The NKFM said that losing weight, being more physically active, eating healthy, plant-based foods and not smoking can help with diabetes prevention.
While the workshop will not have diabetes testing onsite, the NKFM has a one-minute online quiz to help determine if you may be at risk for type 2 diabetes.
New participants for the workshops can join through Thursday, May 4. To register or find a virtual DPATH workshop, visit NKFM's website or email pathprograms@nkfm.org. Those interested may also call Maysaa Chammout at 734-222-9800 ext. 2001.
Additional PATH programs can be find by going to www.nkfm.org/PATH or www.mihealthyprograms.org.