STATEN ISLAND — The NYPD has released surveillance video of two suspects wanted in connection to a shooting that left a deli employee dead in Staten Island.
The shooting happened Saturday just before 8 p.m. in the Castleton Corners section. Police responded to a 911 call of an attempted robbery at 444 Manor Road.
Bassam Abdel-Rahman Khateeb, 35, was killed after being shot by two masked gunmen who attacked the store where he worked last Saturday night.
He was transported to Richmond University Medical Center, where he was pronounced dead.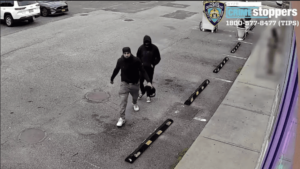 The suspects fled in a red/maroon colored Jeep Cherokee, last seen traveling on the New Jersey-bound Staten Island Expressway.
Before the shooting, surveillance video showed the suspects attempting to enter a smoke shop located at 1949 Richmond Ave. The individuals were unsuccessful in gaining entry.
One of Khateeb's customers found him bleeding on the floor of his shop, so he called 911 for help. Attempts to resuscitate Khateeb were unsuccessful. He was declared dead shortly after arriving at the hospital.
Anas Khateeb, the victim's brother, told Sky News that his brother immigrated to the United States in 2015, seeking an opportunity to improve his life. He settled in New York City and opened a grocery store.
The brother of the murdered young man called on the Jordanian embassy in Washington, D.C. to work with the U.S. government to identify the perpetrators and bring them to justice, noting that his brother was in his thirties and a father of two children. He said his brother was killed by a treacherous bullet fired at him by two masked men who stormed the store where he worked.
He emphasized that the painful accident caused a heavy loss to the family, which is still in a state of shock and grief, and they demand justice and retribution for their son from his killers.
Sinan Majali, the Jordanian Ministry of Foreign Affairs spokesman, said that the ministry is following up on the case with the Jordanian embassy and the relevant American authorities, and that a statement will be issued upon completion of the preliminary investigations.