MONROE – On Wednesday, the Michigan chapter of the Council on American-Islamic Relations (CAIR-MI), the nation's largest Muslim civil rights and advocacy organization, cautioned Michigan Muslims and Muslims from the Toledo, Ohio, area from patronizing a Monroe County orchard due to alleged anti-Muslim harassment by its owner.
The owner of the Erie Orchards and Cider Mill in Monroe County, Mich., which is close to the Ohio border, was recently accused of harassing a Muslim family and was caught on camera saying, "Every Muslim steals from me."  The owner reportedly held a family of five, including their three daughters ages 8, 4, and 6-months-old, accusing them of stealing fruit, searched their bags, including a diaper bag, and intimidating them by claiming that he called the sheriff's department on them.
After waiting for law enforcement authorities for 40 minutes – even though they did not steal any fruit – the family departed the orchard. The family has since obtained private legal counsel and plans on taking legal action against the orchard.
On Sunday, Yousef Mahmoud, his wife and their three little daughters took a trip to the Erie Orchards and Cider Mill in Monroe County.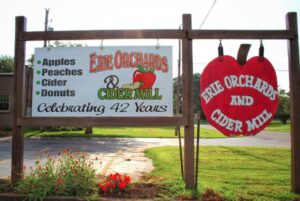 Mahmoud said owner Steve Elzinga directed the comments at him during their visit.
It started out fine; the family went into the store and bought several things. The children wanted to pick fruit, so Mahmoud asked a worker if that was possible.
"He said, 'To be honest, there's no peaches back there, and the apples aren't ready, and what you'd find will probably be rotten,'" Mahmoud said. The worker reportedly told him to let the kids go back and pick fruit, and to not worry about paying for anything.
After the children finished their fun excursion, Mahmoud and the baby went to the truck while his wife and two other children used the bathroom. That's when Mahmoud says Elzinga opened his truck door and said, "Where's the bag?"
Mahmoud said he pointed to it and Elzinga examined it. Then he reportedly opened the rear door of Mahmoud's truck and started rifling through the baby's diaper bag.
What happened next was captured on Mahmoud's cell phone. Elzinga was heard saying, "Every Muslim that comes in here steals from me."
Elzinga told Mahmoud he couldn't leave because the police were on the way. Mahmoud said he waited for 40 minutes with his increasingly upset wife and daughters, and then told the owner he was leaving.
Mahmoud said that as he slowly backed out, the owner "just went crazy."
Mahmoud said he and his family had bought about $70 worth of goods there before asking about getting some peaches. An employee told Mahmoud that the orchard didn't have many left, but he and his family were welcome to look for some and could take anything they found free of charge, he said in a post on his Facebook page.
Mahmoud said after finding a bag of "mostly rotted peaches and apples", the family went to leave but was confronted by Elzinga. He alleges that Elzinga opened the door to the family's vehicle, rifled through the bags on its floor and accused them of stealing. Mahmoud said he explained to Elzinga what the employee told him and assured him he was willing to pay for the fruit.
However, Elzinga continued to berate him and said he owed $58, Mahmoud claims. He said he gave Elzinga back the fruit and told him that he wouldn't be paying for anything, "definitely not rotten fruit from a racist."
On Tuesday, Elzinga told WXYZ-TV Channel 7 that his comments were driven out of frustration.
"Yeah, I know the video. I said that 'Muslims are all thieves,'" he said. "Every time a Muslim would drive in, my staff would call me and say, 'We have Muslims out there. We got to be extremely careful.'"
Elzinga also said that he won't generalize in the future.
"Obviously, I don't feel this way about everybody, OK, about Muslims," he told WXYZ. "We've had a lot of Muslims who've come here and are good people — they pick, they pay."
He said the orchard will have a checkpoint for everyone coming out of the cider mill and it won't be racially driven.
According to the orchard's website, it's a working farm with 70 acres, including 30 acres of apple trees. About 15,000 bushels are harvested there every year, it said. The farm also has 15 acres of peaches that produce about 2,500 bushels a year.
According to the website, the orchard is owned by Steve and Nancy Elzinga and has been offering fruit to the public for 46 years.
"We caution the Muslim community and others of good conscience from patronizing Erie Orchards and Cider Mill due to the alleged bigoted behavior and speech of its owner," said CAIR-MI Executive Director Dawud Walid. "There are many other orchards in Michigan where families can pick fruit in a wholesome atmosphere without being subjected to alleged religious profiling and denigration from its owners."