The Nation of Islam leader claims that the civil rights group is "interfering with his First Amendment rights."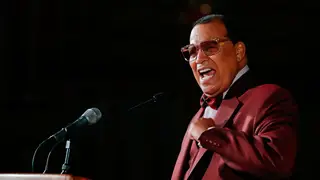 Nation of Islam leader Minister Louis Farrakhan has filed a $5 billion lawsuit against the Anti-Defamation League for falsely characterizing him as an anti-Semite.
According to The New York Post, the claim was filed in a Manhattan Federal Court, accusing the civil rights group of "interfering with his First Amendment rights."
"This lawsuit is to ensure that the abuse, misuse and false use of the terms 'anti-Semite', 'anti-Semitic' and 'anti-Semitism' as falsely charged by the [ADL] is permanently barred from being a tool to defame [Farrakhan and the Nation of Islam] and stifle the exercise of constitutional rights," the claim read.
In the suit Farrakhan said that the Anti-Defamation League is "an un-American organization and has woven itself into the fabric of both the United States government, in general, and into local governments within America, in particular, to advance interests that are un-American to the extent that it tramples and trammels upon the Constitutional rights of Minister Farrakhan and American citizens."
Farrakhan has had a contentious relationship with Jewish people that began when he came to the defense of Rev. Jesse Jackson after Jackson was accused of calling the Jews a racial slur during his presidential campaign in 1984.
"It is because of Minister Farrakhan's unwavering defense of himself and Reverend Jackson that the ADL began plastering him with the false and injurious label of 'anti-Semite,'" Farrakhan said in court documents.
According to the Post, in a speech in 1998, he said, "The Jews have been so bad at politics they lost half their population in the Holocaust."
"Jews are responsible for all this filth and degenerate behavior that Hollywood is putting out: Turning men into women, and women into men," he said more recently, in 2018, the Post also reported.
But Farrakhan was also invited to speak at St. Sabina Church in Chicago in 2019 and he said that he harbors no hate in his heart towards Jews.
"I'm here to separate the good Jews from the Satanic Jews," Farrakhan said, "I have not said one word of hate. I do not hate Jewish people. Not one that is with me has ever committed a crime against the Jewish people, Black people, White people. As long as you don't attack us, we won't bother you.
"The enemy is so hateful of me," Farrakhan continued. "I have never been arrested. No drunken driving. What have I done that you hate me like that?"
Responding to Farrakhan's suit, Jonathan Greenblatt, CEO of the ADL, said that complaint "has not merit."
"Louis Farrakhan is an anti-Semite," Greenblatt said. "One need look no further than his own words and statements to come away with the same conclusion."
This article has been edited for style.