DEARBORN — After a lengthy process, the Arab American Political Action Committee (AAPAC) endorsed candidates for various positions in Dearborn and Dearborn Heights' for the August 8 primary elections.
For two days, the group interviewed candidates running for mayor and City Council in both cities, and for city clerk in Dearborn. They then met on Wednesday, July 12, to vote on the endorsements as required by the AAPAC bylaws. The meeting and deliberations lasted four hours.
According to the bylaws, AAPAC members may only consider candidates who have requested an endorsement from the organization in writing. Those who have already been interviewed for consideration during past elections do not necessarily need to undergo second evaluations. The decision regarding which candidates to interview is up to the endorsement committee, but the endorsement vote is mandatory and must be taken by the general membership.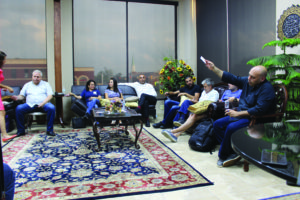 The organization received endorsement requests from most major mayoral candidates, but AAPAC's voting members chose to endorse newcomer Jim Parrelly for mayor of Dearborn. Parrelly works as a financial advisor and is a graduate of Henry Ford College and the University of Michigan School of Business.
Parrelly is vying for the seat along with incumbent Mayor Jack O'Reilly, Councilman Tom Tafelski, Edward Binkley and Hakim Fakhoury. Neither Tafelski, Binkley nor Fakhoury sought AAPAC's endorsement.
AAPAC President Mona Fadlallah told The AANews that the group engaged in extensive discussions regarding Parrelly's qualifications and experience, but some felt that Mayor O'Reilly had missed many opportunities to bring about much needed changes in the city. Those concerns included reflecting Dearborn's diverse population in city jobs and managerial positions.
Lively dialogue also ensued on whether the mayor actually made good on promises to Dearborn residents.
"Although Parrelly has not had political experience, he is a hard-working businessman and is willing to learn and surround himself with the right people," Fadlallah said of AAPAC decision to endorse. "He is willing to be open-minded, has lived in the city his whole life and understands the issues important to Dearborn."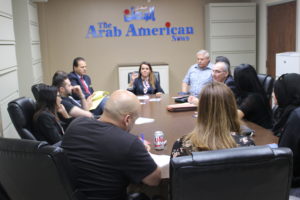 After a heated debate on Wednesday night, AAPAC members voted not to endorse any of the 16 candidates in the primary race for Dearborn City Council. The candidates are vying for seven positions and the top 14 candidates will advance to the November general election. Fadlallah said 13 of the candidates had asked for AAPAC's endorsement.
Voting members said many of the candidates' ideas and goals impressed them during interviews, voicing their support for them during the deliberation.
However, a motion to not be involved in the primary race for City Council turned the meeting into a passionate one.
Fadlallah said members considered the pros and cons of AAPAC's endorsement, given the number of open seats and how many candidates they can endorse.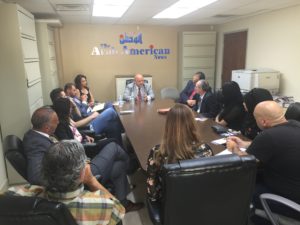 The motion to not get involved in the primary race for Dearborn City Council eventually passed.
"Because there are several qualified newcomers, including a few Arab Americans, many of our members decided to see how the candidates perform in the primary before throwing the weight of the organization behind a slate of up to seven candidates in the general elections," Fadlallah said.
She added that AAPAC members were encouraged to be involved in the various campaigns in the primary. Members also decided to meet next week and vote on financial contributions to the campaigns of AAPAC members who are running for Dearborn City Council.
For Dearborn city clerk, AAPAC members endorsed former State Rep. George Darany (D-Dearborn). Darany, an Arab American who served in Lansing from 2011 to 2017, will compete in the primary against four other candidates.  Only the top two candidates will advance to the November general election.
Fadlallah said many members felt Darany was well-qualified and brought many positive ideas to the interview, like extending the clerk's hours and implementing measures against voter fraud.
With respect to Dearborn Heights, AAPAC members decided to endorse incumbent Mayor Dan Paletko. Both Councilwoman Lisa Hicks-Clayton and retired police officer Ed Garcia seek to replace Paletko.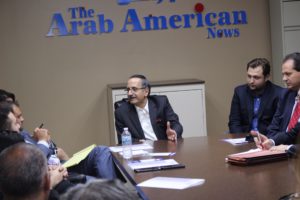 Fadlallah said members expressed through significant discussions that there are many issues yet to be resolved in Dearborn Heights.  However, she added that each voting member present acknowledged Paletko had always been open to new ideas.
Eleven candidates running for Dearborn Heights' City Council will appear on the ballot, including five Arab American candidates: Bill Bazzi, Mohamad Ali Baydoun, Ali Almuna, Hussein Jeffrey Mallad and incumbent Tom
Berry.
Berry's name will appear on the ballot, although he announced in early June that while he will finish his term, he will no longer seek reelection.
AAPAC voted to endorse Hussein Jeffrey Mallad, Bill Bazzi and current Councilman Robert Constan.
AAPAC will be convening next week to discuss a possible additional endorsements.