HAMTRAMCK — In 2015, Hamtramck became the first city in the United States to elect a Muslim majority to its city council. While many right wing pundits charged that the council would enact Sharia (Islamic law) at its first opportunity, the contrary occurred.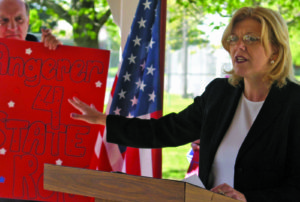 When Acting City Manager Katrina Powell's two and a half year contract expired on June 30, the six-member City Council had its first opportunity to appoint its own city manager since the city was put under emergency management in 2013. They interviewed various candidates and ultimately selected Kathy Angerer, director of Community Development and a former state legislator from rural Dundee, on Tuesday, July 11.
The four Muslim members of the City Council voted in favor of appointing Angerer, a White Christian, while the remaining members, both Christians, opposed her.
Angerer joined the city as an economic development specialist in 2012 and has played a variety of important roles in the interim.
Saad Almasmari, a three-year Council member who immigrated from Yemen in 2009, called the appointment a "historic moment."
However, the Council was split over the decision to appoint Angerer.
The disputes within the Council began after Hamtramck was placed under emergency management in June 2013. Gov. Snyder appointed Cathy Square as emergency manager. When Square declared the financial emergency over, she chose Powell to replace her as acting city manager.
But she also left a list of 12 orders, one of which was that the City Council could not fire Powell.
Powell was expected to present the Council with the name of a hiring firm that would choose a replacement, subject to the board's approval, but four months before her term was over, she appealed for an extension of her contract to the city attorney's office. However, the City Council refused the negotiation proposal.
"Powell didn't work as expected for the city," Almasmari said.
At a June 14 emergency meeting, the Council chose Kyle Tertzag, a former city manager. However, the state rejected Tertzag's appointment based on his qualifications, so the Council subsequently appointed Treasurer John Gabor as the acting city manager.
The acting city manager runs the city's daily managerial functions and searches for a full time city manager on June 27.
Gabor took office on June 29, but on that same night, Powell — whose contract was still in limbo and who was granted the authority by the state to appoint a city manager — chose Hamtramck Police Chief Anne Moise as the acting city manager.
Powell's pick won over, but Moise only spent a week on the job before the City Council, which had final approval, revoked her appointment.
Instead, they voted to appoint Angerer.
"She's professional and she's doing great," Almasmari said, adding that she is the oldest department director in Hamtramck.