DEARBORN — The sounds of bullet shells discharging from the barrel of an AR-15 semi-automatic rifle at a high school in Parkland, Florida are still ringing in the ears of students and parents nationwide.
After a troubled 19-year-old former student at Stoneman Douglas High School opened fire in the building shortly before the school day ended on Feb. 14, killing 17 and injuring 14 more, Americans are demanding more ferociously than ever an end to the gun violence epidemic.
More than a dozen mass shootings have stunned communities this year alone, and the ones who are speaking out most loudly about gun reform are students themselves.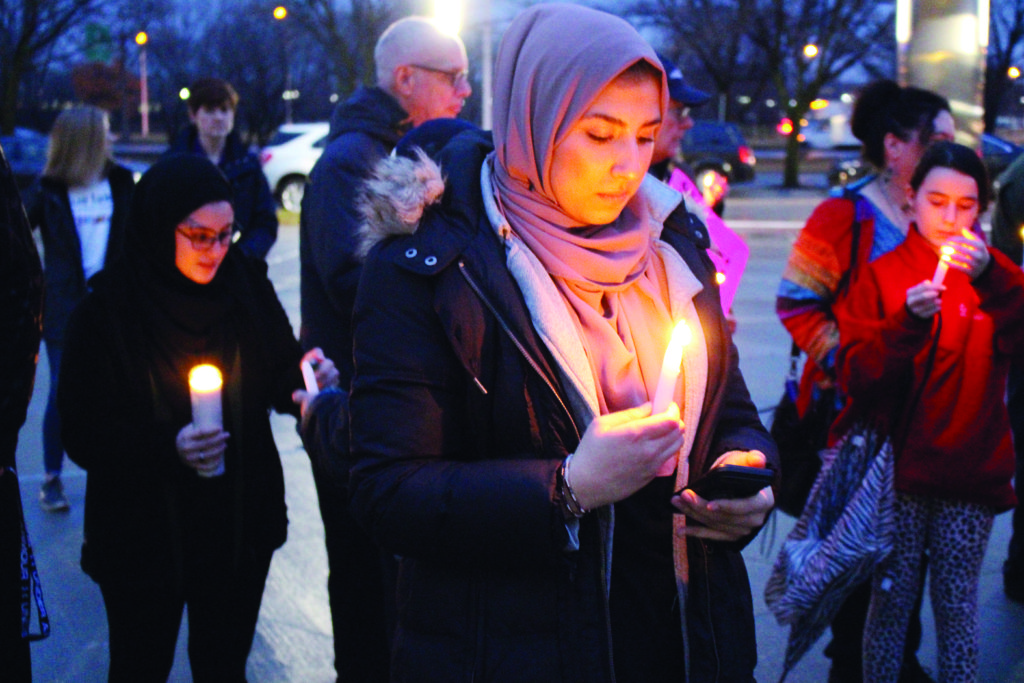 Students rise to the challenge
Just like in cities across the country, young teens in Dearborn led a vigil and demonstrated on Feb. 20 in front the Henry Ford Centennial Library, with fear and urgency in their voices, calling for tangible solutions to gun violence and mental health crises that pose dangers to their lives.
Seven students from all three of the city's high schools stood beside city officials, school administrators and religious leaders, and shared their thoughts and suggestions at the vigil, organized by the Dearborn Democratic Club.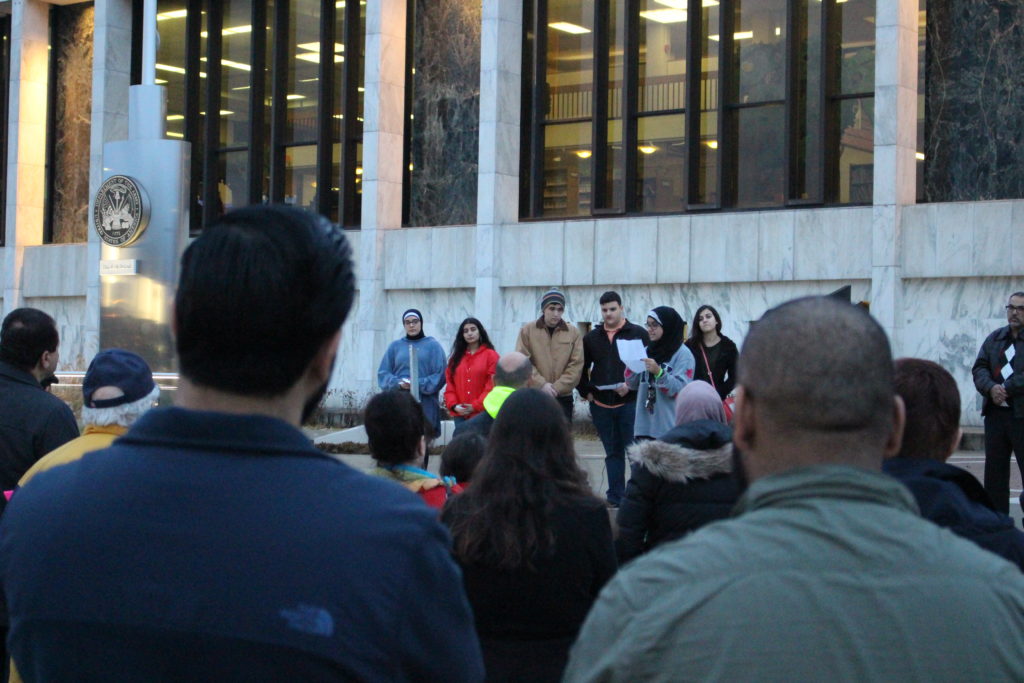 Maxine Mackie and Noor Moughni, juniors at Dearborn High School, echoed the prevailing sentiments of students across the nation by proclaiming throughout their speech, "We've had enough!"
"The event was extremely tragic and heart-breaking," Moughni said. "But most importantly, it was preventable. So we can't help but say, 'We've had enough.'"
Alexander Restum, a junior at Dearborn High School, said he hoped the Parkland shooting would be a wake-up call for Americans to turn their thoughts and prayers into action.
"We have leaders right now talking about taking new routes towards eliminating or reducing these kinds of mass shootings – we have not seen them actually take action," he said. "Through legislation or public speech, they have done nothing. It is time to take action on our thoughts and prayers rather than let them remain empty."
Rima Saad, 17, a junior at Fordson High School, offered a "strongly opinionated" appeal for lawmakers to end partisan political disputes, specially when solutions to gun violence are available. Fordson has roughly the same student population as Stoneman Douglas High School.
"I've seen in the news time and time that students should have said something, that students should have done something – they did," Saad said. "So, let's stop blaming the victims who are suffering. Let's put the thought on the real problem – the people who let him buy a gun in the first place."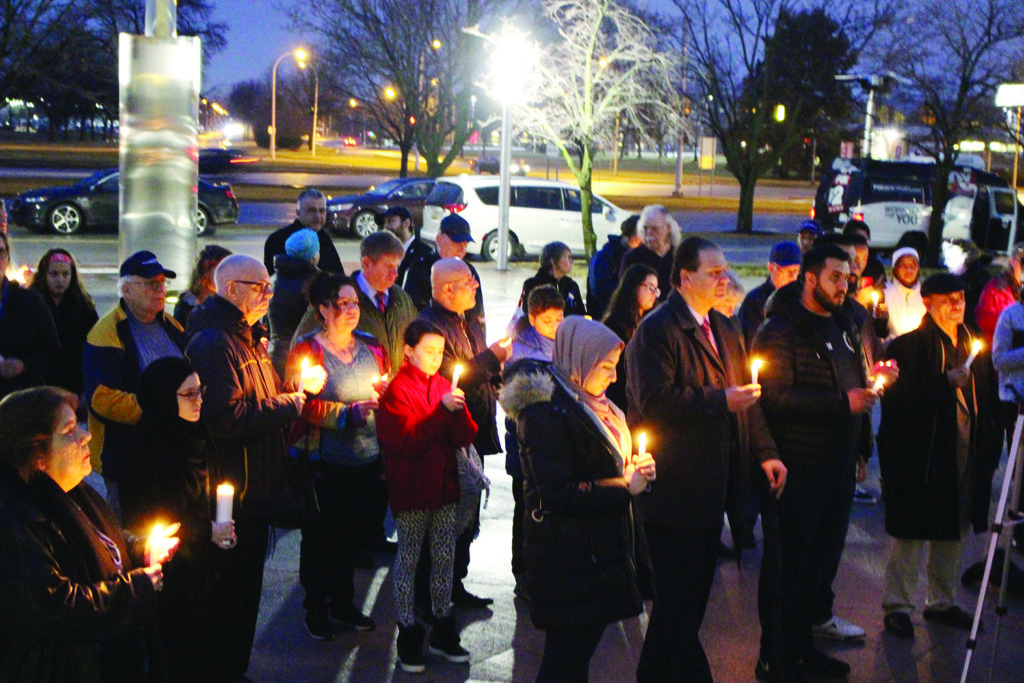 Jenna Kobeissi, a sophomore at Edsel Ford High School, expressed her disappointment about being scared to attend her school.
"The constant worry of a teenager should be about their next final or their next essay, not about being shot up in their history class," Kobeissi said. "A teacher should be focusing on the lesson plan, not an escape plan or the thought of having to shield their students from a wave of bullets."
Another Edsel Ford High School student appealed for more supportive and inclusive environments in the community's schools and neighborhoods and expressed a general fear of being in large groups that could be targeted.
"We have to be more mindful of lonely students in our schools," she said. "Always be kind and support candidates that fund schools and mental health treatment centers. We need more social workers and mental health professionals to deal with this crisis. We need to come together to work on common sense gun reform."
Officials take a stand, count on youth
Leslie Herrick, recently elected to the Dearborn City Council, commended the students on their enthusiasm and told them to use their energy to "go make change for us, because we need your leadership going forward."
U.S. Rep Debbie Dingell (D-Dearborn), said she was there to support the city's students and thanked them for taking the initiative to demand safety in their schools.
Dingell said she has been working with her colleagues, including U.S. Rep. Fred Upton (R- Kalamazoo), on introducing a bill in Congress before students nationwide stage a walk-out in protest on Feb. 24.
Both representatives are part of a group of 26 Democrats and 26 Republicans called "Problem Solvers."
The bill will aim to ensure communities have the tools they need so "that this never happens again", like banning domestic abusers from obtaining a gun and will have language that bans any technology that turns any semi-automatic weapon into an automatic one.
Dingell spoke of her own experience as a child, living with a father whom she said should have never had access to guns, and having to hide in a closet when he became enraged.
"I don't want anybody to ever have to experience what I experienced," she said. "Which means we have to start talking about the truth. We can't let people go to their corners. We can't let this be the same old fight. We need our young people to demand action from us."
"Society will be judged by how they treat their children," Dearborn Police Chief Ron Haddad said, quoting former British Prime Minister Winston Churchill. "We can all agree that we need to do a better job at keeping our children safe."
Haddad then assured residents that police officers make about 700 unannounced visits to schools every month, a policy that began two weeks before the Sandy Hook Elementary School shooting on Dec. 14, 2012 in Newtown, Conn. that left 20 dead.
He stressed the role mental health plays in local acts of violence that involve guns and blasted members of Congress for cutting the Centers for Disease Control and Prevention's budget for advocating or promoting gun safety, an effort that began at the Capital in 1996.
"There are more people committing suicide on our college campuses than ever before…and let it be no surprise they're using guns," Haddad said.
The latest shooting at a school in the city was on Jan. 26, when students from another school district fired shots at the Dearborn High School parking lot during a basketball game, but nobody was injured.
Haddad also criticized the use of assault weapons like the AR-15, the semi-automatic rifle the Parkland shooter used.
"I cannot find one time where an AR-15 was used for a legitimate reason," Haddad said, adding that a person who uses that rifle or a similar one is either testing them, testing the law or planning to shoot a group of people.
Tarek Baydoun, a local attorney and officer of the Dearborn Democratic Club, said that while holding a vigil should be to highlight the victims, it is inadvertently a political event because, "There is nothing more political than the right to life."
He urged the community's youth to fight for change and to use the event and others like it as an opportunity for them to network with other activists, organizers and lawmakers.
The event ended with the students reading prayers aloud and the names of the Parkland shooting victims.
How prepared is Dearborn for an emergency situation?
After the vigil, students, parents and school administrators met with school and government officials from Dearborn at the University of Michigan-Dearborn's Fairlane Center to address practices and procedures of Dearborn Public Schools during emergency situations.
A forum, hosted by SAFE Substance Abuse Coalition and emceed by its founder, Hassan Abdallah, included Rep. Dingell; State Rep. Abdullah Hammoud (D-Dearborn); Haddad; Assad Turfe, chief assistant to Wayne County Executive Warren Evans; Roula Bazzi-Gates, a Dearborn Public Schools social worker; Don Ball, director of maintenance and security at Dearborn Public Schools; State Rep. Sylvia Santana (D-Detroit) and Wayne County Commissioner Gary Woronchak (D-Dearborn).
Haddad answered the evening's first questions by outlining the programs and mechanisms set in coordination with schools to ensure safety on campus.
The chief said the department and schools work "hand in glove" and that seven full-time officers work in the Dearborn schools.
He reiterated that two weeks before the Sandy Hook massacre, the police department enacted a policy where every officer on the street does an unannounced check-in at the schools, adding up to about 600 to 800 visits a month.
He said while the department does not have a complete list of registered gun owners in the city, local police should be able to identify who in their communities own guns and those who have histories of aggression and domestic violence.
There have been five recent cases in Dearborn where police intervened or families agreed to give up their weapons after a domestic situation turned ugly, but not deadly, he said.
Haddad also said about 2 percent of Americans who have mental fitness issues get involved in dangerous and self-destructive behavior. Most have had no criminal record, but, "We still shouldn't give up on them."
He urged residents to utilize the Special Needs Registry, so that officers are able to be equipped and prepared in responding to a situation, especially when physical disabilities, mental illnesses and violence are involved.
Schools on guard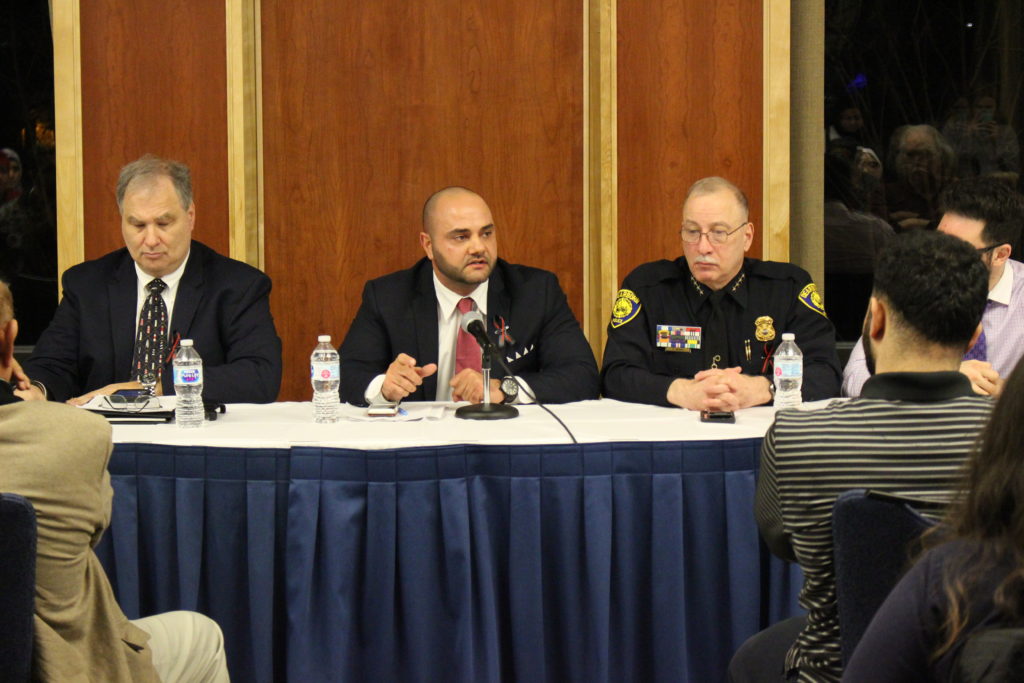 Turfe said while an active shooter situation arises about every two months in the U.S., violent crime, mainly associated with narcotics activity, has been on the decrease in Wayne County.
He added that the county is considering requiring active shooter training for school staff, while teachers would not be armed.
Ball said the school district has prepared for an emergency situation by installing card-access systems in every building three years ago and by devising emergency management plans. An emergency management team is given specific scenarios, walks through all buildings and reviews "table top exercises."
He said first responders will enact a live active shooter situation at an elementary school In June.
The University of Michigan-Dearborn sent an announcement to all students and staff that an "active attacker exercise" will take place on Feb. 27 from 9 to 11 a.m.
The school stated the sound of shots fired will be heard, but will be simulated and that there will be no live rounds. The exercise was, "selected during the spring break week to minimize impact on the campus community."
"The purpose of this exercise is to continue the refinement of our unified response skills," the school's statement said.
Bazzi-Gates said the school employs social workers, psychologists, speech pathologists, works with parents, has a crisis team and partners with experts and local agencies to provide counsel to work on providing the best social and mental health services to students and parents. Local partners include the Safe Coalition, LAHC, ACCESS and C-ASSIST.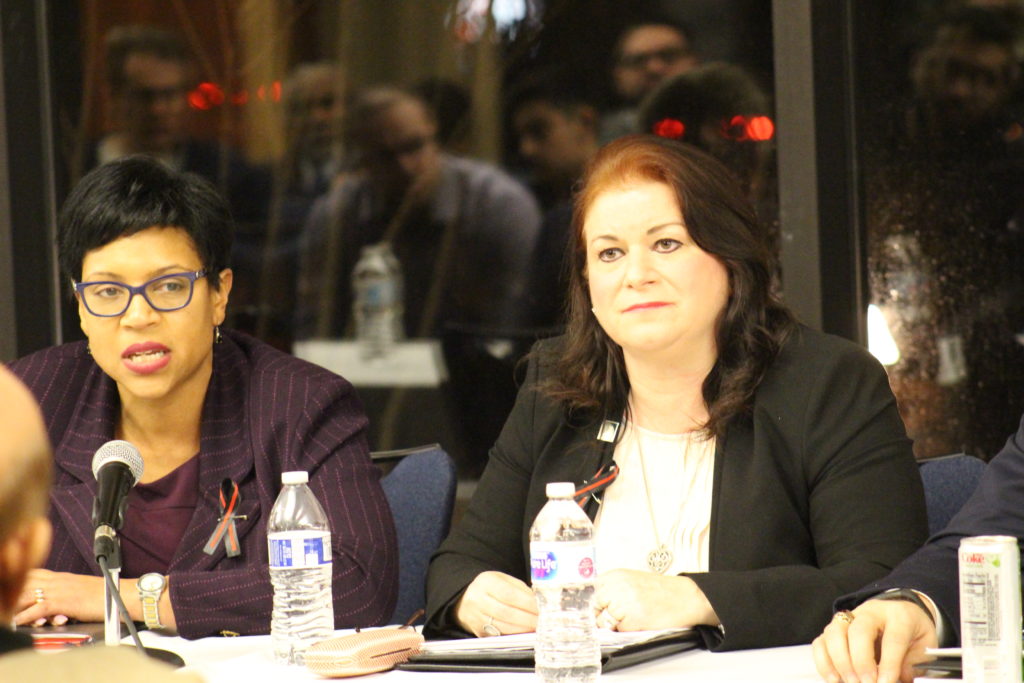 She said the school district employs 36 social workers, with two more in the hiring process, who discuss and work together on cases referred to them by teachers.
Dearborn High School, which has about 2,100 students, has three social workers.
The training they receive include best practices in dealing with trauma, restorative practices and positive behavior intervention support.
Politics over action
At the vigil, Haddad criticized the indifferent attitude federal lawmakers have had toward gun violence and his department's suggestions to counter the issue.
He said he's recently served on committees that have researched the relationship between gun violence and mental illness and promised to provide reports pertaining to that research to Rep. Dingell the following morning.
Years ago, he said the commission sent a letter to then-Secretary of Homeland Security Janet Napolitano, who served from 2009 until 2013 under the Obama administration.
"I can tell you that fast forward to last year, all that stuff was put in a paper shredder in Washington," Haddad said, adding that the committee would "go at them again" and ensure responsible gun safety laws are ultimately enacted and that gun owners are properly trained and registered.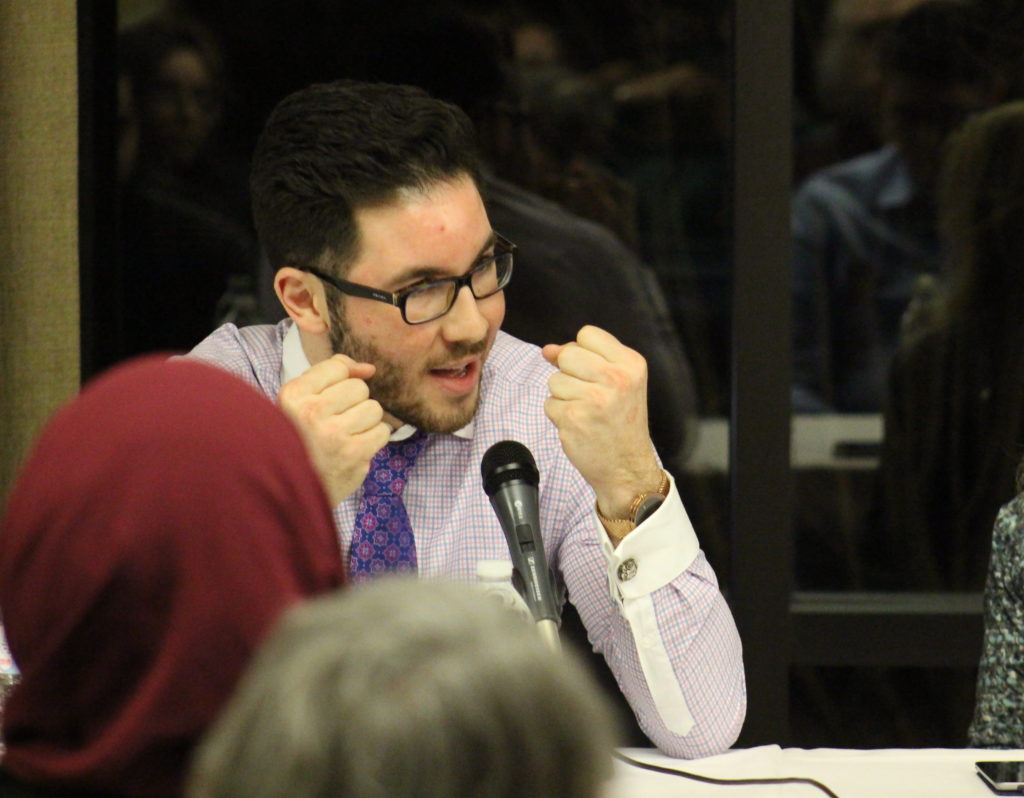 Rep. Hammoud said that in response to an incident last February, where two armed and masked men entered the Dearborn Police Station to file a police harassment complaint, he introduced a resolution to ban openly carrying weapons in a police department, school or church.
However, Hammoud said that during a recent roundtable with police chiefs around the state and State House Speaker Tom Leonard (R-DeWitt), Leonard said that was a bill he, "would never, ever take up while in office."
At the same time, Hammoud said he is praying "day in and day out" that a bill which passed in the State Senate allowing concealed carry of guns in classrooms among teachers and eligible students is not taken up in the House.
Santana said her office is drafting two pieces of legislation with colleagues that would provide active shooter and mental health first aid training for teachers. She said she and Hammoud sat on a mental health task force and also testified before a committee regarding the latter resolution.
"Moving forward, we have to make sure school professionals are equipped with the right tools," she said, adding that educators and officials must be responsive, but non-reactive.
"I think its gonna take our young people saying they're tired of politics, tired of people always having a million excuses," said Dingell, who participated in a sit-in on the U.S. House floor in June 2016 to protest inaction toward gun reform in the wake of an uptick on mass shootings. "And I think you've seen real action."
Dingell advocated for improving avenues for reporting of mental fitness issues so that local police can remove guns from dangerous individuals, but stressed that it should not stigmatize and deter people from seeking psychological help.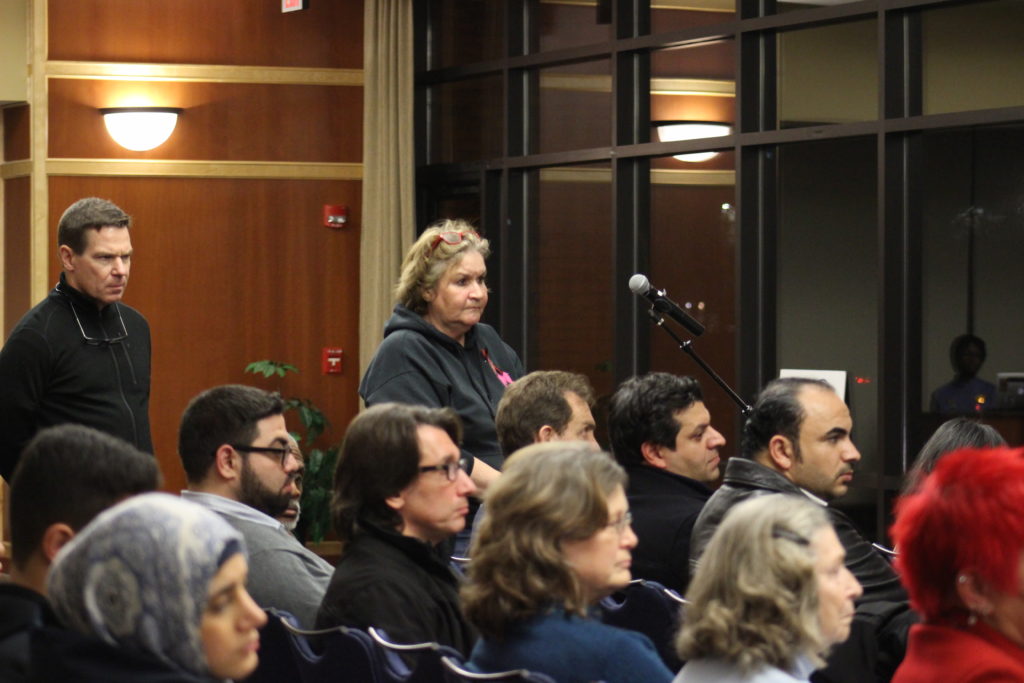 The consensus among concerned parents, social workers, community organizers and lawmakers in the room was that schools need to be better prepared for an emergency situation, mental health should be a priority in schools and tighter screening should be required to buy a gun.
They said implementing those efforts will be an uphill battle in a Republican majority Congress, but it might take the cries of America's youth to establish accountability.
Abdallah, SAFE's founder, said his group recently launched a "healthy living" initiative that promotes "transparency and open communication" about mental health and substance abuse issues in the community.