DEARBORN – Russell A. Kavalhuna, an associate dean at Western Michigan University and a former federal prosecutor, has been selected to become the new president of Henry Ford College (HFC).
On March 28, the Dearborn Board of Education, which overseas administration of the city's public schools and the college, voted 6-1 after a lengthy and multifaceted search process to replace longtime HFC President Stanley Jensen.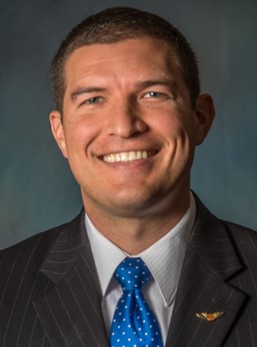 Kavalhuna is a Ph.D. candidate in institutional leadership during crisis from Western Michigan University and has a J.D. from Cooley Law School. Currently, he is the executive director of the College of Aviation at Western Michigan University and is serving as the Michigan Aeronautics commissioner. He was appointed by the governor to oversee $100 million in aviation infrastructure spending.
He also worked from 2009 to 2015 as an assistant United States Attorney at the Department of Justice in Grand Rapids, where he resides with his wife and two children.
He is also a former two-time chairman of the Michigan Aeronautics Commission and was a senior attorney at the Michigan Supreme Court.
"For nearly 80 years, Henry Ford College has been a gem of the community," Kavalhuna told The AANews. "I'm honored to join the team of talented educators and professionals who dedicate their talents to serving students and the community.  Working with our community partners, we will continue to transform lives by providing high-quality education."
Search for a new leader
The Board of Trustees unanimously appointed John Satkowski as interim president of the college on Dec. 4.
Last April, Jensen announced that he'd be the new executive vice president of college operations at Des Moines Area Community College in Ankeny, Iowa. He is a native of Iowa and had long planned to retire there once he'd concluded his presidency at HFC. His last day at the college was Dec. 15.
Three of the board members, President Michael Meade, Hussein Berry and James Thorpe, were tasked with overseeing the presidential search process.
The board initially hired AGB Search, a Washington D.C.-based company, to find a qualified pool of applicants. It found 42 from the around the city, state and nation.
From there the trustees put together a presidential advisory search committee consisting of 33 members, including students, faculty, staff, elected officials and board members from different communities in the region.
Following weeks of deliberation, the search committee narrowed down the field to eight candidates who were interviewed on February 17 and 18.
The board then dwindled down the list to five candidates: Kavalhuna, Michael Nealon, Christopher Reber, Casandra Ulbrich and Tom Watkins, who withdrew from the race prior to voting.
In message to the board members that was read aloud at the meeting, Watkins said the process was inclusive, professional and that he enjoyed getting to know the college's faculty, staff and community.
However, as the interview process was unfolding, Watkins said he was approached by a "unique international business firm with an opportunity in education."
He added that he received an offer "too good to refuse."
The board interviewed the candidates during well-attended open meetings from March 26 to 28.
Interview process
The trustees asked each candidate 20 questions, including ways the college could contribute to the community, how it could form partnerships with local organizations, their experiences as educators and school executives, college operations, diversity, best teaching practices and student success.
One question asked about specific examples of the candidates' involvement in partnerships that have contributed to the success the college or business they worked at and about the critical partners with whom they think HFC should work closely.
Another question asked about budgeting and financial management, including examples of how they would secure private funds to support college operations and strategies to keep tuition increases at a minimum.
David Shevrin, the selection process' facilitator, read aloud the criteria of skills and characteristics developed by the committee.
They hinged on a president who would continue the strategic focus of the school, be an innovative and visionary thinker, able to foster a culture of evidence and inquiry, have experience in leading a diverse and complex organization, have the experience to successfully managing budgets and finances and be an inspirational and charismatic leader who'll maintain a high level of visibility on and off campus.
Meade said the college president should be able to "reflect the college to the community, to state legislators, to business leaders, somebody who will be outside the college a lot and…make a name for us in the public."
When deciding whom to choose as the college's next president, Board Vice President Mary Petlichkoff said she prioritized candidates who were balanced at being good external and internal leaders.
She said the selectee has to have a passion for higher education and recognize the role community colleges have in improving residents' quality of life.
"The role of college president, as I see it, is one who cannot only manifest a vision for the external community to relate to, but also promotes that from within on a college campus," she said. "You need somebody who is able to understand the community college structure and organization and has great experience and exposure to that relationship of the community college to its students and their needs."
Thorpe said it's most important that a college president have high integrity and ethical standards, as well as experience with local, state and federal government and with corporate and private fundraising.
"Let's find some creative ways that we can raise some funds to get projects done here on the campus and to help hold down the costs for our students," he said.
Trustee Celia Nasser said she wanted to see a president who would continue on the college's strategic focus and someone who had a passion or higher education.
Trustee Mary Lane said she wanted someone who has inspiration vision, charismatic leadership and who is future driven.
"We need someone who has got a wealth of life experience, detail oriented and knowledgeable," she said, as she continued to list other positive qualities.
Trustee Fadwa Hammoud said she was looking for a dynamic visionary and a leader, someone who has great communications skills and who will advocate on behalf of students and faculty both locally and in Lansing and who can gain the trust and engage all stakeholders, embrace diversity and "heal tension."
Berry said the college needs to bolster its outreach efforts with the local, state and federal government and talk to corporate and private entities about fundraising.
"Why not set a goal, $10 million in five years?" he challenged his colleagues. "We can't keep going back to the taxpayers."
The selection
The board then voted 5-2 in favor of Kavalhuna, with Berry and Petlichkoff voting for Nealon. However, Berry quickly changed his vote, giving Kavalhuna 6-1 approval.
Lane thanked Berry for his vote change and said it was important that the board welcomes a new president, without division.
"We all know that all of these people could have led our college…but strength is in unity," she said.
Petlichkoff said she stuck with her vote for Nealon because she was "following her conscience" and that she had concerns she didn't have a chance to convey at the meeting.
"After an intensive national search, the Board of Trustees is very pleased to announce that Russell Kavalhuna has been selected as president of Henry Ford College," said Meade, who was also chair of the Presidential Advisory Search Committee. "Mr. Kavalhuna is eminently qualified and has proven to be an effective leader – the kind of leader we need as the college celebrates its first 80 years and looks forward to success in the coming decades."