DEARBORN – On March 30, Land Day 2018, the Israeli army shot more than 1,000 protesters killing 17 of them, according to multiple reports.
On April 8, members of the Arab Student Union at the University of Michigan-Dearborn drew bodies outlined in chalk, with the names of the victims written inside them, on the sidewalk between the Mardigan Library and the University Center.
"Never forget that your tuition indirectly funds an illegal occupation," a sign near one of the chalk-outlined bodies reads.
"As a Palestinian American, I wanted to bring awareness to what's happening in Palestine and act as a voice for those who can no longer speak," Samer Habeel, president of the ASU, told The AANews. "Protesting for a better life is a privilege, while in Palestine it can get you killed."
The Arab Student Union is a coalition of about 60 students who support Arab countries and their various plights and strives to bring them together as one, said Susan Jenin, political chair of the Arab Student Union.
"We do our best to raise awareness through culture, politics and traditions," Jenin told The AANews. "Everybody knows the statistics, but has anybody really thought about the personal humane aspect to all these murders?"Batoul Abbasi, a member of ASU, told The AANews.
"Does anybody really think about the feeling of finding their loved ones' dead bodies? We want this to be a reminder to students that our tuition is part of the indirect cause of these deaths that are portrayed on the sidewalk."
Jenin said she's seen a lot of people taking pictures of the street art and has also seen conversations grow because of it.
"I think the reaction has been very positive," she said. "It's reached our objective, because nobody was talking about it before; a lot of people weren't aware of it, but now that people have seen it people want to learn more about it."
Jenin said as a Palestinian American she was very frustrated about what happened during the peaceful Land Day protests.
"Land Day is a symbolic day, not for only Palestinians in Palestine but Palestinians everywhere," she said. "From March 30 until the Nakba day, Palestinians protest to raise awareness about their right of return. To remind Zionists that we didn't forget where our homeland is."
Jenin also said Israel's reaction to the non-violent protests has been inhumane.
"I think every human-being should have the right to protest for a better life," she said. "That's what Palestinians have been doing in Palestine and the Gaza Strip. The way that Israel has been reacting is so violent, it's just not humane; it's not right."
Jenin was born in Chicago and came to Dearborn four years ago for school. She is double majoring in accounting and finance at the University of Michigan-Dearborn and will graduate in the Spring of 2019.
Her parents and were born in Palestine and her father immigrated to the United States for school and remained for work. She said everyone in her family other than her parents remain in Palestine.
"The loans that I'm taking are funding an illegal occupation back home and to my own oppression," Jenin said. "The University of Michigan strives to be a leader in inclusion. But for us that hasn't been the case because of tuition and the blacklisting that's been going on; and that's not to mention the regent's response to the divestment resolution being passed in [all] three campuses."
The resolution that was passed aims to, "divest from ethically reprehensible companies that violate Palestinian rights."
Jenin said students want to form an ad-hoc community to look into the University's investments, determine if they are ethical and divest from them if they aren't.
"The University's longstanding policy is to shield the endowment from political pressures and to base our investment decisions solely on financial factors such as risk and return," the regent's response to the three student government's historic passing of a divestment resolution reads.
"We do not anticipate a change in this approach or the creation of a committee."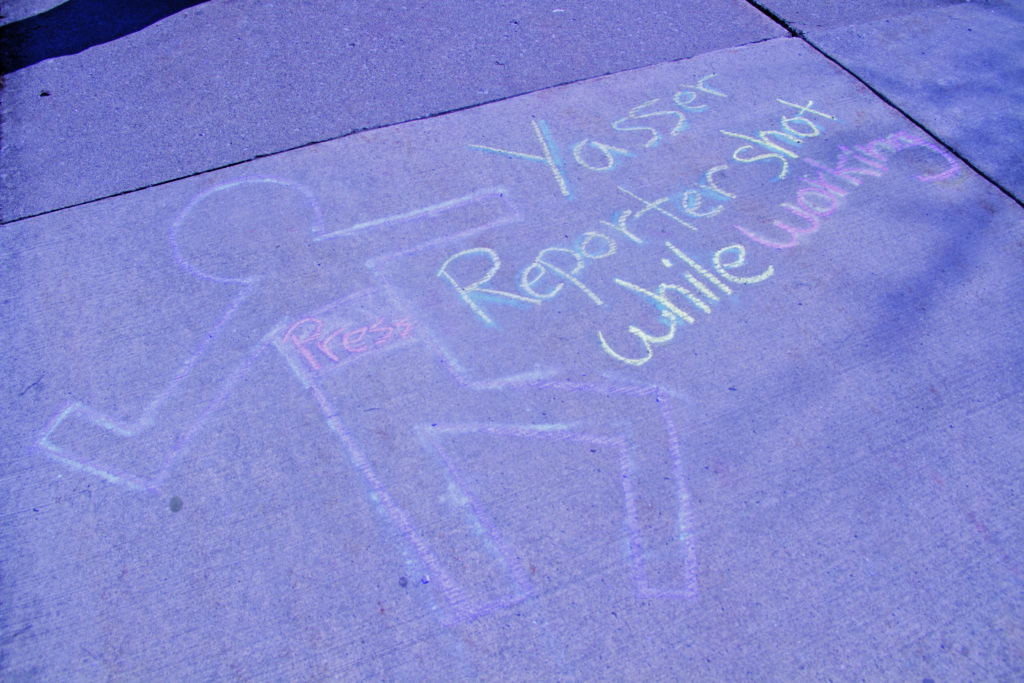 The street art is meant to raise awareness about the struggle in Palestine but also to welcome the public to a screening of "5 Broken Cameras" a documentary by Emad Burnat and Guy Davidi.
"It's made by a Palestinian who filmed the entire construction of the Apartheid wall," Jenin said. "He originally lived in Bil'in, which is a village where the apartheid wall was. Through [five] cameras, he was able to show how Israel had pushed the entire village back."
The film is open to the public and will be held in room 1040 of the CASL building on the University of Michigan-Dearborn campus on April 19 at 3 p.m.
"I participated in this event so that we could raise more awareness of the situation in Palestine," ASU member Ahmed Ibseileh told The AANews.
The street art can be seen until after the date of the screening.