WEST BANK — A Prominent Jewish American activist, Ariel Gold, was denied entry into Israel on Sunday, July 1, over her activism in the Boycott, Divestment and Sanctions (BDS) movement.
Gold was prevented from entering Israel when she landed at Tel Aviv's Ben Gurion International Airport Sunday afternoon. She was held until 11 p.m. when she was informed that her entry had been refused despite holding the correct papers.
Gold wrote on her Facebook page that "I am in the Tel Aviv airport getting deported. I got a visa in advance to enter the country but they are refusing to honor it and are deporting me now."
She had been intending to undertake a Jewish studies program at the Hebrew University of Jerusalem.
Several high-profile Israeli cabinet members were involved in denying Gold's entry. Public Security Minister Gilad Erdan recommended preventing her entry into Israel, after which Israeli Interior Minister Arye Dery revoked her student visa. Erdan wrote on Twitter that "whoever acts for a boycott of Israel and comes here to cause damage will not enter the country," reported the Times of Israel.
Gold has a long history of activism and has been repeatedly targeted by Israeli authorities and the Israeli media. In 2017, she visited Hebron (Al Khalil) to monitor the military trial of Palestinian human rights activist Issa Amro.
In an interview with Haaretz, Gold said she had come "under attack" after Israel Hayom daily ran an article calling her admission into Israel a failure and alleging that she had tricked Israeli authorities to gain entry.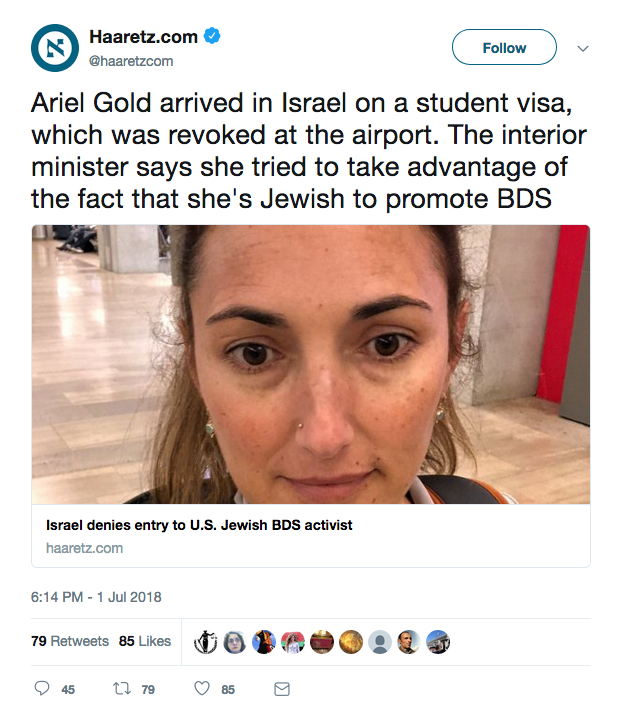 Gold works as a campaign director for Code Pink, a progressive NGO that works to end U.S.-funded wars and occupations. She has previously been arrested in both Israel and the U.S. for participating in protests against Israeli policies and is banned from visiting the Western Wall, situated in Jerusalem's occupied Old City at the base of Al-Haram Al-Sharif compound after she was caught carrying political signs while entering the plaza.
The move to bar Gold comes following the introduction of an Israeli law, in May 2017, which forbids entry visas or residency rights to foreign nationals who call for economic, cultural or academic boycotts of Israel or illegal Israeli settlements in the occupied West Bank.
The Israeli government has cracked down on boycott advocates of late, with Security Minister Erdan attempting to label the BDS movement "terrorism" last month.
In January, Israel published a "blacklist" of 22 international NGOs "whose employees and/or members are banned from entering Israel due to their alleged support of the Boycott, Divestment and Sanctions (BDS) campaign."
Hassan Jabareen, the general director of Adalah – The Legal Center for Arab Minority Rights in Israel — described the move as "reminiscent of South Africa's apartheid regime" and "firmly condemn[ed] the Israeli government's ban, which arbitrarily places draconian limits on foreign visitors."
The anti-Semitism Awareness Act is back: Free speech is at risk