YPSILANTI  — With the days fast counting down to Michigan's Aug. 7 primary election, gubernatorial candidate Abdul El-Sayed's campaign has been taking Southeast Michigan by storm, as diverse crowds pack halls along his tour route.
At his fourth rally of the weekend, Brown Chapel AME Church in Ypsilanti was filled with an overflow crowd of hundreds in support of his candidacy.
El-Sayed's campaign is getting national attention as he tours with Alexandra Ocasio-Cortez, a firebrand who's been called the face of the progressive Democratic movement and who achieved a surprising upset against an incumbent Bronx congressman a month ago.
She's a self-proclaimed Democratic Socialist like Sen. Bernie Sanders (I-VT.), who won the Michigan presidential primary in 2016.
"I'm here because we can't get single payer in the Bronx until we get it here in Michigan," she told a captivated crowd.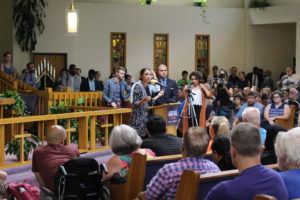 El-Sayed's platform of a graduated tax on the rich, at least partly free healthcare and creating avenues for two-year or four-year tuition-free college education for families making less than $150,000 a year, as well as more compassionate environmental and immigration policies, are also reminiscent of Sanders' political values.
I'm looking for a progressive candidate who's going to do something that we really need for the people of Michigan — like universal healthcare, increasing the minimum wage to $15 an hour and [working] for a clean environment.
He's also seen as an essential, new fresh face in a majority Republican bureaucracy rife with corporate influence and anti-immigrant rhetoric — leaps away from the likes of President Trump and State Sen. Patrick Colbeck (R-Canton), one of the Republican gubernatorial candidates.
"We need new blood in places like Lansing and D.C.," El-Sayed proclaimed to rally attendees.
In a press briefing, El-Sayed said he's following in Senator Sanders' footsteps in his aim to win over the young, progressives and Democrats disenfranchised with stagnant politics.
"If Bernie's primary win wasn't a surprise, I don't know what is," El-Sayed said. "He won the state, but didn't perform as well as any of us would have liked in communities like Detroit and Flint. And, you know, those are where my strengths are."
Sanders, who endorsed El-Sayed, has also announced a campaign tour in Detroit and Ypsilanti.
Caroline Alkadi, a Ypsilanti resident and El-Sayed supporter, told The AANews she's noticed an increasingly diverse enthusiasm around the candidate and what he stands for.
"I'm looking for a progressive candidate who's going to do something that we really need for the people of Michigan — like universal healthcare, increasing the minimum wage to $15 an hour and [working] for a clean environment."
On El-Sayed's chances of winning in a state that Trump won,  Alkadi pointed to report in a book titled "Give us the Ballot" by Nation Magazine reporter Ari Berman stating that 100,000 voters were "purged" from the polls during the 2016 Election Day. She noted that President Trump won Michigan by only 10,000 votes.
"To me that meant Donald Trump didn't necessarily have the support of the people," she said.
But the former Detroit Heath Department director does have some skeptics, even within his own party – well intentioned Democratic lawmakers who question whether his name and faith could be accepted in more conservative parts of Michigan, leading to a Democratic loss in the governor's race.
While his rallies are hits and his name appears on more lawn signs and bumper stickers, a Detroit Free Press poll of the Democratic primary has Gretchen Whitmer at 49 percent, Shri Thanedar at 22 percent and El-Sayed at 19 percent.
But a poll conducted by Change Research, with a sample size of 1,503 individuals, has Whitmer at 33 percent, El-Sayed at 27.4 percent and Thanedar at 15.1 percent.
Although many have their doubts about his chances of victory, El-Sayed discounted the polls and pointed to Senator Sanders' surprising victory in Michigan. He said his campaign isn't focused on winning likely voters, the group gauged by polls, but rather people who normally wouldn't vote because they wouldn't back another Democratic candidate.
A July 15 HuffPost report quoted U.S. Rep. Debbie Dingell (D-Dearborn) in a speech in which she implied El-Sayed couldn't win because of his faith, which is why she'd supporting Whitmer.
"We gotta win" the open governor's seat, Dingell was quoting saying at a worker's union rally. "We hope Abdul stays very engaged in public policy. I think he's one of the brightest people I know. But there's too much at stake for working men and women in this election. And I think [Whitmer's] the strongest candidate to win in the general."
In response, El-Sayed invited Dingell to the rally in Ypsilanti. The congresswoman refuted the allegation that El-Sayed's faith had any bearing on her support of Whitmer and accepted his offer.
Dingell defended her freedom to back whichever candidate she wishes when asked to clarify her position,
"I have interns in my office that are here and I have friends who are supporting all three candidates," she told The AANews. "It is up to every individual to make a choice. I've known Gretchen Whitmer for 30 years. I've gotten to know Abdul in the last year, I respect him. I have not and will not say anything negative."
"Religion should never be part of any decision about how somebody votes," she said, when asked whether a Muslim can be elected governor. "I'm a Catholic girl, people used to… anybody of any background of any religion can be governor in this state. And should be. And people should never vote against somebody because of their faith."
El-Sayed told The AANews that it says a lot that Dingell would attend and show support for even the other side.
"I know she wouldn't assume the worst about somebody because of their faith, but I wanted to make sure she understood why we can win this race," he said.
Detroit Public television's Bill Kubota contributed to his report.