DEARBORN — The City Council rejected putting a millage proposal on the November ballot for the repair, renovation and operations of the Dearborn Historical Museum for up to five years.
According to a draft of the proposed millage as read by Councilman Mike Sareini, if adopted, it would raise an estimated $1.2 million the first year and about a total of $6 million by the end of the fifth year. It would be placed on the 2018 winter tax bill.
Five Council members would need to approve the millage for the item to appear on the ballot.
Jack Tate, the museum's director, told the Council the museum's property is in "dire straits" and urged support of the millage to, "give the city a museum to be proud of."
He said the general operations budget currently set aside for museum maintenance doesn't cover the costs of needed major repairs. He added that the millage would cost property owners an average additional $17.40 a year, if the property's value was at $100,000.
There was much deliberation, during which Council members spoke of the museum's value and lauded Tate's fundraising efforts. However, they expressed concern with implementing a long-term sustainability model for the museum, marketing schemes to attract more visitors and, more importantly, raising taxes on residents.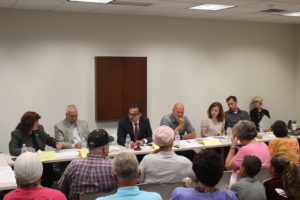 "We are nearing the maximum of mills we can levy," Councilwoman Erin Byrnes said. "I know I don't want to tax our residents any more than we absolutely have to."
Councilman David Bazzy said the better way to decide whether to secure the museum's needed costs was to require residents to garner 3,000 signatures for the millage to be placed on the ballot, without Council approval.
Tate said only 1,650 signatures were collected, due to bad winter weather.
Councilwoman Leslie Herrick, who helped petition for signatures, said the museum is a "gem" and spoke of the dilapidated state of its facilities that allow animals, rain and snow to get inside.
Kathleen Frasier, a long-time Dearborn resident and senior citizen, appealed to the Council to consider capping taxes on seniors.
"A lot of us are senior citizens," Frasier said. "We're going to be starving. It's already pushing between whether you get your pills or you go grocery shopping. You don't want to put more burdens on us."
With the exception of Councilman Robert Abraham, the Council voted not to support creating a ballot proposal asking voters to fund renovating the museum through a property tax increase.