DEARBORN/DETROIT – Abdul El-Sayed might have fallen short of the votes needed to win the Democratic gubernatorial primary on Tuesday, Aug. 7, and the possibility of going on to become the nation's first Muslim governor, but his platform's momentum continues in full thrust among many progressives across the state. The 33-year-old Egyptian American's Democratic rival, Gretchen Whitmer, defeated the former Detroit Health Department director by 22 percent.
However, from the moment the polls opened until the night was over, his vast support was proof that he'd kindled a sense of urgency about being engaged in the political process, especially among Arab Americans and youth. It also indicated a strengthened hope for a progressive future for Michigan.
Alee Darwich, a Ford retiree who campaigned for Arab American candidates at a polling location in Dearborn, said it was particularly El-Sayed's campaign and a tense political climate that pushed young people to bring their parent to the polls.
"Kids are educating their parents, saying 'we have a future here,'" said Darwich, whose Lebanese grandparents immigrated to the U.S. in the late 1800s. "It's also a big difference that there's a Muslim candidate who's well-qualified and well-rounded."
He also said the turnout in the early afternoon was unusually high in Dearborn, where Arab Americans reside in high concentrations. The Arab American Institute's own data and the 2010 U.S. Census puts the community's population in Metro Detroit at around 40 percent.
Ali Baleed Almaklani, president of the Yemeni American Benevolent Association, reiterated that the many Arab and Muslim American candidates on the ballot are driving Yemeni Americans out in droves this primary.
At Salina School, where he served as a translator, nearly 400 people had voted by 2 p.m.
He added that many immigrant parents brought their children to help them with the voting process.
A voter at Salina, Abdul Galil Ahmed, told The AANews the high Arab American turnout was mainly due to the political climate after President Trump's election in 2016, which he said was based on smearing Muslims and immigrants.
"A lot of people realize that voting is something they have earned," he said. "We're paying taxes and we're citizens, so it's crucial that we elect people who are going to represent us and protect our interests."
That's why Ahmed said he's been a voter in every election since he became a citizen in 1983.
"I also teach my kid to do the same things – because we are here to stay," he said.
Like many, he voted for El-Sayed because he felt indebted to his movement because, "he's paving the way for our young people […] that there are no barriers to run for any office in their state and serve their community like anybody else."
He also said El-Sayed was also the only candidate who explicitly stood up against racism, while others either looked the other way or spewed racist rhetoric themselves.
While at a campaign stop, State Rep. Abdullah Hammoud (D-Dearborn), who won the Democratic primary election, told The AANews that the average Arab American turnout in primaries has been about 30 percent.
He said this year was about changing that and getting young and old people alike involved.
"When we stand side-by-side and vote collectively, we are a force to be reckoned with," Hammoud said. "We're on the verge of making history."
While volunteering outside a precinct, Dearborn-based attorney Helal Farhat said he noticed an increase in the community's excitement, especially among its youth, because there were Arab Americans running in all levels of state government.
"It's really motivating everybody to want to become a part of the American political process," he said.
Alabas Farhat, who campaigned for Hammoud, said El-Sayed's campaign of "politics of purpose and ideas" has inspired Arab Americans to vote in unprecedented numbers.
"Even 18-year-olds and 19-year-olds feel like they could make a change," he said. "Bernie proved that it could be done and Abdul is going to re-write history as well."
At El-Sayed's heavily attended watch party at Cobo Hall in Detroit, the optimism was through the roof. The faces in the crowd were as diverse in age as in heritage.
Tyler Huntress, a young voter, said he voted for El-Sayed because he's the best chance for the future of Michigan, that the candidate genuinely believes in his message and, "that's the kind of integrity that we need among our elected leaders."
Michael Kelmenson said he supported El-Sayed because he's the most progressive candidate, that Lansing needed a change from the status quo and because he's the, "future of politics in Michigan."
Kelmenson supported El-Sayed's detailed plans for Medicaid for all and education policies.
He added that those who are hesitant to vote for El-Sayed because of his faith were usually older people who dissociate from immigrant communities. Younger Americans don't care as much, he said.
Abdur-rahman Al-Hallak, a Ypsilanti resident, said this year was his first time voting in a primary because of El-Sayed's broad and inclusive vision for the state. He said he believed El-Sayed had really high chances of winning because of his large following and that Bernie had "sealed the deal."
However, as ballots were being counted and the deciding moment neared, his supporters grew increasing somber, yet still hopeful.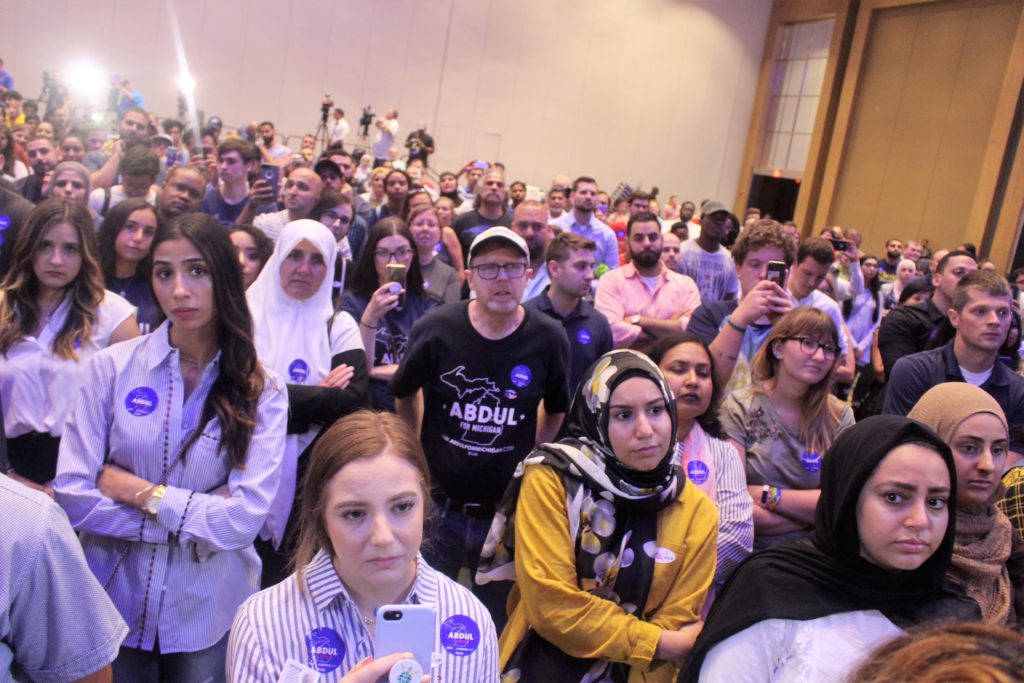 Alaeddine Barakat, a Dearborn voter, said maybe Michigan is not yet ready for a Muslim governor.
"Although Abdul ran a campaign very similar to Bernie, who won against Hillary in the primary elections in Michigan, he didn't have the privilege of being a White male with a White name," he said.
Kelmenson said that no matter what the result was, El-Sayed's campaign won in the sense that he's shown that people really care about his platform and a more progressive Michigan.
"No matter what happens Michigan is going to vote further and further left," he said.
Mahmoud Kasem, a Dearborn voter, echoed Kelmenson, saying he was hopeful because El-Sayed's ideas polled highly favorably among voters across the state.
Fadiya Faraj said she was confident that Bernie's endorsement could help El-Sayed's chances.
But again, as the numbers closed in, she said that even if El-Sayed didn't win, he'd created a path for minorities to run for office.
"We're all in this together and we're going to show the world that Michigan is united – we're not going to give up," Faraj said.
Faraj made campaign calls for El-Sayed and said some people hung up after hearing his name, but she kept making calls because, "you want to show them we are your neighbors."
"It's all about having hope," she said, evoking Barack Obama's presidential campaign slogan.
Linda Sarsour, a Muslim activist who had been touring across Michigan with El-Sayed a week before election Day, made an appearance to raise the crowd's spirits.
"We are the kind of movement that waits until the last ballot is cast," she said. "We are all winners because we continue to believe."
But about two hours after the polls closed and with enough ballots counted, numbers showed that Whitmer was ahead of El-Sayed by at least 14 percent.
That's when El-Sayed appeared on stage.
He couldn't even begin his concession speech as the crowd cheering his name and shouted, "Next four years!" But that didn't stop some from swelling up with tears.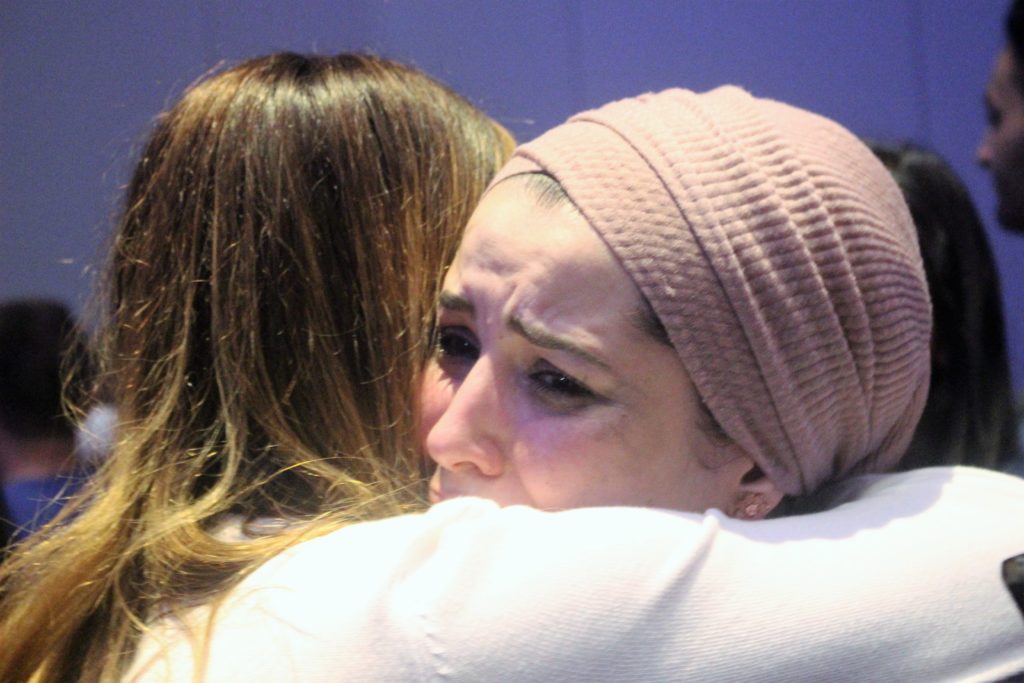 El-Sayed's message was poignant, yet humble as he thanked the many communities that got behind his movement.
"A movement that is so diverse," he stressed, while urging the crowd to look around. "We moved every bit of the conversation because we showed what Lansing was […] we showed what it meant to bring people together from diverse backgrounds under one roof believing in the ideas that this country was founded on."
He pressed that a goal toward a more equitable and sustainable Michigan doesn't end at this loss, but continues again tomorrow when, "we turn around and we turn this movement into the effort to defeat Bill Schuette in the fall."
He urged his supporters to continue being engaged in the Democratic Party and to get behind Gretchen Whitmer; and to continue walk the path for the "the ideals and values we want to put in the world."